Another one bites the dust: Isaiah Crowell is only the latest casualty of the 2011 RB class
Six of the top nine running backs in the 2011 recruiting class are no longer with the school that initially signed them.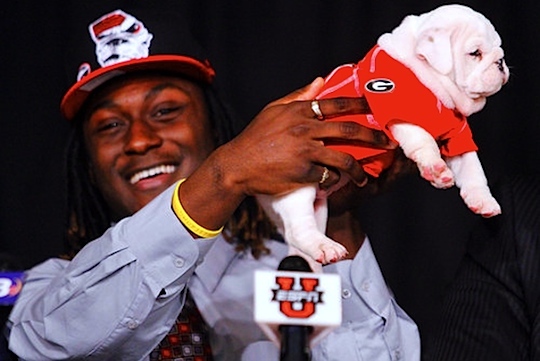 There are no such things as curses. There are only bad decisions and bad luck, and now-former Georgia Bulldogs running back Isaiah Crowell was the victim of both Friday morning when a random campus roadblock led to felony weapons charges and Crowell's dismissal from the team. This is the same kid who had already been suspended twice as a true freshman. Not cursed: Just kind of dumb.
But if you do believe in that sort of thing, for some reason, you have more than enough evidence -- in Crowell's case, he was doubly doomed. As a Bulldog running back, he follows predecessors Washaun Ealy and Caleb King as the third starter to wash out of UGA in a little more than a year. And as one of the most celebrated backs in the 2011 recruiting class, he joins a long list of hyped runners who aren't going to make it to their sophomore seasons with the school that signed them. When you pull up this page, it should come with a warning label: May spontaneously combust.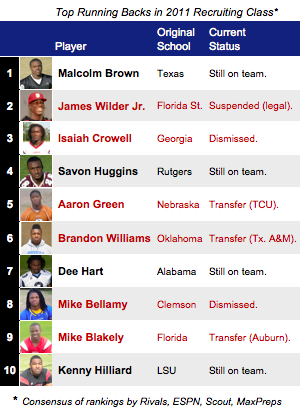 Based on the consensus opinion of the four biggest recruiting sites -- MaxPreps, Rivals, ESPN and Scout -- six of the top nine backs in Crowell's class have already washed out. There's Crowell, obviously, whose early morning adventure may end his college career, if it doesn't land him in jail. There's Florida Gators State bruiser James Wilder Jr., who has already spent the last week in jail after admitting to a probation violation for showing up to a court-ordered work camp with alcohol on his breath; he was on probation in the first place as a result of an altercation with a Tallahassee police officer in February that earned him an indefinite suspension from the team. Mike Bellamy is on his way to junior college after flunking out of Clemson Tigers . Herschel Sims was recently dismissed from Oklahoma State for allegedly stealing $700 from a teammate's bank account. It's doubtful at this point that we'll see any of those three suiting up for an FBS school again.
Other blue-chip backs remain in better legal and academic standing but have already decided to start over. Nebraska signee Aaron Green is on his way to TCU Horned Frogs after failing to dent the depth chart last year for the Nebraska Cornhuskers . Oklahoma signee Brandon Williams is hoping for a waiver to play for Texas Longhorns A&M this fall after spending most of his freshman season on the bench for the Oklahoma Sooners . Florida signee Mike Blakely is toiling away at Auburn Tigers after burning his redshirt year on a transfer from Gainesville. Not far down the list, USC signee Amir Carlisle is on his way to Notre Dame Fighting Irish . Some attrition is inevitable, but 60 percent of the top prospects at a single position, after a single season? That's an epidemic.
For all the nagging injuries and negative headlines, Crowell was actually the most productive true freshman rusher in the country last year, leading UGA with 850 yards on 4.6 per carry. Not far behind was the most hyped back in the 2011 class, Malcolm Brown , who managed to lead Texas with 742 yards despite being stricken with turf toe over the second half of the season; he was healthy and impressive in the spring, and if there is any back in the 2011 class still on track to fulfill the initial headlines, it's Brown. But he is rapidly running out of competition.
Antonio Callaway and Jordan Scarlett are two of the nine players under investigation

The SEC released its 2018 schedule in full Tuesday afternoon, and it's dripping with intri...

The 2021 Chick-fil-A Kickoff Game will feature Louisville and Ole Miss
The Fornelli 50 ranks teams based on nothing but their performance in 2017

Penn State better have its eyes wide open with a trip to Iowa City on deck this weekend

Ohio safety Javon Hagan has a rather unique personal tradition during games