Anthony Alford, former blue-chip, granted release from Southern Miss
Freshman's departure follows an on-campus arrest and a coaching change following the worst season in USM history.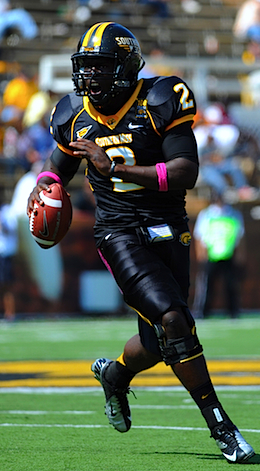 Less than a month after being suspended from the team following an on-campus arrest – and just one day after the introduction of a new head coach – Southern Miss quarterback Anthony Alford has been released from his scholarship, freeing him to transfer to another school. Alford's release is the first official move by Todd Monken, who arrived in Hattiesburg on Tuesday after two years as offensive coordinator at Oklahoma State.
According to Hattiesburg police, Alford, an 18-year-old freshman, was one of at least four people involved in an altercation on the Southern Miss campus on Nov. 28, one of whom (a fellow student) reportedly brandished a gun. Though he was not accused of possessing a weapon, Alford was initially charged with aggravated assault, a felony, before charges were reduced to conspiracy to possess a weapon on school property and hindering prosecution. He and another student were suspended by the university and barred from campus.
Alford, a two-sport star at nearby Petal High, arrived on campus in August as one of the most touted recruits in school history, having been selected as an Army All-American in football and a third-round draft pick by the Toronto Blue Jays in the MLB Draft. (He signed a contract with the Blue Jays in June, played in five games with a minor league affiliate prior to football season and remains a member of the organization.) As a true freshman, Alford was the closest USM came to a familiar face under center, starting five games and appearing in four more with two touchdown passes, four interceptions and a team-high 993 yards of total offense. He also suffered through multiple knee and ankle injuries that kept him out of three games and limited him in several others.
A rash of injuries at the position eventually forced the Golden Eagles to field four different starting quarterbacks over the course of the season, with predictable results: The offense ranked dead last in Conference USA and among the worst in the nation in scoring, passing efficiency and turnover margin en route to an 0-12 finish, the worst in school history. Head coach Ellis Johnson was fired after just one year on the job, along with his staff, which included Alford's high school coach at Petal, Steve Buckley.
In October, Alford's mother was escorted from the stadium and charged with two misdemeanors following an altercation with fans who were reportedly heckling her son during a 59-24 loss to Marshall.
Pending his academic status, Alford may transfer to another school with three years of eligibility remaining, not including a redshirt season to burn if he's forced to sit out a year under NCAA transfer rules. He may also give up football in favor of the diamond, where he's considered to have a brighter future. But as far as Southern Miss is concerned, he is already the big one that got away.
- - -
Photo via U.S. Presswire.
Byron Murphy reportedly sustained a foot fracture in practice

GoDawgs247 previews big-time college football recruits headed to Athens

Dig below the surface and you'll find a lot of intriguing matchups on the slate this Satur...
SportsLine tapped into its Vegas sources and found out pro bettors are all over No. 8 Michigan...

An early-season Big 12 game already has major conference and national implications

Top-ranked Alabama hits the road to take on upstart Vanderbilt in Nashville on Saturday