Are no-huddle offenses about coaching ego? Depends who you ask
Is the no-huddle craze -- which infuriates Alabama's Nick Saban and others -- about coaching ego? Illinois' Bill Cubit wonders.
• 3 min read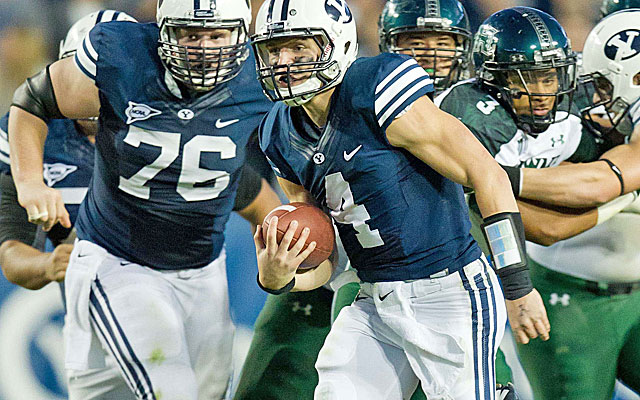 If you think no-huddle offenses will soon dissipate, consider the number of teams that ran at least 1,000 plays from 2008 to 2012: Five, five, eight, 13, 23.
That number could balloon this year as coaches and coordinators look for equalizers against freakish defensive linemen.
But two coaches wonder whether something else is in play with the offensive minds wielding the play sheets: Ego.
Illinois offensive coordinator Bill Cubit, the former Western Michigan head coach and a passing-game coordinator in five different conferences, questions the intentions of some coaches trying to out-do each other.
"I think sometimes it's ego -- 'Hey, we ran 90 plays and we had 500-something yards," Cubit said. "Well, your defense just gave up a bunch. That's part of it."
On the surface, stats can validate Cubit's general point that hurry-up offenses affect defense. Ten of the 23 teams that ran 1,000 or more plays finished 75th or worst nationally in total defense, including the bottom three (Arizona, Baylor, Louisiana Tech).
There are exceptions, such as BYU (No. 3 total defense) and Fresno State (No. 22).
But even defensive-minded head coaches (Oklahoma's Bob Stoops and Fresno State's Tim DeRuyter come to mind) play with offensive tempo because they know it's efficient, and they have the personnel to handle it.
Most NFL teams can go no-huddle, and Texas A&M isn't the only SEC team that commits southern-fried blasphemy by speeding up the game on occasion. Several SEC teams at least have a no-huddle package they can employ.
The no-huddle has waged a war of agendas with SEC traditionalists such as Alabama's Nick Saban and Arkansas' Bret Bielema, who say fast offenses will increase injuries, but also don't want to compromise their power-running style. Hurry-up coaches are defending their offenses, in part by asking, "Where's the scientific evidence that this style is a problem?"They say more injuries occur at the line of scrimmage than with shifty athletes in space.
North Carolina coach Larry Fedora said his offense oscillates fast to slow to keep defenses honest, not to accumulate plays.
"In some cases, as you listen to some guys, it could be [ego]," Fedora said. "We have a certain number of plays we'd like to get to. There are plenty of games we could have gotten to those numbers but we didn't. I wasn't concerned with that. That was about winning the football game and not how many offensive plays we get. People get caught up in those -- we snap it 85 times or 88 times. Just depends on what your goals are."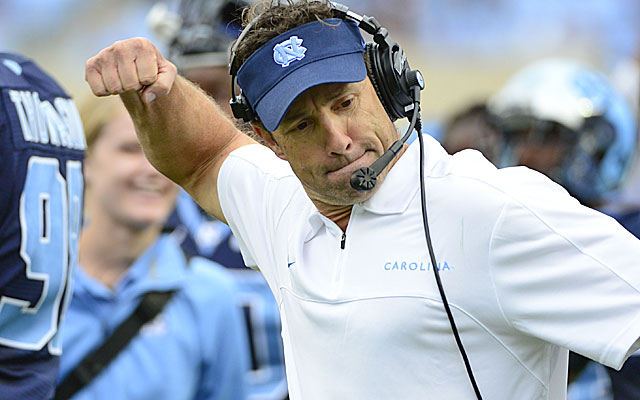 Fedora says he first started running a variation of the no-huddle around 1999 as the offensive coordinator at Middle Tennessee. Rich Rodriguez was doing the same as Clemson's OC.
It wasn't about ego then, Fedora says, because it wasn't always about going fast. UNC averaged 75 plays last season (898 plays in 12 games), a number Fedora says he didn't know.
"It's not, 'Go fast all the time' -- it's multitempoed offense," Fedora said. "If you go one speed all the time, defenses adjust and get comfortable. It's all about creating as much discomfort as possible. Keeping them out of a rhythm."
Cal offensive coordinator Tony Franklin, who wants to set up the run with the pass and do so before you have time to check your iPhone email, agrees with Fedora's point, which is why he thinks attaching ego to high play volume is "ridiculous."
Last year at Louisiana Tech with head coach Sonny Dykes, Franklin ran 88 plays a game.
There are several ways to win football games, Franklin says, and coaches are simply trying to determine what maximizes the capacity to win.
Look at Alabama, Franklin says -- the Tide's personnel is so good they could win with the no-huddle or slowing it down.
"Everybody's always looking for an edge," Franklin said. "If you think you already have one by keeping the game slow, you do that."
Don't get Cubit wrong. He knows the no-huddle can be wildly efficient. He remembers coaching a six-turnover game for Western Michigan and still hoisted 400-plus yards because the number of plays his Broncos ran that day.
But in a game where offensive concepts recycle more than Prius owners, Cubit thinks the no-huddle will phase out eventually -- only to return later.
Just like the counter run.
"If you can't get those guys [Alabama recruits], you better find a way," Cubit said. "That's the no-huddle."
Cristobal's first game at Oregon ended the same way Chip Kelly's did

Conner Manning and the Panthers dominated the Hilltoppers in the Cure Bowl

You can only go to the well so often before it dries up
The Trojans beat LSU earlier in the year and now have their first 11-win season as a FBS t...

Saban has never been a fan of the early signing period and made it clear that hasn't chang...

Paul Tyson is a three-star quarterback prospect for the 2019 recruiting class