Are USC QBs merely keeping seat warm for the Next Great One?
Cody Kessler is running the show at USC this spring, but is he the next great Trojans QB? Prep star David Sills could be the one, if ...
More college football: Bruce Feldman | Dennis Dodd | Jeremy Fowler | Latest news
LOS ANGELES -- A day in the sun-splashed life of a USC spring practice ...
It is a day when anything is possible. Coach Steve Sarkisian has taken over a program that -- judging by the results during the NCAA probation -- can't be stopped. (Two 10-win seasons in the last four.)
It is a day when the Trojans can't lose. The scoreboard says so: "USC 0, USC 0."
It is a day when the Coliseum and the practice tracks are showing their age. The LA Memorial Coliseum is nearing 91 years old. It needs work but when the Trojans are on a roll there are few more magical places to watch a game.
The magic part is up to Sarkisian and his staff. On this day, it's like the top is down and the highway is wide open. One of those practice tracks blaring on the speakers is 1995 classic California Love by Dre and Tupac ...
It is a day when Cody Kessler assumes he's going to be the starting quarterback. Why wouldn't he?
The 2013 season that started with uncertainty for the Trojans' rising redshirt junior ended with a four-touchdown day against Fresno State in the bowl game. The 2014 season is all set up for him.
"I just feel like I'm going in competent and building off that season," Kessler is saying after practice. "I'm not trying to think about competition that much. Sometimes I get so down on myself."
The reality is Sarkisian is looking for the next great one at USC. He's certainly looking for Kessler to be something more than a bridge between Matt Barkley and ...?
As a Trojan assistant Sark coached Heisman winners Carson Palmer and Matt Leinart (as well as John David Booty and Mark Sanchez.) USC isn't great unless its quarterback is great. Kessler -- or whoever -- had better be great. Redshirt freshman Max Browne -- yet to distinguish himself -- is the backup. Sarkisian intentionally took early enrollee Jalen Greene to help the depth.
Below Greene are walk-ons.
"You have to plan for the worst-case scenario," Sark said. "The worst-case scenario is you get an injury, a guy might decide to leave. It's easy to look at the best case. I plan on the worst case. In the worst case we're still on stable ground."
The truth is that Kessler is the only player on the roster to take meaningful snaps. Sark said Max Wittek decided to "jump ship" when he left the program earlier this year. He has reportedly visited Texas twice.
"It really was the reason for us taking a mid-year this year in Jalen," Sark added. "If something happens here and one of these guys might leave and one guy rolls an ankle, we're down to one quarterback."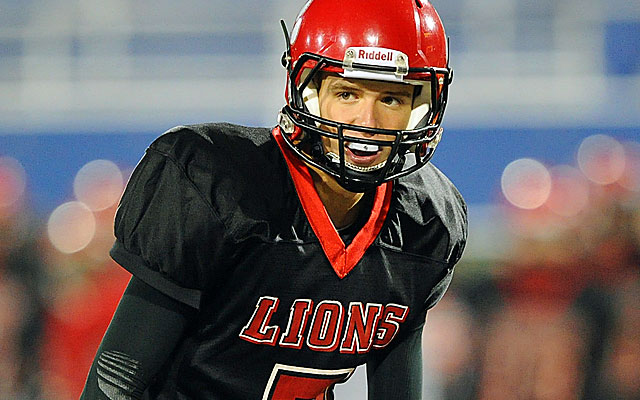 Over breakfast, Steve Clarkson is considering that quarterback depth.
The nationally known quarterback guru has tutored David Sills V since he was a youth. You may remember Sills committed to USC at age 13 four years ago in what seemed like a publicity stunt. Especially since the coach (Lane Kiffin) and the offense (pro-style) he committed to are both gone.
Sills has matured both into his body and -- seemingly -- USC's new offense.
"Look at the way the game is played today," Clarkson said. "Dual threat is what everybody is looking at. A pro-style guy is kind of going by the wayside."
Sills, Clarkson said, has developed into quite a runner. One that, on the surface, would still make him a good fit in Sarkisian's offense.
A couple of issues:
• Clarkson is upset at recruiting services that he says still list Sills as pro style.
"I don't know if they know the definition of the word dual-threat," he said. "For whatever season they haven't seen him play."
There's reason for that. Those recruiters may not have seen much of the quarterback. Sills and his Eastern Christian Academy (Elkton, Md.) teammates played only three games in 2012. The Maryland state high school association had concerns about the school's legitimacy.  The school started by David's father David IV has about 50 students. Almost all of them play football. Eighty percent of the courses taken are online.
• Sarkisian says the Washington offense he's installing doesn't necessarily need a dual-threat quarterback.
"One of the misnomers of our offense was that Keith [Price] was a runner," Sark said. "He really wasn't. We ran him a little bit. He could buy time and scramble. We didn't call quarterback runs."
Jake Locker averaged 386 rushing yards in two seasons under Sarkisian. Price had 99 rushing yards total in four years at Washington.
Still, Clarkson is openly marketing Sills as a clone to Johnny Manziel. A video Clarkson put together does seem to make Sills eerily similar to Johnny Football. Clarkson has worked with the likes of Ben Roethlisberger, Leinart and Matt Barkley.
Will USC be interested in February or will Sills honor that 2010 commitment? Remains to be seen. It could be a crowded USC depth chart in '15. It could include Kessler (as a redshirt senior) and Browne (as a redshirt sophomore). Ricky Town, the nation's No. 2 pocket passer, has committed.
That would be a hefty roster to sort through for a true freshman expecting playing time right way.
Sills isn't exactly waiting around. Clarkson said there has been interest from Clemson, Michigan, Maryland and West Virginia.
There's no debate what Sarkisian's offense is trying to do. Tire out the offense. His uptempo offense will attempt to turn the defense into a puddle of goo.
Those are loaded words in this player-safety, 10-second-rule era.
"Our defense has been dying," Kessler said. "You can tell on that last series ... on the seventh or eighth play guys are still getting down [in their stance] and we're just snapping the ball."
Kessler is asked if he is aware of the controversy surrounding the 10-second rule.
"I didn't know about it until a couple of weeks ago," he said.
Sarkisian, a tinkerer, is expected to work this week running tempo under center. Trojan quarterbacks have been in the shotgun to this point in the spring. Even the founding fathers of the zone read spread up tempo offense haven't had their quarterbacks take a direct snap for long periods.
"It's just one more thing," Sarkisian said before morphing into an opposing defensive coordinator.
"Oh geez, now they're under center too."
Washington went from 97th to 13th in total offense in 2013.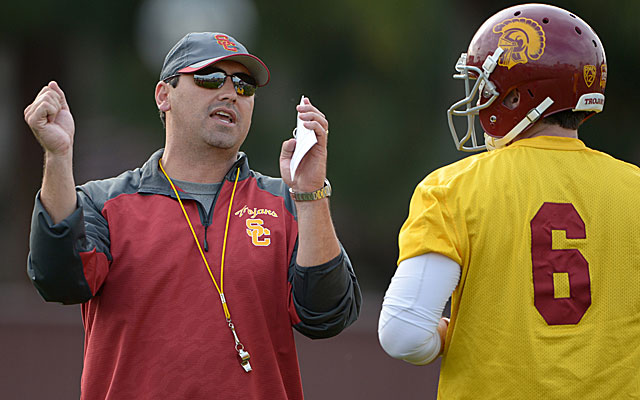 The next great one at receiver looks to be Nelson Agholor.
Playing in the shadow of Marqise Lee last season, the rising junior from Tampa, Fla., caught 56 passes for 918 yards. During this day when anything seems possible, Agholor caught a beautiful 65-yard scoring pass from Kessler during a full-go, live-tackling period.
"A couple of times with Nelson I threw it before he even came out of his run," Kessler said.
That makes sense in terms of familiarity. The two are roommates.
"The sky's the limit for Nelson," Kessler said. "He's learned from those guys."
Nearby Lee and former teammate Robert Woods (now with the Bills) have watched this sun-splashed practice.
California Love, indeed.
Bowl games are unpredictable, which means teams need to be on upset alert

The award is becoming an afterthought and I want to change that

Barrett Sallee is 16-8 on best bets and has locked in his picks for these three bowls
Permanent coach Matt Luke got big news late Thursday night

Freeman will not play in the New Mexico Bowl on Saturday

SportsLine simulated every bowl game 10,000 times for pick'em leagues and confidence pools