Arizona, San Diego St. to play 2021, 2022 home-and-home
Arizona has elected to stay on the West Coast for a non-conference matchup in 2021 and 2022.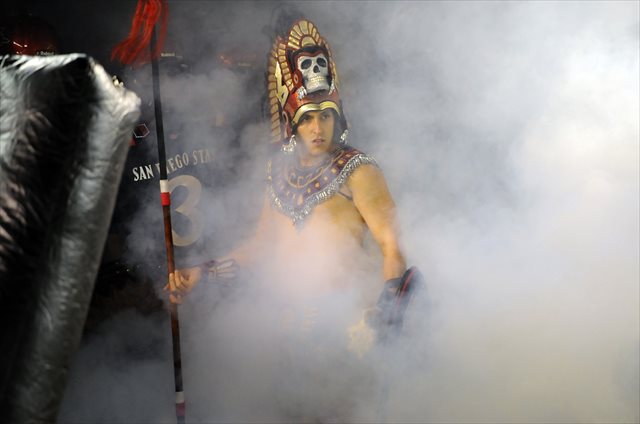 More college football: Jon Solomon | Dennis Dodd | Jeremy Fowler | Latest news
Arizona's two recent scheduling announcements show that the Wildcats aren't unwilling to mix some diversity into its future -- distant future -- non-conference slates.
Last week the Wildcats reportedly agreed to a home-and-home with Mississippi State set for 2022 and 2023. Tuesday -- despite the fact that Starkville and San Diego are many, many miles apart both from a geographic and West Coast/SEC country (ahem) cultural standpoint -- Arizona and San Diego State announced a home-and-home between the Wildcats and Aztecs set for 2021 and 2022.
Assuming those plans aren't interrupted between now and then (no small assumption, that), the Aztecs will visit Tucson in September of 2021, with the Wildcats coming to Qualcomm Stadium in September 2022. The teams have not played since SDSU defeated Arizona in the teams' 2001 season opener.
By then, facing Pac-12 opponents, even in San Diego, will be old hat for the Aztecs. After taking on at least one Pac-12 opponent each of the past three seasons, San Diego State now has a Pac-12 matchup on its schedule for each of the next nine seasons, all of them in home-and-homes.
Playing home games in an NFL stadium in the middle of California's fertile recruiting grounds would appear to have its scheduling benefits, we're guessing.
These three teams could surprise quite a few people in 2017

With the Chargers moving to Los Angeles, the Aztecs now need to find a new home -- fast

Lawyers representing Ole Miss want Leo Lewis and Kobe Jone to show at an infractions heari...
The redshirt sophomore will not only decide Auburn's fate, but the landscape of the SEC

Ohio State filed for apparel rights to 'OSU' in February 2017

USC had the most votes to win the Pac-12, followed by Washington