Arizona State, UCF, Auburn fulfill 'sneaky contenders' hype
Arizona State, UCF, Auburn and Vanderbilt made us look right -- they were sneaky contenders. Northwestern and WVU, not so much.
• 5 min read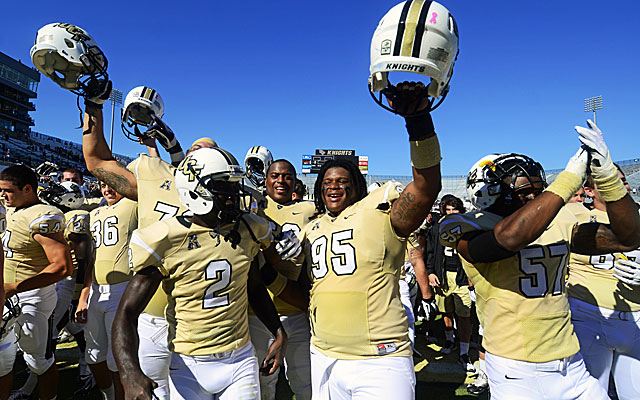 Arizona State is eyeing the Rose Bowl.
"Why would [the expectation] be anything else?" Sun Devils coach Todd Graham says.
Well, that hasn't exactly been the precedent set by the Sun Devils, whose last outright conference title came in 1996.
But this year has sneaky contenders. The Sun Devils are one of the top performers from our preseason list of ten sneaky-good teams -- those without lofty expectations externally but the ability to make noise in their conference.
For ASU, a Rose Bowl trip actually seems plausible. The Sun Devils (7-2, 5-1), who lead the Pac-12 South by a game over UCLA, have an offense that could get weird against Stanford or Oregon in a conference title game.
Yes, we whiffed on a few. Northwestern and West Virginia are not making Pasadena plans -- or even bowl plans, for that matter.
But most of these teams have shown either the ability to win a conference crown or push toward the eight-win range.
Graham is aiming for more than that.
"We're on the verge right now," Graham said. "We feel we can beat anybody -- we're not there yet, but we're pretty talented."
Graham is pretty good when he re-ups on a 12-month lease. After back-to-back introductory press conferences at Pitt and ASU in 2010-11, Graham seems comfortable in Tempe.
"I probably made a mistake going there in the first place," said Graham of his one year at Pitt. "If I were to do it all over again, I would have stayed at Tulsa another year."
Now he's got a winner. Below is a look back at the 10 teams we forecasted as sneaky contenders. The last category is where we (OK, me) were flat-out wrong.
YOU'RE WELCOME
Arizona State: Before narrowly escaping Salt Lake City unscathed last week, the Sun Devils pounded Washington and Washington State by a combined score of 108-45. Graham calls 32-year-old offensive coordinator Mike Norvell the best he's had -- and he's had Gus Malzahn and Chad Morris. Run defense is better, as is quarterback Taylor Kelly.
Auburn: Auburn fans on Twitter will pounce on anyone suggesting the Tigers wouldn't have beaten Texas A&M if Johnny Manziel's shoulder was healthy that game. But hey, knocking the Tigers for that is nitpicky, because there's not much to dislike about what Gus Malzahn has done in Year 1. And they don't even have to throw the ball. Nick Marshall and Tre Mason have their way with defenses behind a well-scripted running scheme.
Central Florida: The BCS title chase goes through Central Florida Blvd. But seriously -- the Knights win three of the next four and they're BCS-bound. George O'Leary has reinvented himself after some shaky years. Quarterback Blake Bortles keeps getting better. A stout offensive line anchors an impressive running game. The defensive line isn't elite but a solid back seven compensates.
Vanderbilt: With Tennessee, Kentucky and Wake Forest left on the schedule, Vandy has a good chance to finish 8-4. That would give the Commodores 17 wins in two seasons. The team James Franklin took over three years ago had lost 20 games in the previous two seasons. No one really expected Vandy to win the SEC East, but the Commodores probably have exceeded expectations by beating Florida and Georgia.
CLOSE, BUT NOT QUITE THERE
Kansas State: You had to figure the Mighty Snyders would scrap their way to respectability after a 2-4 start. The Wildcats miss Collin Klein but endured the toughest stretch of the Big 12 schedule with a 3-3 record and will probably finish with at least seven wins on the year. Defenses know quarterback Daniel Sams is a runner but still have difficulty stopping him (10 touchdowns). A young defense has acquitted itself well of late.
Washington: The shine has worn off on the Huskies after losing three straight games in a brutal mid-year Pac-12 stretch, but the Huskies are positioned to ditch the trend of seven-win stagnation under Steve Sarkisian.  The Huskies should be refreshed for the stretch run after a bye week and two easy wins over Cal and Colorado. Time to musk up. Don't forget about Bishop Sankey, who has 1,305 yards and 13 scores in nine games.
Penn State: This team is hard to figure out. Perhaps we should have expected a wild ride out of the Nittany Lions in the aftermath of, well, you know. The losses to key linebackers hurt. Christian Hackenberg might enter 'he's special' territory soon enough but has erratic moments typical of freshmen. After facing Purdue this week, let's see what Bill O'Brien's got for Nebraska and Wisconsin in the final two weeks.
WAY OFF
Northwestern: Anyone who watched the Wildcats play Ohio State in early October knows this should not be an 0-5 Big Ten team. But the brakes pumped rather abruptly on the Pat Fitzgerald bus. NU lost its last three conference games by a combined 13 points, including Nebraska's improbable Hail Mary. Injuries wrecked the offense. And to think the Wildcats are tied for second in the Big Ten in turnover margin, sandwiched between teams with a combined 17-1 record (Ohio State and Michigan State).
West Virginia: Figured Dana Holgorsen's offensive system would have sustained reasonable success despite losing most of the key pieces from last year's NFL-laden offense. Instead, the synergy became hard to recreate when playing three quarterbacks early in the season and all the top playmakers gone. Not to make excuses for Holgo, but the 4-6 start is sort of easy to explain, that's all. The Big 12 transition has been more difficult than anticipated.
North Carolina: This team has standout talent but doesn't yet have the depth Larry Fedora needs, especially on defense. The loss of Gio Bernard was understated. That guy can win games by himself. The Tar Heels are showing grit with three straight wins, but that 1-5 start -- punctuated by a curious 55-31 loss to ECU -- is still surprising. Difficult to win consistently when a team is 109th nationally in rushing offense.
Kevin Sumlin addressed Texas A&M's decision to cancel a rally scheduled for Sept. 11

Expectations are high for Charlie Strong at South Florida, and Houston looks to take the next...

There are new names to learn every season, and here are five to keep an eye on from the AA...
Taking a close, detailed and opinionated look at the AAC a week before the start of the 2017...

These Jayhawks got a tremendous surprise they weren't expecting

Jovon Durante announced on Twitter he's headed to FAU