Arizona's Carey gets late Heisman push after off-field issues
The Arizona Wildcats have one of the nation's best running backs in Ka'Deem Carey, an outside Heisman candidate who found trouble in the offseason.
• 2 min read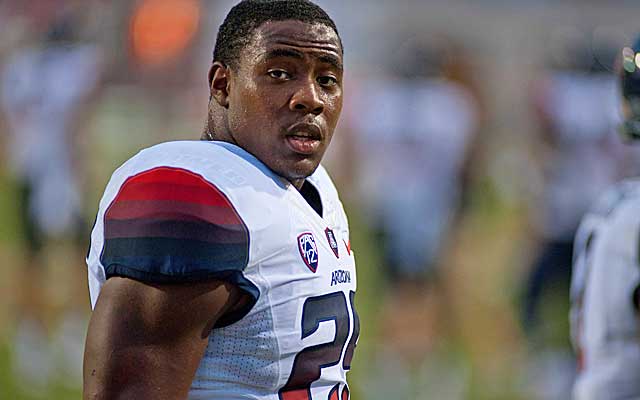 #TeamKaDeem is a lovely campaign. Check Arizona's website celebrating explosive running back Ka'Deem Carey, who's smiling for the camera underneath a picturesque Tuscon day. 
Carey is a "2013 Heisman Trophy Candidate," according to the site. Based on his ability, averaging 180 yards per game in his last 11, Arizona is justified in pumping Carey's career.
But it was never just about Carey's ability. That Arizona waited about nine weeks into the college football season to relaunch the campaign is no coincidence.
Carey had to regain trust. Carey faced charges for a domestic dispute with his girlfriend from December. Those charges were dropped. In a separate incident, Carey was removed from a men's basketball game after confronting a UA staffer with the cliched do-you-know-who-I-am treatment.
Carey missed the season opener against Northern Arizona as a result, and Arizona decided it wouldn't pump #TeamKaDeem until "Ka'Deem did the right things on and off the field in the spring/summer and regained the trust of his coaches and teammates," according to Arizona spokesman Molly O'Mara. The school had mentioned Carey for various conference and national weekly awards but didn't promote the hashtag -- a working concept from late last season -- until Oct. 27, after the approval of coach Rich Rodriguez and administration.
Carey isn't considered a primary Heisman candidate but could make a run at the Doak Walker Award, which honors the nation's best running back.
In an interview with CBSSports.com before the 6-2 Wildcats' upcoming game with UCLA, Carey said he respects that process.
"They just wanted to see how I had matured as a person and how I handled things," said Carey, who led the nation in rushing last year with 1,929 yards, the fifth-best total in Pac-12 history. "Once they saw how I handled things, that really started taking off."
Carey said he had to show the team that "on and off the field, I was making the right decisions" and being a good teammate. Rodriguez challenged Carey to improve, he said.  
Now, he's getting the ball again. Arizona relies on Carey for an average of 27 carries per game, which Carey has turned into 1,072 yards and 10 scores.
"I love my team – missing the first game of the season, that hurt as a person," Carey said. "I feel like I let them down. Just learning from my mistakes. (Rodriguez) wanted me to succeed and fulfill my dreams. We have a great bond."
Carey said he's still with his girlfriend and calls the domestic incident 'a misunderstanding.'
"Things can get carried away, and that's what happened," Carey said. "We are a happy couple. I just happen to be on TV. We're just ready to move on."
Carey's next move is to see how far these Wildcats can go. Arizona hasn't won more than eight games since 1998.
"We can really be a big threat," Carey said.
Schiano would have made $4.4 million in Year 1 with annual raises as part of a six-year de...

Dykes spent this season as an offensive analyst at TCU

The "Wyoming Wild Man" notched six tackles for loss as a junior in 2017
Zaycoven Henderson was charged with aggravated assault with a deadly weapon

Patterson is a former No. 1 recruit in the country

Baker Mayfield and two Sooner teammates made the first team