Arkansas adds commitments from jucos, but floodgates might have opened after loss
Arkansas picked up a commitment from Navarro (Texas) junior college offensive lineman Mitchell Bell last week and added another on Wednesday, when teammate Zach Fondal made the same pledge. Despite that, a possible 1-2 start has things looking difficult on the recruiting trail for the Razorbacks.
Do you want to know who has the toughest recruiting job in the country? That is likely DeWayne Walker at New Mexico State, who is in Las Cruces without much of a talent base, must deal with being an independent program in 2013 and faces an uncertain future at the FBS level. Ditto Robb Akey at Idaho.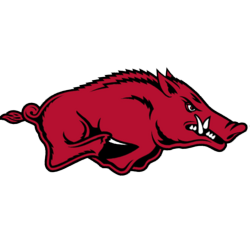 But among the BCS AQ conference teams, Arkansas coach John L. Smith is the one paddling the most water to stay afloat. Already in the toughest division in the toughest conference in America, he's on a 10-month contract and last weekend suffered the humiliation of losing to Louisiana-Monroe in Little Rock -- with a good possibility of being blown out on national television against Alabama this week. Despite that, he marches on recruiting the best he can.
The Razorbacks picked up a commitment from Navarro (Texas) junior college offensive lineman Mitchell Bell last week and added another on Wednesday when one of his teammates, Zach Fondal, made the same pledge. Depending on whom you talk to, Arkansas has 16 commitments for the class of 2013.
"They offered me last week, I think on Tuesday. I was jumping for joy," Bell told HawgSports.com. "I was just excited and overwhelmed. I couldn't believe, after I had been slept on and overlooked out of high school (with) people telling me I was too small or too something, being offered by one of the best schools in the country. I was too happy."
But any enthusiasm or momentum for the program from the pair of pickups hasn't been matched other recruits who are starting to look elsewhere. And other schools, already circling like vultures, have added ammunition with Arkansas' recent loss to a Sun Belt team.
Linebacker recruit Kenny Flowers has said he'll visit Texas A&M now. Tight end Deondre Skinner recently added an offer from LSU that the Louisiana native will have to think about more seriously. Recent junior college pledge Carroll Washington was one of the players who was contacted as soon as the team suffered its first loss of the season.
"It's kind of crazy because coaches that were recruiting me before I committed, I guess they saw that Arkansas lost so they started trying to get in touch with me again," Washington told the site. "They want to know if that's enough to make me decommit, but my decision is solid. Like I said before, I loved everything when I came to Fayetteville and it's going to take more than one loss to get me to change my mind."
We'll see if that statement will stick with what looks like a tough season ahead for the Hogs -- a season filled with plenty of uncertainty. Luckily for the Razorbacks, it's a solid year in-state for talent. Arkansas has tapped that connection to the tune of five commitments, led by four-star tight end and top-100 recruit Hunter Henry. Fayetteville (Ark.) Elite 11 quarterback Austin Allen has a deep tie to the program as older brother Brandon could start against Alabama on Saturday after coming on in relief of an injured Tyler Wilson.
That said, the in-state players aren't the ones the coaching staff must recruit hardest; it's those who don't know too much about the program who will need convincing. More than 50 recruits and commits will be in town on Saturday, and the play on the field could be as important as the conversations with coaches off it for some of them.
It could be a bumpy ride in an already turbulent year for the Razorbacks, and a handful of recent junior college commitments seem unlikely to turn the tide.
The Nittany Lions came up huge when they needed to against Iowa

It just might have been the best game of the season so far

Projecting the new AP Top 25 poll college football rankings after Week 4
Stay with us all day Saturday for updates and highlights from Week 4 of the 2017 season

Georgia dismantles Mississippi State between the hedges Saturday night

The Horned Frogs looked a lot like their old selves on Saturday afternoon in Stillwater