Arkansas-Alabama headlines SEC early season TV schedule
The SEC released their early season TV schedule, which includes broadcast information for the first three weeks of the season.
• 3 min read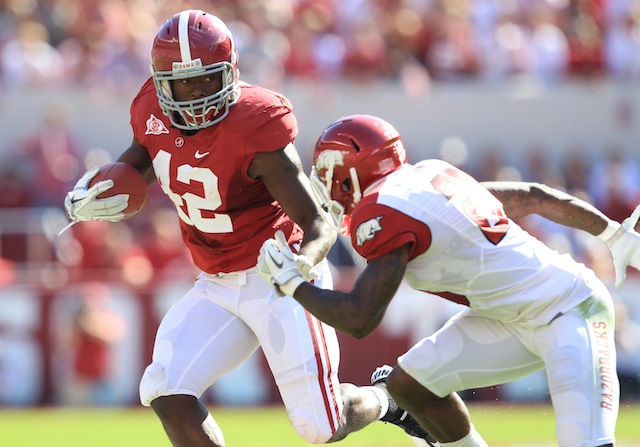 Every year, it happens. The summer winds down near the end of July, and over a couple weeks we get a full dose of college football previews from every conference before teams open fall camp in August.

SEC Media Days begin on Tuesday, officially kicking off the preseason calendar for the 2012 season. The conference began the excitement on Monday by releasing the television schedule for the first three weeks of the season.

Grab your agendas, calendars, or write these dates/times on your hand in sharpie. From South Carolina Gamecocks - Vanderbilt Commodores and the Chick-fil-A kickoff games in Week 1 to Alabama Crimson Tide at Arkansas Razorbacks in Week 3 as the SEC on CBS opener; there are plenty of notable showdowns in this early schedule.

[READ MORE: Tony Barnhart's Five Questions heading into SEC Media Days]

Check out the full SEC television schedule (courtesy of the SEC Digital Network) and let us know what game you are anticipating the most in the comment section below.


Date
Game
Network
Time
Week 1

(Thu.) Aug. 30

South Carolina at Vanderbilt

ESPN

7 p.m. ET/6 p.m. CT

(Thu.) Aug. 30

Texas Longhorns

A&M at

Louisiana Tech Bulldogs

(Shreveport, La.)

ESPNU

7:30 p.m. ET/6:30 p.m. CT

(Fri.) Aug. 31

Tennessee Volunteers

vs. N.C. State (Chick-fil-A Kickoff Game, Atlanta, Ga.)

ESPNU

7:30 p.m. ET/6:30 p.m. CT

(Sat.) Sept. 1

Buffalo Bulls

at

Georgia Bulldogs

SEC Network

12:21 p.m. ET/11:21 a.m. CT

(Sat.) Sept. 1

Bowling Green Falcons

at

Florida Gators

ESPN

3:30 p.m. ET/2:30 p.m. CT

(Sat.) Sept. 1

Auburn Tigers

vs.

Clemson Tigers

(Chick-fil-A Kickoff Game, Atlanta, Ga.)

ESPN

7 p.m. ET/6 p.m. CT

(Sat.) Sept. 1

North Texas Mean Green

at

LSU Tigers

ESPNU

7 p.m. ET/6 p.m. CT

(Sat.) Sept. 1

Jackson State at

Ole Miss Rebels

State

FSN

7 p.m. ET/6 p.m. CT

(Sat.) Sept. 1

Alabama vs.

Michigan Wolverines

(

Wyoming Cowboys

Classic, Arlington, Texas)

ABC

8 p.m. ET/7 p.m. CT

(Sat.) Sept. 1

Central Arkansas at Ole Miss

PPV

7 p.m. ET/6 p.m. CT

(Sat.) Sept. 1

Jacksonville State at Arkansas

PPV

TBA

(Sat.) Sept. 1

Southeastern Louisiana at

Missouri Tigers

PPV

7 p.m. ET/6 p.m. CT

(Sun.) Sept. 2

Kentucky Wildcats

at

Louisville Cardinals

ESPN

3:30 p.m. ET/2:30 p.m. CT

Week 2

(Sat.) Sept. 8

Auburn at

Mississippi State Bulldogs

ESPN

12 p.m. ET/11 a.m. CT

(Sat.) Sept. 8

East Carolina Pirates

at South Carolina

SEC Network

12:21 p.m. ET/11:21 a.m. CT

(Sat.) Sept. 8

Florida at Texas A&M

ESPN

3:30 p.m. ET/2:30 p.m. CT

(Sat.) Sept. 8

Western Kentucky Hilltoppers

at Alabama

SEC Network

3:39 p.m. ET/2:39 p.m. CT

(Sat.) Sept. 8

Washington Huskies

at LSU

ESPN

7 p.m. ET/6 p.m. CT

(Sat.) Sept. 8

UTEP at Ole Miss

FSN

7 p.m. ET/6 p.m. CT

(Sat.) Sept. 8

Louisiana-Monroe Warhawks

at Arkansas (Little Rock, Ark.)

ESPNU

7 p.m. ET/6 p.m. CT

(Sat.) Sept. 8

Kent State Golden Flashes

at Kentucky

CSS

7:30 p.m. ET/6:30 p.m. CT

(Sat.) Sept. 8

Georgia at Missouri

ESPN2

7:45 p.m. ET/6:45 p.m. CT

(Sat.) Sept. 8

Vanderbilt at

Northwestern Wildcats

Big Ten Network

8 p.m. ET/7 p.m. CT

(Sat.) Sept. 8

Georgia State at Tennessee

PPV

TBA

Week 3

(Sat.) Sept. 15

Louisiana-Monroe at Auburn

SEC Network

12:21 p.m. ET/11:21 a.m. CT

(Sat.) Sept. 15

Presbyterian at Vanderbilt

CSS

12:30 p.m. ET/11:30 a.m. CT

(Sat.) Sept. 15

Alabama at Arkansas

CBS Sports

3:30 p.m. ET/2:30 p.m. CT

(Sat.) Sept. 15

Texas A&M at SMU

FSN

3:30 p.m. ET/2:30 p.m. CT

(Sat.) Sept. 15

Florida at Tennessee

ESPN

6 p.m. ET/5 p.m. CT

(Sat.) Sept. 15

Arizona Wildcats

State at Missouri

ESPN2

7 p.m. ET/6 p.m. CT

(Sat.) Sept. 15

Western Kentucky at Kentucky

ESPNU

7 p.m. ET/6 p.m. CT

(Sat.) Sept. 15

UAB Blazers

at South Carolina

FSN

7 p.m. ET/6 p.m. CT

(Sat.) Sept. 15

Mississippi State at

Troy Trojans

ESPN3

7 p.m. ET/6 p.m. CT

(Sat.) Sept. 15

Florida Atlantic Owls

at Georgia

CSS

7:30 p.m. ET/6:30 p.m. CT

(Sat.) Sept. 15

Idaho Vandals

at LSU

PPV

8 p.m. ET/7 p.m. CT

(Sat.) Sept. 15

Texas at Ole Miss

ESPN

9:15 p.m. ET/8:15 p.m. CT

Week 4

(Sat.) Sept. 22

Ole Miss at

Tulane Green Wave

FSN

12 p.m. ET/11 a.m. CT

Week 9

(Sat.) Oct. 27

Georgia vs. Florida (Jacksonville, Fla.)

CBS Sports

3:30 p.m. ET/2:30 p.m. CT

Week 10

(Sat.) Nov. 3

CBS Doubleheader - Game 1

CBS Sports

3:30 p.m. ET/2:30 p.m. CT

(Sat.) Nov. 3

Alabama at LSU

CBS Sports

8 p.m. ET/7 p.m. CT

Week 11

(Sat.) Nov. 10

CBS Doubleheader - Game 1

CBS Sports

12 p.m. ET/11 a.m. CT

(Sat.) Nov. 10

CBS Doubleheader - Game 2

CBS Sports

3:30 p.m. ET/2:30 p.m. CT

Week 13

(Fri.) Nov. 23

LSU at Arkansas

CBS Sports

2:30 p.m. ET/1:30 p.m. CT

Week 14

(Sat.) Dec. 1

SEC Championship Game (Atlanta, Ga.)

CBS Sports

4 p.m. ET/3 p.m. CT


Keep up with the latest college football news from around the country. From the opening kick of the year all the way through the offseason, CBSSports.com has you covered with thisdaily newsletter. View apreview.

Get CBSSports.com College Football updates on Facebook
Carrington was the Ducks' leading wideout in 2016 but was dismissed from the team this off...

Michigan coach Jim Harbaugh always makes things interesting at media days

The Sooners and Longhorns have top-10 classes with Texas landing four top in-state players
These three Big Ten teams could surprise in 2017

It's tough to forget 31-0, but the Buckeyes are trying -- and it starts with a revamped of...

Freeze reached out to his former school while the NCAA was investigating him at Ole Miss