Arkansas coaches don't blame being stuck in elevator for poor second half
Arkansas coaches in the press box couldn't get to the locker room during halftime as they were stuck in an elevator at Jordan-Hare Stadium.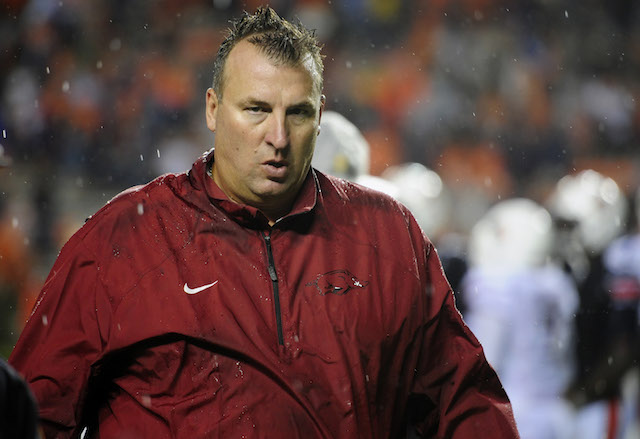 Arkansas coaches aren't going to blame being stuck in an elevator at Jordan-Hare Stadium during halftime of Saturday's loss to Auburn for the team's poor showing in the second half. After Arkansas and Auburn went to the locker rooms at halftime tied 21-21 the second half was all Auburn, as the Tigers outscored the Razorbacks 24-0 the rest of the way. 
"It wasn't that big a deal when we finally got out," said Arkansas offensive coordinator Jim Chaney, one of the four coaches who were stuck in the elevator. "I got to be able to communicate with the coaches down at halftime in the locker room. So it had no bearing on the outcome of that football game."
Chaney, as well as tight ends coach Barry Lunney Jr., linebackers coach Randy Shannon and defensive backs coach Clay Jennings were able to communicate with the locker room via text messages, but that's not quite the same as actually being with the team.
"It is what it is," said Bret Bielema on Saturday. "We had to roll with the flow. Obviously I have coaches up in the booth who look forward to coming down here and meeting as a staff and get on the same page. We were able to communicate by phone.
"I'm not trying to make a big deal out of it, they just weren't able to get down there. I don't have the full story on it, I just know they were actually stuck."
The coaches would use a different elevator to reach the locker room during the lightning delay in the fourth quarter that suspended the game for nearly an hour and a half, but by then there wasn't much that could be done as Auburn had built a 38-21 lead.
Either way, whether Arkansas coaches want to blame the elevators or not, this is just another possible chapter in the rivalry that's forming between Bret Bielema and Auburn coach Gus Malzahn. I'm sure there are plenty of Arkansas fans out there right now concocting conspiracy theories about the whole thing.
Some players are more easily replaced than others

The 2017 season is in the books, and several big-name stars are jumping early to the NFL

Love was second in the nation in rushing with 2,118 yards in 2017
It looks like Jennings is slowly making his way back to the Vols after being dismissed last...

Offensive coordinator Brian Daboll's departure to the NFL has left a void at Alabama

Wilkins was considered a potential first-round pick in the NFL Draft