Arkansas lineman Austin Flynn arrested on drunken driving charge
Austin Flynn, a 22-year-old junior from Torrance, Calif., faces three charges.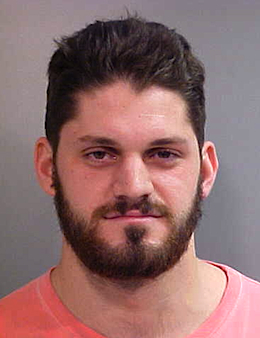 Austin Flynn. (Washington County Sheriff)
Austin Flynn, an Arkansas defensive lineman, was arrested Wednesday morning by Fayetteville police and charged with drunken driving. According to the Washington County (Ark.) sheriff's website, Flynn, a 22-year-old junior from Torrance, Calif., faces three charges: driving while intoxicated, careless driving and no proof of insurance.
Flynn was booked into the county jail at 7:10 a.m. and was being held on $1,075 bond. A court date is set for March 25. As of late Wednesday morning, there had been no statement from the university, the athletic department or coach Bret Bielema.
A 6-foot-5, 260-pound transfer from Los Angeles Harbor College, Flynn enrolled in the spring of 2012 and played in every game last season, finishing with 10 tackles (1.5 for loss) and three quarterback hurries to his credit. He has one season of eligibility remaining.
Per the fan site Arkansas Expats, Flynn is best known among Razorback fans for "once having an impressive beard" in his official team bio pic. He's also the first Arkansas player to run into legal trouble under Bielema, who arrived from Wisconsin in December to replace interim coach John L. Smith. Last August, the website Every Day Should Be Saturday awarded Arkansas with the 2012 Fulmer Cup, a satirical but well-researched title that goes each year to the college team with the worst accumulated criminal record in a given offseason.
It's your last full Saturday of the season, enjoy it

It's rivalry week, and these are the college football games you are going to want to see --...

South Florida and UCF played the most entertaining game of the 2017 season
Bielema completed his fifth season with the Razorbacks on Friday

Friday's upset to Pittsburgh was bad, but it's not a season-ender for Miami

Pittsburgh pulled the upset of the weekend with a 24-14 win on Friday afternoon