Arkansas, Michigan announce home-and-home series for 2018-2019 seasons
Arkansas and Michigan have announced a home-and-home series to be played in 2018 and 2019.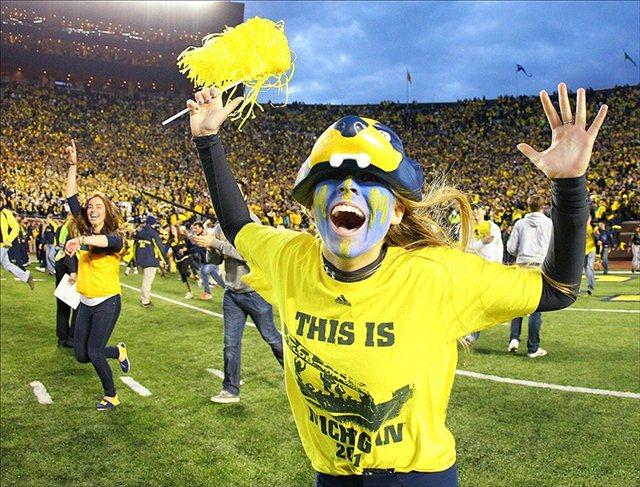 Michigan fans will hope for plenty to cheer about when Arkansas visits the Big House.. (US Presswire)
The trend of scheduling more difficult nonconference opponents to please future playoff selection committees -- and valuable season ticketholders -- has continued with another high-profile future schedule announcement, this time from Michigan and Arkansas.
The Wolverines and Razorbacks announced Tuesday that they will play a home-and-home series in the 2018 and 2019 seasons, with Arkansas visiting Ann Arbor in 2018 and Michigan going to Fayetteville in 2019.
Michigan also announced a one-off home game with BYU in 2015 as the independent Cougars continue their practice of challenging scheduling.
The Wolverines and Razorbacks have met only once, in the 1998 Citrus Bowl. Michigan won, 45-31.
The announcement comes on the heels of Michigan's archrivals at Ohio State dotting their far-distant schedules with the likes of Oregon, TCU and others as schools across the country look to give their schedules a boost. But whether Michigan and Arkansas ever actually see the same field remains a matter of speculation--as the late cancellations of the Buckeyes' game against Vanderbilt and much-less-late cancellation of their series with Georgia show, games as distant as the 2018 season should be written on the calendar in pencil rather than ink.
Young was injured during Miami's Orange Bowl loss to Wisconsin

The movie will zero in on former Penn State coach Joe Paterno during the Jerry Sandusky sc...

Bidding for Salaam's trophy, which the auction house says was obtained legally, ends Satur...
Locksley has been the offensive coordinator at Illinois and Maryland during his coaching c...

Many NFL-eligible juniors ignore advice provided by the league and risk going undrafted each...

Snyder died in Manhattan, Kansas, on Wednesday