Art Briles on Texas report: 'Anybody can say anything'
After a report that Art Briles would take the Texas job if offered, he said Sunday his 'total focus' was on the Bears' bowl game.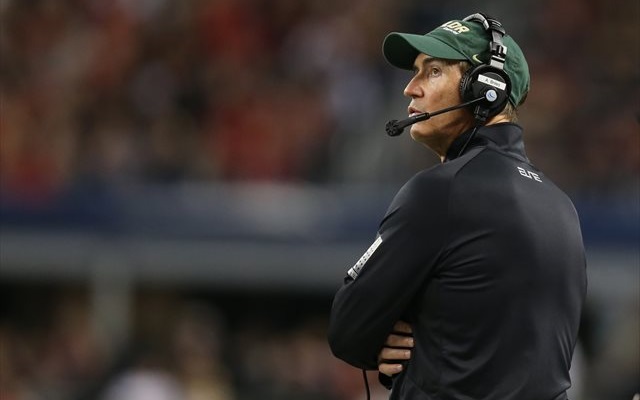 The Austin American-Statesman raised some eyebrows with a report Saturday which claimed that four coaches -- Baylor 's Art Briles, Vanderbilt's James Franklin, Florida State's Jimbo Fisher, and Louisville's Charlie Strong -- were among the coaches "vetted" as part of the Texas coaching search thus far. But perhaps more practically, the report cited two sources in claiming Briles would take the Texas job if the Longhorns offered.
Briles was asked about the report by ESPN Radio's Craig Smoak Sunday, and did not deny it outright. But he also began his response by saying "Anybody can say anything, you know," and added that he and his team's "total focus" was on the Bears' upcoming Fiesta Bowl matchup with UCF.
The complete text of Briles' comments, per Smoak:
"Anybody can say anything, you know. I learned a long time ago, I think it was believe none of what you hear and half of what you read. And I know that our total focus is on beating UCF and that's the way it's going to be. I mean if I did anything that was not on that, that would be detrimental to our football team and our university and I'm never going to do that. I'm privileged and honored to be the head coach at Baylor University I can promise you that."
As with nearly any comment made by any coach on a vacant position he might conceivably pursue (or which his agent might use as leverage in a contract negotiation), Baylor and/or Texas fans are welcome to read whatever they'd like to read into Briles' comments ... though since "I'm not interested in the Texas job" isn't among them, expect them to be taken more as reason to think Briles might be available than not. 
Of course, what Briles thinks about the Texas job is irrelevant if he isn't offered it, and that decision still seems more likely to come after the bowl season than before it. Stay tuned.
HT: Our Daily Bears
Kelly is presently deciding whether to start anew with the Gators or Bruins

There are a handful of conference championship games still to be determined

SportsLine's top college football expert, on a 30-18 run, locks in his top picks for a loaded...
Haynes was 14-45 in five years with the Golden Flashes

True romance isn't dead yet

The Egg bowl will be a Thanksgiving night treat for the college football world