As new American sets out to prove its relevance, plenty will be missing
The new American Athletic Conference holds a BCS bid for 2013 and will kick off its season much like the former Big East once did, but Dennis Dodd says that's where the similarities sadly end.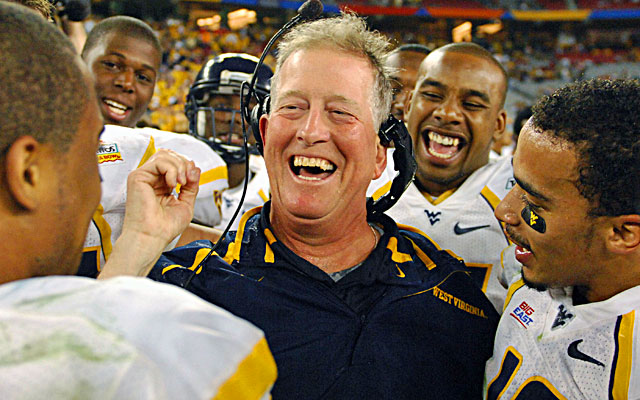 Bill Stewart introduced himself, Bud Light in hand, as only Bill Stewart could.
"The great Dennis Dodd ..." West Virginia's former coach said. We shook hands on the stairs that led to what used to be Dwight Eisenhower's summer retreat during his presidency.
"Meet my lovely bride."
It was warm. It was lovely. It was historic. It was Newport.
We had never met, but you'd never know it from the hospitality extended that day by Karen and Bill. And the greatness was actually elsewhere, all around us, at the Big East's annual lobster bake in Newport, R.I., to kick off its media day.
That structure in the middle of the proceedings -- known as Eisenhower House -- was built as a commandant's headquarters at Fort Adams 140 years ago. It has seen the sun hanging low in the sky on Narragansett Bay, the sailboats on the horizon, the lobster harvested out of those waters for a cookout underground. Those magnificent steamed crustaceans debuting from underneath a tarp. It has hosted players and coaches, stripped of pads and pretense. Same for the ADs and network executives.
Fellowship, football and dinner from the sea floor.
It was the jumping off point, really, for the college football season. On the same lawn where Eisenhower and generals trod, no one took themselves too seriously.
Former Boston Globe scribe Mark Blaudschun could be seen making the rounds. "Blau" knew more about the league than some of the subjects he was covering. Still does. A couple of West Virginia players once ate the entire lobster, claws and all. They became so sick that they missed the actual media day they were supposed to attend.
There are no hotel walls, no handlers, no deadlines for one lovely night that is usually the last of the major-conference media days. Everything seemed possible at that point in late July, early August each year. Even the Big East winning a national championship.
You know by now that even that isn't possible forever. Conference realignment has had its way with the Big East as it has every other FBS league. Sadly, Bill Stewart and West Virginia are gone, along with that feeling that made the gathering great.
Oh, they'll stage the same event Monday night, but with a significantly revised roster. Different league, actually. If you haven't heard, the Big East split with the basketball schools retaining the conference name. The remnants reformed in football for what is called the American Athletic Conference.
The new "American" will retain a BCS bid for 2013, then be relegated to essentially non-BCS status when the playoff era begins in 2014.  There on the shores of the Narragansett, the uncertainty will extend beyond the newbies who have never cracked a lobster claw in their lives. It will extend to the American ... and beyond.
For one year, the likes of Memphis, Houston, SMU and Temple will have a shot at a BCS bowl. Next year they will be joined by East Carolina, Tulane and Tulsa (Navy will join in 2015) lumped in the same non-BCS pile with 50-odd other schools competing for one -- one -- automatic spot per season in the playoff era.
So except for the Homarus americanus it's really nothing like the Big East. The league probably never had top status in FBS but it did have Mike Tranghese. One of the most well-respected commissioners in college athletics kept the Big East heart beating, sometimes by sheer will.
The ACC raided the Big East for Miami, Virginia Tech and Boston College in 2003. A few years later, the Big East was only a BCS league by a charitable waiver awarded by the other commissioners. Market and football forces were taking hold. Tranghese retired in 2009 having seen the future.
"I would have worked another four or five years," he told the Sporting News. "I knew all this stuff was coming. I knew it wasn't ending. I knew the football structure of the Big East was fragile. It's a hard way to operate. The problem with Big East football is they didn't win enough games."
The new commissioner is a nice man named Mike Aresco. In his previous job, he was a TV executive for CBS Sports. The networks have profited handsomely from college football. Some would even argue, they have been impetus for realignment.
Now it is Aresco's job to position his league as relevant in the new Division 4 debate. In that sense, his job is not that much different than Tranghese's was in that market and football forces still rule.
As summer wanes and football seems so far away, the party in Newport will go on for at least another year. The American is committed to coming back at least for 2014. But something will be missing. All the fellowship, all the football, Karen and Bill on the steps of Eisenhower House.
That used to be great.
Kelly is presently deciding whether to start anew with the Gators or Bruins

There are a handful of conference championship games still to be determined

SportsLine's top college football expert, on a 30-18 run, locks in his top picks for a loaded...
Haynes was 14-45 in five years with the Golden Flashes

True romance isn't dead yet

The Egg bowl will be a Thanksgiving night treat for the college football world