As SEC loses serious star power, coaches ask NFL for help
SEC has lost 61 underclassmen to the NFL draft the last two years, which was noticeable at Media Days. But help is on way with a new draft evaluation process.
• 3 min read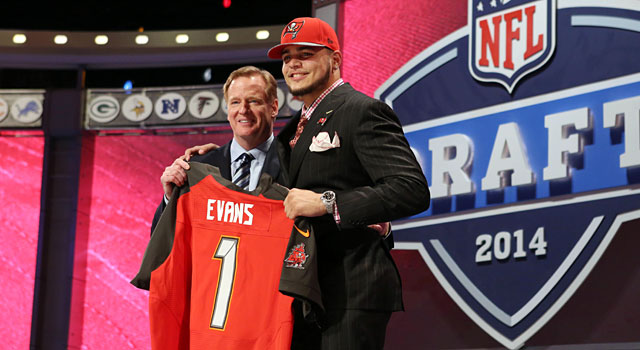 More college football: Jon Solomon | Dennis Dodd | Latest SEC news
HOOVER, Ala. -- The vibe persisted all week at SEC Media Days.
This was a week of star coaches, not star players.
Nothing against Todd Gurley or Amari Cooper, but the combined 61 SEC underclassmen that declared for the NFL draft in 2013-14 place the league in prove-it mode all over again.
Yes, SEC coaches are chest-beating that no league rebuilds quite like theirs. The recruiting is too good, they say. But those same coaches have been publicly clamoring for help from the NFL in the draft evaluation process. They are losing good players, which could affect the bottom line in the fall.
Looks like coaches are getting their wish, with an NFL assist that, in theory, could curb depletion.
Flee Flicker: Leaving Early
Southeastern Conference coaches are hopeful a revised NFL draft evaluation process will curb the mass departure of underclassmen whose stock takes a hit after leaving early. The numbers suggest the SEC is dealing with a drain of precious roster experience.
Year
Underclassmen
declared
From SEC
Pct
2011
56
16
28.6
2012
65
13
20.0
2013
74
32
43.2
2014
98
29
29.5
NFL.com on Thursday confirmed the hints Alabama's Nick Saban dropped to SEC media on the league's new evaluation process with a three-tiered grading system -- first round, second round or neither. Any player in the last tier will be told they "should remain a student-athlete maturing as a potential (NFL) prospect while continuing their education," per NFL.com.
Each school is allowed five player evaluations, though that school can apply for additional paperwork. The old system used five tiers, per NFL.com: first, second, third, not in first three rounds or not draftable.
SEC commissioner Mike Slive occasionally has dialogue with NFL commissioner Roger Goodell, so perhaps this came up in recent conversation.
Ole Miss coach Hugh Freeze hopes the new plan includes precise evaluations, which the five-team limit might facilitate because there's less paperwork involved.
"It's getting the NFL more involved with telling our kids the truth instead of a form letter that says you could be drafted in top four rounds," Freeze said. "To a kid that means first round. For us to have to tell them that that's not the truth sometimes creates some friction from maybe someone else who's in his ear. I'm a fan of it if it is a smart decision for that kid's family."
Nearly 40 percent of underclassmen went undrafted from this year's 98-person class. The last two years, the SEC saw its departures more than double from 2011-12, when it lost a combined 29 players.
But the new evaluation setup helps the NFL and college, said former Cleveland Browns GM Phil Savage, now the Senior Bowl executive director.
The NFL is trying to help because a player that improves with an extra year of school is a "safer investment," Savage said. More than in past, players enter the pros with a thin resume and often lacking refined technique, Savage said.
It's easy to see why the SEC would like the change.
"Some of the guys that left, they would have been stars this week," said Savage while scanning the Media Day festivities at the Wynfrey Hotel. "You can't replace the experience. Now backups don't have a full year to catch up anymore."
Savage adds some players will leave school regardless of grade. It's the trendy thing to do.
Freeze would like to see that trend curbed if it helps players, but he isn't buying the notion that the league's talent will dramatically drop off because of the recent numbers.
He's seen too many unknown players slash into SEC folklore like ninjas.
"No one this time last year was talking about Nick Marshall. Nobody," Freeze said. "Two years ago, nobody was talking Johnny Manziel before his first season. There are going to be others who come through. We're recruiting good kids. Does it take a drop off at certain positions? Probably. It will be back in two years."
Ole Miss quarterback Bo Wallace was so fired up at the assumption SEC quarterbacks have lost luster that he discussed the matter with Mississippi State's Dak Prescott, Georgia's Hutson Mason and Tennessee's Justin Worley at this summer's Manning Passing Academy.
The message: There are still players at the position, so let's prove it.
No more Johnny Manziel or Aaron Murray, but Wallace feels help is on the way.
Mississippi State's Dan Mullen hopes so. SEC teams are looking for experience any way they can get it. That hasn't been as easy lately.
"There's no league in the country that reloads like the SEC, but as guys leave early, you have to get to fill back in," Mullen said. "Having experience is a big commodity."
Many NFL-eligible juniors ignore advice provided by the league and risk going undrafted each...

Snyder died in Manhattan, Kansas, on Wednesday

Locksley joined Alabama's staff in 2016
Saban reportedly wants to hire Freeze, but there may be things keeping that from happening

Florida State-Miami will be on Oct. 6, and the Seminoles will play Clemson on Oct. 27

Weis Jr. was an offensive assistant for the Atlanta Falcons in 2017