Asiantii Woulard takes home MVP honors at Elite 11
From the largest field ever selected, the coaches at the Elite 11 narrowed the list among the country's top quarterbacks from 25 to 11 to finally, just one. After five days of intense competition and hours upon hours of passing, a two minute drill dubbed the 'pressure cooker,' it was Asiantii Woulard who took home MVP honors after a terrific week.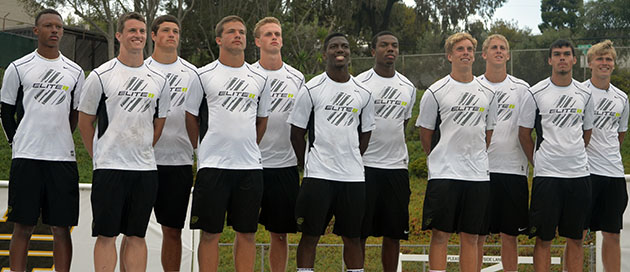 REDONDO BEACH, Calif. -- From the largest field ever selected, the coaches at the Elite 11 narrowed the list among the country's top quarterbacks from 25 to 11 to finally, just one. After five days of intense competition and hours upon hours of passing, a pressure cooker-dubbed two minute drill, it was Winter Park (Fla.) quarterback Asiantii Woulard who took home MVP honors after a terrific week throwing at Redondo Union High in Southern California.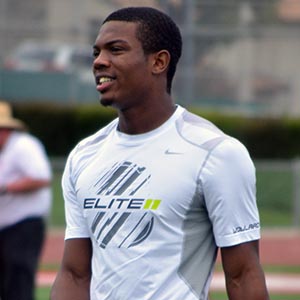 "I was excited, really excited to hear it," Woulard said of the moment he heard his name. "I came out here to win it and I did. I prepared for it and got the opportunity then won it."
"It was hard not to let Max (Browne) or (Christian Hackenberg) win, those two were unbelievable," head instructor and Super Bowl winning quarterback Trent Dilfer said. "That was the hard thing doing MVP, I almost did the three-headed monster again like I did last year. I think there was a hair separation and it came down to this: greatness is making the highly difficult look very easy and that's what Asantii did."
The final group of 11 also consisted of Highlands Ranch (Colo.) quarterback and Oklahoma State Cowboys pledge Luke Del Rio, Stockton (Calif.) quarterback Zach Greenlee, California Golden Bears commit Jared Goff, Maryland Terrapins -bound quarterback Shane Cockerille, future Notre Dame Fighting Irish signal-caller Malik Zaire, dual-threat quarterback and recent Nebraska Cornhuskers commit Johnny Stanton, Arizona State Sun Devils pledge Joshua Dobbs and Wayne (N.J.) quarterback Kevin Olsen, who is committed to Miami (Fla.) Hurricanes .
"It means a lot with the top 25 guys here and hearing my name called," Browne said. "I felt like I was real consistent throughout the camp and this is a great honor to have. We're all here to compete but Asiantii was well deserving, he came in here kind of underrated and showed his skills off very well."
Making the top three, decided only by instructors based on how campers did on and off the field, was an impressive accomplishment for Fork Union (Va.) quarterback and Penn State commit Christian Hackenberg. Dealing with questions regarding the future of the program all week after the Freeh Report was released and the announcement regarding NCAA penalties on Monday, he was still able to turn in a very good performance in the face of plenty of concerning issues going on in the world around him that directly effected his future.
"I was pumped. That was my goal when I came out here, to make that final 11," Hackenberg said. "I accomplished that and got to compete with some of the best guys out here. I think last year they gave out three MVP's and I know in talking with a few other guys there were three of us in the mix. I know I preformed well in this and this class is so loaded, you're really not disappointed."
The Elite 11 started out fairly disappointing for Woulard however, as there was some concern that he wouldn't be able to go at all during the week like he had hoped it would. On the very first day during testing, he re-injured his groin and couldn't finish the first throwing session. After giving a go for the first hour he turned into the walking wounded with a giant ice wrap around his leg as he limped around the high school but he bounced back the rest of the week to go full speed and brushed off an injury that couldn't stop him from ultimately taking home the coveted award.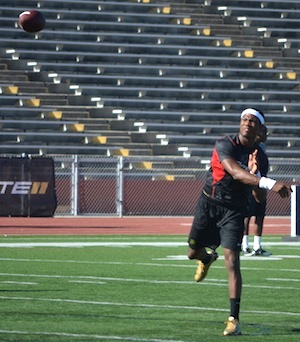 "I am a competitor, I don't like to lose," he said. "I showed toughness, this was more mental than physical. I had to fight through it, I couldn't not compete because I have an injury. It was bearable so I came out and competed."
Woulard was one of the few players at the camp that didn't go to a regional to qualify for the competition, earning his spot with a phenomenal performance at the Orlando Nike Camp early in the spring. While those in charge made an exception for the Floridian because he couldn't make any of the other regionals, he more than earned his spot after showing off a big arm all week and looking surprisingly polished for a recruit who played wide receiver during his first two years in high school.
"He was the last guy. When we invited him, he was what we called a high ceiling project," Dilfer said. "We felt it was our responsibility to take somebody like him. He hasn't really been refined and trained, he's played the position for such a short of period of time. He showed enough ceiling that I thought we had to take him. I never thought he could do what he did, I'm blown away by him."
The 6-foot-4, 205-pounder understood he was coming into the Elite 11 up against quarterbacks much more polished and with thousands of more passes under their belts but knew that he had the skill set to compete with, and eventually beat, all of them.
"There was no doubt," Woulard said. "It's about preparation and with preparation comes confidence. When you know what you're doing and you get an opportunity, you don't have any doubts. It's a good thing."
Ranked as the No. 23 dual-threat quarterback in the country by MaxPreps, Woulard becomes the third player from the state of Florida to win the MVP award. Still raw, he's got a cannon of an arm and naturally can take off and use his legs if needed. He was sharp throughout the week during 7-on-7 and half-skeleton situations but took it to the next level on the final day by tossing a touchdown pass on the first play of the 'pressure cooker.' Coaches wanted one more look at him during the simulated two-minute drill so he came back and threw for another score after just two plays.
Safe to say he's made strides as a quarterback and has plenty of upside at the position.
"I'm just going to continue to work and keep doing what I've been doing," he said. "I'll keep studying. I'll keep working on my footwork and throwing balls to get better."
Despite all of the coaching on the field from current and former NFL and college starts, it was something Woulard had to wake up for at 4 A.M. for that the South Florida Bulls commit ended up appreciating the most.
"Probably the Navy SEALs training," he said. "It was really tough but I think it was my favorite part because it taught me a lot about how important teamwork is and not limiting myself and thinking I can't do something."
"When we were going out to the beach that morning at 4 o'clock, I looked at Yogi (Roth) and said, 'I think we might get four or five guys that will say just F-you, this is too much,'" said Dilfer. "Nobody flinched, They did stuff that most of the teams that I played on, those guys couldn't do. They exceeded expectations."
Especially the MVP of the Elite 11, Asiantii Woulard.
Del Rio earns a spot in the final group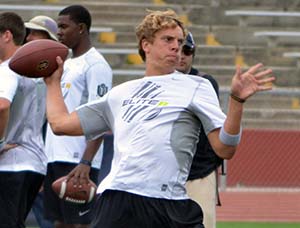 Among a group of some impressive physical specimens, Highlands Ranch (Colo). quarterback Luke Del Rio stood out at the Elite 11 mostly by, well, not standing out if were just walking around. He wasn't tall like Jared Goff or Max Browne, wasn't big like Asiantii Woulard or a lefty like Shane Cockerille. That didn't seem to matter on the field though, as the Oklahoma State commit used his arm to stand out and make it into the final group of 11.
"This week has been incredible," Del Rio said. "You build relationships with all the guys because you're living with them every night. The competition itself has been just incredible. The coaching has been outstanding, I couldn't ask for better coaching."
When not throwing the ball around or studying in the film room, the curly-haired Del Rio was hanging out with family on the sidelines, including father Jack Del Rio, formerly the head coach of the Jacksonville Jaguars and currently the defensive coordinator of the Denver Broncos. Although he was known mostly for sacking or intercepting quarterbacks while at Southern California Trojans and in the NFL, the appreciation and exuberance for his son being named one of the best signal-callers in the country was easy to see on the former All-Pro.
"I'm very proud. All the hard work and dedication to this point -- and a lot more of that we hope -- that he's exhibited, I'm just really proud to see that recognized," the elder Del Rio said. "He came here to compete against the best in the country and be challenged all week mentally, physically and emotionally. He maned up and was strong all week."
The quarterback in the family earned his way to the competition after a remarkably good day at the Columbus regional and Nike camp, of which he was named position group MVP. The 6-foot-2, 190-pounder had his recruitment take off after that and, in addition to picking up several offers and eventually making his pledge to the Cowboys, the experience at the Elite 11 seemed to cap off a wild summer for him.
"He always thought in the back of his mind that he was one of the better players and that he could do it," Jack Del Rio added. "To go to (the Columbus regional) and perform against some of the better players in the country at such a high level, and then go back to Oakland and show it was legit then come here -- he's really grown. I think he gained confidence from the competition.
"For me as a dad, the thing I'm most proud of is the character he's shown throughout. Not everything is going to go your way when you're competing over a week and so it's that moment when you can bounce back and stay strong that I'm most proud of."
"The whole process has been a little nuts for me," the younger Del Rio said. "When I was first selected to come here, I was so excited. Then my dad asked me if I was going to be excited because I made it there or because you just made the 11. The only reason I would have been fully satisfied was to win the MVP. I'm happy either way but I wanted a piece of it."
He may not have wound up as MVP but he certainly earned that piece of the pie.
Hot Reads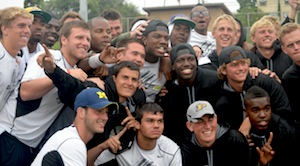 A few quotes from every quarterback at the Elite 11 with the exception of one, Kevin Olsen, due to technical issues.
Josh Dobbs
On getting the invite to the Elite 11
"My parents got the call and didn't tell me so I actually found out watching the selection show. I found out on the couch in my living room. It was pretty exciting, it definitely made my day."
On committing to Arizona State
"I chose ASU because they had my major -- aeronautical engineering -- and I'll also have the chance to participate in the honors college. Then from the opportunity I had to meet with coach (Todd) Graham and coach (Mike) Norvell, I really liked those guys and got along with the staff."
On Todd Graham being different than he's portrayed after leaving Pittsburgh Panthers  
"I didn't really know too much about the whole Pittsburgh-ASU thing. I went in there with an open mind and when I had a chance to meet him in person on campus, it was awesome. I really loved how he was bringing the family tradition into ASU and how he was changing and turning around the program."
Christian Hackenberg
On his Penn State commitment
"For the most part, as long as there's football at Penn State Nittany Lions , this class is pretty much going to stay together. That's one of the positives of this whole class, we're a bunch of pretty resilient guys and I'd say we're leaders in that sense."
On coming out to the Elite 11
"I'm trying to pick up everything I can; I'm trying to be a sponge this week. It's the little things that will help me improve my game, whether it be with accuracy or little footwork tweaks, anything like that to get the edge over everyone else."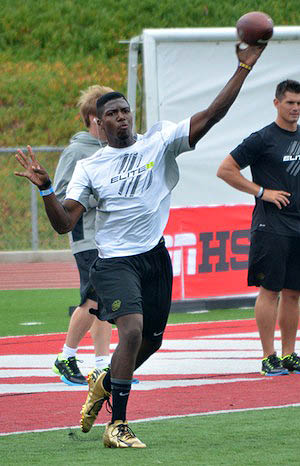 Malik Zaire
On film work
"It's not a challenge at all, I just think it's all mental. As the days get longer, as we throw more balls, it gets tougher physically. At the end of the day though, it's all mental and we're all able to handle that."
On the competition overall
"When you get in a competition with the best 25 quarterbacks in the country, definitely every little thing counts and every little thing is a competition. It's more mental because you think you can throw better than that guy or you fell you lost one rep and you'll come back on the second throw and make it look better. Off the field we have great relationships."
On throwing so much and what he's learned
"I feel good, our high school throws a lot so this is really nothing for me. This is about competing, the top 25 quarterbacks are here so you want to see how you stack up against the best of the best. Drops are a big thing for me because I don't really take any other under center snaps so five- and seven-step drops are something I'm working on. I'm taking some coaching methods to get on top of the ball, accuracy, stuff like that."
On getting the invite
"It was a surprise. I did ok in Dallas (regional) and really good in Las Vegas. Coach Dilfer called me and said I had the invite. I was pretty excited."
On getting best in film the first day
"I know a lot because I really studied. I worked long hours and stuff and was rewarded for that. It was a good opportunity and was a good start."
On the build up to the event
"I was following the whole Elite 11 process and watching the selection show and things like that. I wanted to see where all the competition is coming from and how they could rack up with me."
On the year LSU Tigers is going to have
"I'm very excited, I feel like they can do great things. I think they can win the SEC. It's a high ceiling for that team and I'm excited to see what kind of quarterback (Zach) Mettenberger is going to be."
On LSU taking two quarterbacks
"It doesn't really matter to me. I feel like if I'm coming in, I'm going to have to compete anyway. Just taking two quarterbacks will make me compete even more to get that starting job. I haven't talked to him yet but some time shortly I think I will."
Asiantii Woulard
On injuring his groin
"I did it last week doing sprints so I came in a little hurt. I ran the 40 (on Wednesday morning) and it kind of just started to tighten up. I went most of the day actually but as we got toward the end and progressed, I just had to stop it, ice it. I'll take an ibuprofen when I get home and keep going out."
On the Elite 11 overall
"It's a once in a lifetime opportunity. You get to be with the top quarterbacks in the country and see where you measure up against the best. Of course every guy wants to be that number one guy. You come out here and get to see what this guy does well that you don't and you can put it into your game and step your game up so you learn from all the quarterbacks out here."
What it means to USF having a guy at the Elite 11
"I think it means a lot actually. Not only does it bring attention to USF but it will also bring other recruits to USF. They know we'll have a good quarterback so I think we'll be signing a couple of guys or receivers that may have backed out previously thinking they wouldn't have a guy throwing to them. Me being here helps a lot."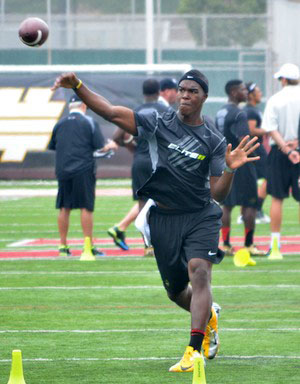 Tyrone Swoopes
On the event as a whole
"This one was a lot more quarterback oriented. The other ones have been a lot more focused on receivers and other positions but this one is just about quarterbacks. It's good for me. I'm trying to soak it all in. I know the film stuff, that's how it's going to be like in college so I'm just trying to soak it all in."
On rebounding from a poor showing in The Opening
"I think it's big because I did struggle at The Opening. I think I came here and found a groove and am doing pretty well so far."
On the other Big Ten guys at the camp
"Right now we're just friends but every one of us is looking at each other saying, 'What did he just do on that throw? I've got to go beat him.' All these guys are great, just beasts. It's hard to out-do them because you can definitely say they're great."
Getting the invite
"My whole town was like, 'Ahhhh!! Let's go Danny!' It's been great. When you set a goal for yourself and you get it, there's just a great sense of accomplishment."
Johnny Stanton
On the biggest adjustment at the camp
"Everyone knew to work on the playbook and everything like that," he said. "One of the toughest things was just trying to get used to this [Nike] football. A lot of the guys worked with it a lot so I think it's definitely something that goes unnoticed by a lot of people. Most of the guys have done a good job overall."
On committing to Nebraska
"Overall I was just a really good fit for the school," he said. "I knew I could fit really well into their system. They obviously offered me so I knew I'd fit in and they were willing to use me. I think it just came down to where I felt I fit in at a school best and with the great academics they have and great family atmosphere with the team, there were several reasons why I chose Nebraska."
On getting the invite
"I was real excited. I got the call and told my parents and it was really exciting. It's great just knowing that you're one of the top guys in the whole country. You're out here representing for yourself, your family and your school.
On what he's learned from the coaches
"I've picked up a lot of things from (Jordan) Palmer and the college guys. I see those college guys throw out there and I rarely, rarely, rarely see them mess up a throw or anything like that. I just imagine that up at Washington and the next level, I know I have to step my game up."
Difference between The Opening and the Elite 11
"It's way different from that. We didn't have a playbook there, we were just drawing up routes and winging it. This is a lot more organized and I'm really enjoying myself."
As a Wing-T quarterback, ever thrown this much?
"I've been everywhere before here so it's not too bad. I was in Oregon and then went to my team's high school camp then right out to here so I've been throwing for a couple of weeks straight. It doesn't really bother me, I'm good with it. Learning progressions is a big thing here though. I usually only go from my deep ball to my flat or take off running. It's definitely working on progressions and film study, that playbook was pretty hectic considering my offense. It's been a good experience."
On Michigan commit Shane Morris
"There was one time I was messing with him. It was at the end of practice and the pressure was on so I told him we were throwing at the 'Shoe (Ohio Stadium), just to see what he'd be like. He hit the pass, he's a good guy and great competitor on top of being a good quarterback."
On the downtime at the Elite 11
"There's definitely some different personalities and things that they do at their high school that trends over as far as being a quarterback. Even the kind of music you like to listen to. Definitely meeting people from all around the country they're all a little different and it's cool to see that."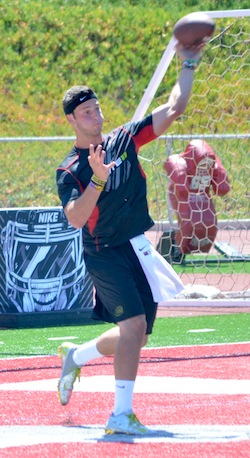 Shane Morris
On tips from the coaches
"The main one was it's all about the pointer finger when you're releasing the ball and how you always want it on top, exactly where you want it to be so that's one thing."
On future rivals he's gotten to know

"Out of all 25 quarterbacks, there's not one bad seed. That's what the coaches were saying, that it's different from other years. Everybody likes each other and gets along so it's aweseome. We're all hanging out, it's not just one guy doing his own things or groups by themselves, we're all one big family and having a great time."
What will you take back and work on after the Elite 11
"Just establishing a comfortable base. You want to be confident too and then you'll throw a good ball. In the film room, they're giving us great tips to know for the next level and the NFL level. They're teaching us how to take notes and study. You have to be in the room for two hours and you can't doze off or fall asleep."
On committing to Ole Miss
"They have great coaches, I love their coaching staff. They have a great scheme that I fit into well. I just have a great relationship with the head coach, offensive coordinator and quarterbacks coach. I want to do something like what Robert Griffin III did. He went to Baylor when they weren't that good but brought in a good class with him and they won a bowl. I'm going for bigger than a bowl game though, I'm trying to get a championship."
On getting the call to be invited
"It's exciting, I was working out actually. I got the call and then stopped my workout, called everybody and told them. I was just really excited, this is a once in the lifetime opportunity.
On making a commitment to Arkansas
"I just felt like it was the right time. With the whole coach (Bobby) Petrino situation, I felt like Arkansas needed a lift up. So me, Brooks and Alex, we all decided we needed to commit and get the program right back to where it should be. I thought about it for about a week, two weeks before that, I was that. Whenever they said coach John L. Smith was going to be the coach, I knew because I love that guy. Hopefully he gets to stay because he's a good guy and a good coach. Hopefully I get to play for him."
On commitment of tight end Hunter Henry
"That's big time right there. That's the guy we needed to get. Now all we need is to get Altee (Tenpenny) and we'll have the five big guys from Arkansas. Hunter will add a lot to our offense and a lot to the program. I think he'll be an All-American wherever he goes but it's pretty sweet he's going to Arkansas."
Luke Del Rio
On the coaching staff
"Jordan Palmer, he's in the NFL so you get to know what that's like. Coach Dilfer, he preaches not to make the same mistakes he did. I thought he was a great quarterback and my dad was actually the linebackers coach when they won the Super Bowl so I was actually there when he did that."
On Oklahoma State starting true freshman Wes Lunt this season
"I wasn't big on (picking a school based on) the depth chart. A lot of guys, that's usually one of their biggest keys and of course I looked at it. Wes Lunt is a great quarterback but we're going to push each other as far as we can. If he has a great year, good for him and I'm probably going to red shirt then. I'm just happy to play college football."
Jared Goff
On the Elite 11 experience
"I think the main part is that all of us are pretty well polished out here but it's the little things about the quarterback position like footwork and stuff like that. It's the little, tiny differences that I've learned that make you that much better. "
On other quarterbacks committed to Pac-12 schools
"We're all friends and I know I'm going to be playing against them in a couple of years but it's fun to get out here and compete against them. There's no bad blood or anything. Meeting all these guys has been awesome."
On having another Cal quarterback at the Elite 11
"It's a really big deal for Cal, I think the last four or five guys have been here. I'm just trying to do my part in it and continue the lineage. Hopefully the guy next year will be here too."
On hurting his thumb
"I was running the shuttle the first day during testing and when I went to plant, my thumb was already on the line and I was turning to go back but my cleats slipped and my thumb bent back. It kind of got messed up and is really swollen right now. I'm just trying to work through it. It's really difficult to throw, I can't even squeeze the ball. I'm pretty much just throwing it with just my fingers so there are some throws I can't make. If it's all over the place it's because of my thumb but I'm not making excuses, I'm out here to compete."
Effect of the injury on the performance
"It makes me want to do well in the classroom but I act like it's not even hurting. I just try and go throw like everybody else is. This is amazing and a great experience, I'm really grateful to be out here."
On being one of the 25 quarterbacks
"It's a huge honor to be selected as one of the top quarterbacks in the nation. It's obviously a big deal and you want to show you can come out here and are one of the top 25."
On learning from the college counselors
"Matt Barkley is in our group so I'm trying to learn everything I can from him. Everything from how he takes his drops to how he throws and his progression, I'm soaking up everything. He's a guy that has obviously been successful at the college level so he knows what he's doing."
On importance to Syracuse Orange having a guy at the Elite 11
"Having a guy here doesn't mean anything until a guy gets up there to Syracuse and puts the pads on. I'm going to learn a lot from this camp, this is one of the best staff's out of any camp I've ever been to. I'm going to take as much as I can from it and learn to be a better quarterback and better leader so I can come to Syracuse and represent."
Zach Greenlee
On the Elite 11 experience
"It's great just getting to meet all the guys you see on the websites and everything, it's great to get to know them as people and see that they're just like you. It's been great and I've had a really good time."
On being the only uncommitted quarterback
"It's different. All of the guys are talking about their schools, wearing hats everywhere and I'm the lone guy not committed. I don't really look at it while we're on the field, I just compete and try and do my best."
On his recruiting status
"I'm hoping this will boost my stock a lot. I hope (college coaches) will see this and see that I'm legit and it's not like, oh Trent (Dilfer) felt bad for him. There's a reason I'm here competing. I'm still sitting with one offer from Fresno State, I haven't really heard from any other schools yet."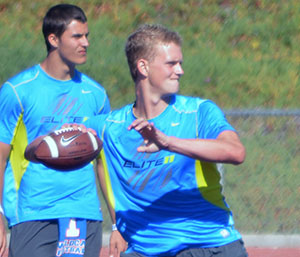 Max Browne
On being a part of USC's recruiting class
"It's 16 strong, with only 2 more spots left. It's been really exciting to follow it. That's one of the reasons why I committed early, to help lead that class and put my mark on it. It's a great class and it's amazing to think only a couple years ago people were saying USC is done and now we're atop the recruiting rankings."
On his high school offense vs. USC's
"My school we run a shotgun spread and USC runs prostyle. It'll be a little different but it's something I wanted because my goal one day is to hopefully play in the NFL. Nothing prepares you better in that regard than USC and a big reason for that is its offense."
On the Elite 11 experience
"It's been awesome, what an experience it has been to be out here. Five days they have us. The Navy SEALs got us (Friday) -- a lot of pushups, a lot of presses. A lot of the guys are a little bit drained but we know what we're out here for and that's to throw the ball around and have fun."
On running the fastest 40-yard dash
"I heard (Anthony) Jennings ran a 4.59, which was barely behind me. At Ole Miss about a year and a half ago, I ran a 4.53, which surprised me then. I gained a little bit of weight, a little bit of muscle, and slowed down a tad. I was in Oregon two weeks ago (for The Opening) and ran a 4.77. I came back here and ran that time so it definitely surprised me."
Shane Cockerille
On being the 25th player selected
"I put it in my mind coming out here that I was just one more guy. I'm definitely trying to prove myself and show everybody I can make that Elite 11. I just think I showed that I can sling it and when the time comes I can get it done."
On what he's picked up
"I have trouble patting the ball they say and (defensive backs) can tell with that. The coaches have been telling me that when I hold onto the ball longer I need to keep two hands on it. It comes off nicer too so I definitely will be working on not patting the ball."
On being one of three lefties
"I see the righties' motion all up high and try and keep it like that. Shane (Morris) can spin it and Malik (Zaire) can too so we're all pretty good."
On knowing Davis Webb
"His dad used to be the head baseball coach at my school then they moved. He lived near me so I know him pretty well."
On playing baseball as well as football
"I love both sports equally. When I'm on the football field I'm a quarterback and when I'm on the diamond I'm a baseball player. Coach (Josh) Heupel actually made up and developed a schedule for me of what it would look like during the spring when there would be a conflict. Football is going to be over baseball and it looks like I'd only miss like four baseball games. The coaches have mapped it out for me and it will work out pretty well. I'm looking forward to going to Oklahoma to play football and baseball and that's what I'm focused on right now."
Notes
- There was understandable interest in Penn State commit Christian Hackenberg given the news surrounding that program the past few days. The quarterback was never glum about the situation nor did he shy away from any questions regarding his future. He said he wants to play in a bowl game in college and he'd be reevaluating his options depending on what the NCAA hands down on Monday. Both him and his father said that as of right now he was committed and excited about being a Nittany Lion and are very supportive of coach Bill O'Brien. The pair will listen to the NCAA press conference tomorrow while driving home after their red-eye but already had their phones blowing up from college coaches hoping to take another shot at landing the five-star quarterback. The younger Hackenberg told one reporter that South Carolina and Auburn could be two schools he'd be interested in getting in touch with depending on what becomes of Penn State.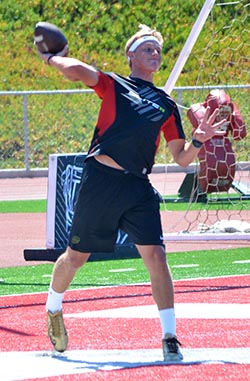 - The most apt pairing of college quarterback and high school recruit was undoubtedly Kingsland (Ga.) signal-caller and Georgia commit Brice Ramsey with Aaron Murray . The two were good friends well before the event and had plenty of time to bond on and off the field.
"Working with Aaron is sweet," Ramsey said. "A lot of these concepts, he's told me that they run them at Georgia. He's told me the differences between the two and how they do it at Georgia so I know what's going on."
One of the top players in the Bulldogs' recruiting class this year, Ramsey has had a busy summer schedule. That included a recent trip to his committed school's summer camp, Dawg Night, right before he flew out.
"It went really well, I threw it well there and saw all the recruits," he said, mentioning that he was recruiting Alvin Kamara to commit next.
- While his coach Mark Richt was speaking at SEC media days, Murray was one of several players at the Elite 11 to run a few routes and play defensive back for fun on Thursday even if it probably wasn't the best thing for his coach's blood pressure.
"Hopefully that doesn't get out (laughs)… I was just getting some conditioning in, running a gasser," said Murray. "Yeah, tell him that."
- You could tell those in charge of the Elite 11 put some thoughts into who roomed with who. Perhaps the liveliest room would be the one with Shane Morris and Malik Zaire together, two future rivals who always seemed to be doing something to draw a laugh.
- Davis Webb mentioned the player he was recruiting the hardest to Texas Tech was Prosper (Texas) wide receiver Torii Hunter Jr., who won the overall MVP honor at The Opening two weeks ago. The latter listed the program in his top three and is expected to be in the running for an official visit.
- Troy Williams isn't considered a true dual-threat quarterback but he's picking up tips if he wants to run a little more this upcoming season. He roomed with Tyrone Swoopes and became really good friends with Malik Zaire as well. Williams actually starts practice on Monday for the fall and just missed the cut for the final 11 after a very good week.
- Oklahoma commit Cody Thomas had the line of the camp when discussing all of the quarterbacks from the state of Texas at the Elite 11 (there were six):
"There's definitely a little bit of unity," he said. "We all say 'Y'all' and these guys from up north all say they say 'you guys.' We have some unity and like to make jokes about it."
- Speaking of Texas, Longhorns commit Tyrone Swoopes was paired with Florida State Seminoles starter EJ Manuel as his college counselor. As chance would have it, he also flew to Southern California with former Texas quarterback and current SMU player Garrett Gilbert on the same flight. While Swoopes talked regularly with a quarterback who knows all too well what it means to be the starter in Austin, it was Manuel who he wanted to pick up tips from the most.
"I've watched him on TV a couple of times and like the way he plays. He throws the ball well and he's a good quarterback," Swoopes said of Manuel.
The Terps will wear these against Indiana on Oct. 28.

The coach of the Eagles isn't here for no science talk

These are the teams that are getting too much -- or too little -- love before the season
The Crimson Tide start atop the AP Top 25 poll for the second straight season

Taking a close, detailed and opinionated look at the ACC a week before the start of the 2017...

There are new names to learn every season, and here are five to keep an eye on from the AC...