At last, you can own the headset destroyed by Iowa State coach Paul Rhoads
Fans can bid online on the mangled headset busted by ISU's head coach in the Cyclones' Oct. 6 upset at TCU.
Iowa State football has had its share of transcendent moments: Who could forget the back-to-back champions of the Missouri Valley Intercollegiate Athletic Association in 1911-12, or the stunning upset over top-ranked Nebraska in 1992, or... uh, that one crazy run by Seneca Wallace against Texas Tech about ten years ago? There is so much Cyclone tradition to commemorate.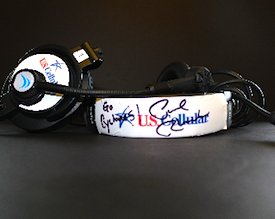 But none of those moments can quite compare to coach Paul Rhoads' spectacular reaction to a (temporarily) blow call in the first half of the Cyclones' 37-23 upset at TCU on Oct. 6, which combined his trademark passion with his slightly less renowned but equally strong penchant for destroying inanimate objects in anger. In this case, the unwitting casualty of his Rhoads' was his headset, the cost of which the school is now attempting to recoup by auctioning off the autographed remains on its official website, Cyclones.com:
This one of a kind, unique piece of Cyclone autographed memorabilia comes directly from Iowa State's victory over the then fifteenth ranked TCU Horned Frogs last Saturday. This headset was worn by Coach Rhoads during the TCU game. The headset is broken but it is signed by Coach Rhoads. This headset comes with a certificate of authenticity. Minimum bids and bid increments do apply.
How much would you expect to pay for such an integral piece of Iowa State history? Ten thousand dollars? Twenty thousand dollars? Incredibly, this essential piece of Cyclone memorabilia has generated only two online bids as of Tuesday afternoon, the top offer coming in at just $375.
But this incredible offer will not last! Bidding will remain open for two more days, until 4:25 p.m. CT Thursday, leaving a mere 48 hours for serious collectors to make their move. And that's not all! Act now, and we'll throw in an appearance by former Cyclone greats Troy Davis to strike the Heisman pose at your wedding, bar mitzvah or office party*! You're running out of time! BID TODAY!
- - -
*Offer is fictional. Reality may apply.
Hat tip: Kegs 'N Eggs
The movie will zero in on former Penn State coach Joe Paterno during the Jerry Sandusky sc...

Bidding for Salaam's trophy, which the auction house says was obtained legally, ends Satur...

Locksley has been the offensive coordinator at Illinois and Maryland during his coaching c...
Many NFL-eligible juniors ignore advice provided by the league and risk going undrafted each...

Snyder died in Manhattan, Kansas, on Wednesday

Locksley joined Alabama's staff in 2016