Auburn, Alabama could have met in Iron Bowl rematch in playoff
College Football executive director Bill Hancock explained how Alabama and Auburn could have played again if a playoff would have been in effect.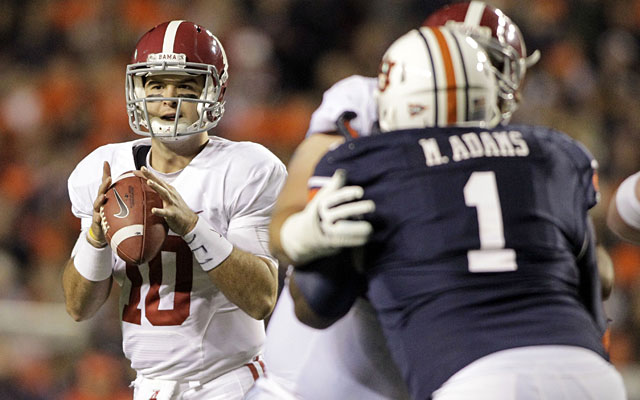 NEWPORT BEACH, Calif. -- Auburn and Alabama could have met in an Iron Bowl rematch had the College Football Playoff been in effect this year, CFP executive director Bill Hancock said Monday morning.
"Take just a minute to think about what an Iron Bowl rematch would be like here in Los Angeles. Wow!" Hancock said at the annual Football Writers Association of America championship game breakfast.
Using the current BCS standings, Hancock speculated on what a playoff bracket might look like with No. 1 Florida State vs. No. 4 Michigan State and No. 2 Auburn and No. 3 Alabama.
Florida State, he said, would have been protected as the No. 1 seed and played as close to home as possible in the Sugar Bowl. In this conversation, then, Auburn and Alabama would have met in the Rose Bowl. The Rose and Sugar host the first playoff semifinals next season.
"They're [selection committee] not going to like rematches. They're going to try to not have rematches," Hancock cautioned. "On the other hand the integrity of the bracket will trump [everything]."
For now it's just speculation. Going forward, that 13-member committee will control the narrative. In other words, we won't know who those four playoff teams are or where they are seeded until the committee releases that information on Pick 'Em Day. (The Sunday following the conference championship games.)
Essentially, there won't be much of a template -- such as the BCS standings -- for public consumption. The committee is going to release a series of rankings during the season but it's not certain when or how often. The first such metric will be released somewhere around Halloween, Hancock said.
"You'll know the four when the white smoke comes out," Hancock said, alluding to the papal selection process.
More likely, the committee would have moved Alabama down to No. 4 and Michigan State up to No. 3. That would create a fairer matchup with Michigan State meeting Auburn in the Rose Bowl and Florida State playing Alabama in the Sugar Bowl.
The first playoff championship game will be played at AT&T Stadium next January in Arlington, Texas.
It's unknown how an Iron Bowl would be received by the public, the teams or the coaches. Part of the reason we're on the cusp of the playoff era is the Alabama-LSU rematch a couple of years ago. While that was bonus locally – one New Orleans official said the game rivaled the Super Bowl in terms of economic impact – the game didn't register well nationally.
Heaven and earth were torn asunder Nov. 30 in what was probably the best Iron Bowl of all time. Outdoing that game might have been impossible.
Gary Danielson previews this week's SEC on CBS Game of the Week from Nashville

Gary Danielson and 247Sports' Rusty Mansell join for an SEC-flavored episode

The first three weeks of the season have elevated some coaches to the big time
Debating the top team in the country, grading the surprise teams as 'real' or 'fake'

SEC races kick into high gear with some fun matchups that will shape the landscape of each...

The Bottom 25 ranks the 25 worst teams in college football every week