Auburn backup QB Jeremy Johnson predicts Heisman for Nick Marshall
No one is higher on Nick Marshall's potential than his backup at Auburn, Jeremy Johnson, who calls it a 'fact' Marshall will win the Heisman.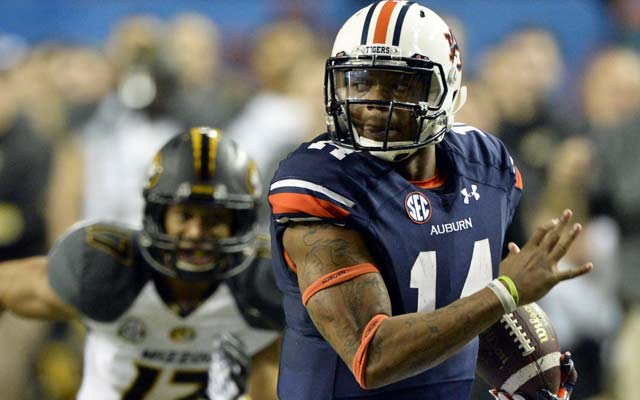 More college football: Jon Solomon | Dennis Dodd | Jeremy Fowler | Latest news
Suffice it to say Auburn backup quarterback Jeremy Johnson gets along just fine with the Tigers' starter, Nick Marshall -- well enough to anoint his teammate the future Heisman Trophy winner, anyway.
"He led us to the national championship, and we were 13 seconds away," Johnson told al.com Sunday. "And this year he got better at passing, better at running, better at making reads. He's become a leader on this team and I've never seen him so amped at practice every day the way he is, the way he comes out.
"So, I know for a fact he'll win the Heisman."
A fact, folks, even if Marshall won't start the season opener after his July citation for possession of less than an ounce of marijuana. (Gus Malzahn hasn't specified exactly when Marshall will see the field vs. Arkansas Aug. 30.) 
That doesn't necessarily mean Johnson's completely out of his orange-and-blue gourd here, though; Marshall currently boasts the seventh-shortest odds of any Heisman contender according to Bovada, tied with Wisconsin tailback Melvin Gordon at 16-to-1. (The six players "ahead" of Gordon and Marshall, in order of shortest odds to longest: Jameis Winston, Marcus Mariota, Braxton Miller, Bryce Petty, Brett Hundley and Todd Gurley.) Auburn's nation-leading ground game meant Marshall didn't pass often enough in 2013 to put up the kind of dual-threat numbers needed to challenge for the Heisman, but with an upgraded receiving corps and the extra year of experience in Malzahn's system, that could conceivably change in 2014.
Of course, the Heisman race has proven so unpredictable in recent seasons that giving any "favorite" anything more than an outside shot is expressing too much confidence. So it's hard to be too hard on Johnson for merely expressing that too-much-confidence on his teammate's behalf.
The charges all stem from an investigation into improper debit card charges

LSU at Florida has been picked as the SEC on CBS Game of the Week

It's an interesting move from Florida coach Jim MacElwain to say the least
Florida State's 0-2 start to the season can't be blamed on one specific thing

Georgia and NC State were also big movers in this week's power rankings

Here are the early lines for big Week 5 games from Vegas