Auburn defense looks mismatched vs. Florida St., so how did it hold up?
The Tigers' defense ranked 88th nationally but had to face a slew of great quarterbacks while using a bend-but-don't-break method.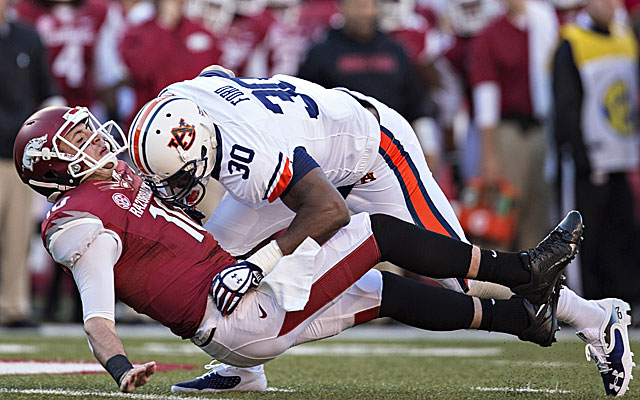 NEWPORT BEACH, Calif. -- Ellis Johnson, the defensive coordinator for No. 2 Auburn, has been a football coach for 39 years and in that time has learned a number of important lessons. At the top of that list is this: In football, some things just can't be explained.
Auburn will arrive at Monday night's BCS Championship game in Pasadena with a defense that, statistically and logically, has no business being here.
Conventional football wisdom says that a defense ranked No. 88 the nation, giving up 423 yards per game, should not be one victory away from a national championship. Because great-not-good-defense has been the linchpin to the SEC's incredible run of seven straight BCS titles.
Six of those championship teams fielded defenses ranked in the final top 10. Two of those (Alabama in 2011 and 2012) were ranked No. 1. The lone exception in that run was 2010, when the Auburn defense was ranked No. 57 but held high-flying Oregon to only 19 points to win the BCS championship game.
But here are the Auburn Tigers and all of their gaudy (bad) numbers getting ready to play for the crystal football.
"I wish I could explain it but I really can't," said Johnson, in his first year as Auburn's DC. "They've been confounding. They've been frustrating at times. But I will say this about my guys. When things get tough they don't let go of the rope."
SEC's Defense During Title Run
Year
Team
Rank
2006
Florida
10th
2007
LSU
3rd
2008
Florida
8th
2009
Alabama
4th
2010
Auburn
56nd
2011
Alabama
1st
2012
Alabama
1st
On paper Florida State's offense vs. Auburn's defense should be a mismatch. The Seminoles lead the nation in scoring at 53 points per game. They have the Heisman Trophy winner (Jameis Winston) at quarterback. They have three big wide receivers, including Kelvin Benjamin, who could all go over 1,000 yards for the season in this game.
Auburn has a banged-up secondary that struggled at times against the tall athletic receivers from Missouri in the SEC championship game.
"I know it looks like they have a big edge on us, but we have a lot of guys who have played a lot of football," said defensive tackle Nosa Eguae. "We have been through a lot together. And when our backs get up against the wall we usually find a way to make a play to keep teams out of the end zone. We give up a lot of yards, but we don't give up a lot of points."
Auburn fans looking for a glimmer of hope against Winston should remember that the Tigers, while giving up a ton of yards, are No. 8 nationally in red zone defense. Opponents have gotten inside the Auburn 20-yard line 48 times in 13 games. Auburn has allowed only 23 touchdowns (16 rush, 7 pass) and 11 field goals.
"We just believe that somebody is going to step up and make a play when the other team gets close," said defensive end Dee Ford. "We believe in each other."
Auburn's Defense
Category
Rank
Total defense
88th (423.5 ypg)
Scoring defense
38th (24.0 ppg)
Rushing defense
62nd (163.2 ypg)
Passing defense
104th (260.2 ypg)
Red zone defense
8th (23 TDs)
Third down defense
20th (34 pct)
Fourth down defense
37th (44.4 pct)
If the game remains close and goes into the fourth quarter, Auburn will like its chances. Everybody knows about the two miracle finishes against Georgia and Alabama. What most folks don't know is that until that Georgia game on Nov. 16, Auburn had given up only 30 points in the fourth quarter all season.
Georgia scored 21 in the fourth on the furious rally led by Aaron Murray. Alabama scored only seven in the fourth and Missouri, after running up and down the field for 42 points in the first three quarters, did not score in the final 15 minutes against Auburn.
"We hang our hat on just trying to play good defense in the fourth quarter," said Eguae. "Our deal is going out there and executing when the game is one the line. Up front we're playing 10 to 12 guys so when it comes to the fourth quarter, we're fresh, and that's really our MO for playing in big-time situations."
"Our guys have been pretty good on third down [34 percent], fourth down [44.4 percent] and have been very good in the fourth quarter," said Johnson. "But we're going to have to play better against Florida State if we're going to have a chance to win the game."
Auburn knows it is going against a great young quarterback in Winston. But it won't be the first great quarterback Auburn has faced this season."
"He's gifted, no doubt about it," said Johnson of Winston. "But we've seen some really good quarterbacks like [Johnny] Manziel, [Aaron]  Murray, [Zach] Mettenberger, [AJ] McCarron and [James] Franklin. There's a lot of really good quarterbacks in our league."
At the end of the day, said defensive back Chris Davis, who returned missed field goal 100 yards to upset No. 1 Alabama on Nov. 30, Auburn understands that Florida State appears to have the stronger team, particularly when it's the Seminoles' offense vs. the Auburn defense.
"They are a great team. They have a great quarterback. They have 6-4 receivers who can run past you and out-jump you," said Davis. "But we have a group of guys who believe that if we can keep it close, we'll find a way to win."
CBS Sports HQ Daily Newsletter
Get the best highlights and stories - yeah, just the good stuff handpicked by our team to start your day.
Please check the opt-in box to acknowledge that you would like to subscribe.
Thanks for signing up!
Keep an eye on your inbox for the latest sports news.
Sorry!
There was an error processing your subscription.

Compete for Prizes & Play Against Friends with College Pick'em
The Gators and Hurricanes will open the season under the lights in Orlando in Week 0

Where is college football headed five or 10 years from now? That's what the sport is trying...

SportsLine's advanced computer model simulated every Week 1 college football game 10,000 t...
There are a few new wrinkles to the targeting rule this season

SportsLine's advanced computer model simulated the entire 2019 college football season 10,000...

Taking a close, detailed and opinionated look at the Big Ten as the college football season...