Auburn Softball Report: Week 5
A look back at the week that was in Auburn softball and ahead at what is to come.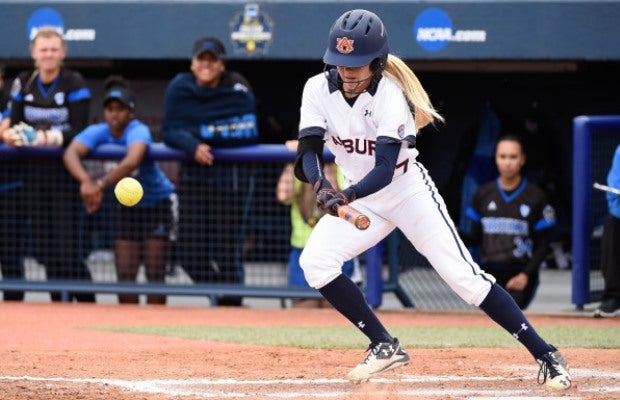 THE WEEK THAT WAS
Auburn went 5-0 in the Clearwater Spring Break Classic to improve to 27-3. Kaylee Carlson pitched a perfect game in an 8-0 victory over Ohio State.
The Tigers traveled to Tennessee for schedule games against Tennessee and Middle Tennessee State, but both were canceled because of cold weather. Instead of flying to Florida as planned, they bused back to Auburn on Wednesday and bused to Clearwater on Thursday.
The week's results
Auburn 2, North Dakota State 1
Auburn 4, South Florida 0
Auburn 6, Illinois 2
Auburn 8, Ohio State 0 (6 innings)
Auburn 9, LIU-Brooklyn 4
The standouts
Junior catcher/DP Carlee Wallace went 6-for-17 with a home run, a triple and four doubles. She drove in eight runs and scored four.
Senior third baseman Kasey Cooper was 6-for-17 with two home runs, a triple and two doubles. She drove in five runs and scored four. She became the second player in SEC history to have 250 career hits and 250 career RBIs.
Junior catcher/DP Courtney Shea was 5-for-11. She drove in one run and scored one.
Junior right-hander Kaylee Carlson pitched a perfect game in a 6-0 victory over Ohio State, the second in program history. For the weekend, she pitched 13 innings and gave up one run on three hits. She got two wins.
Sophomore right-hander Makayla Martin pitched 17 innings, giving up eight hits and two runs. She got three wins.
WHAT'S AHEAD
The Tigers go to Gainesville to play a three-game series against Florida, starting Saturday. The Gators are ranked No. 1 in one poll and No. 2 in the other.
The schedule:
Saturday: at Florida, 5 p.m. (ESPN2)
Sunday: at Florida, 6 p.m. (ESPN2)
Monday: at Florida, 6 p.m. (SEC Network)
NOTEWORTHY
-- How challenging is Auburn's trip to Florida for a three-game series? In five SEC games - two against Missouri and three against South Carolina - the Gators have given up one run. They have scored 36.
-- Auburn has lost five of its last six regular-season games against Florida. The Gators swept a three-game series in Gainesville in 2014, winning two one-run games and a two-run game. They won two out of three at Auburn last season, winning 6-3 and 8-5 and falling 5-4. Auburn won an SEC Tournament matchup 2-1.
-- Auburn coach Clint Myers on Carlson's perfect game: "I thought Kaylee pitched awesome. "To pitch a perfect game, that's just something that doesn't happen. She got great support from the defense and we needed it.
-- Centerfielder Victoria Draper leads Auburn in hitting with a .411 batting average. Carlee Wallace is hitting .388 and Haley Fagan .337. Kasey Cooper is hitting .300. Kendall Veach leads the team in home run with seven. Cooper has six and Wallace and Fagan have five apiece. Cooper and Wallace share the RBI lead with 30 apiece. Veach has 26.
SEC STANDINGS
Florida 5-0, 26-1
Texas A&M 5-2, 26-2
Alabama 5-1, 28-3
Auburn 2-1, 27-3
Tennessee 3-3, 22-5
Georgia 1-1, 25-4
Kentucky 1-1, 19-5
Arkansas 2-4, 21-6
Mississippi State 2-4, 22-7
LSU 1-2, 23-7
South Carolina 1-5, 19-10
Missouri 0-2, 17-11
Ole Miss 0-3, 21-6
Greg Huegel suffered a knee injury during Wednesday's practice

The Wildcats and Utes open conference play on Friday night

Eichorst's firing on Thursday sets Riley's seat ablaze, even if a decision won't be made i...
Eichorst had been at Nebraska since 2012

Three straight titles makes it seem like 'Alabama and everybody else' in the SEC

Some early-season Big Ten games could shake up the national standings