Auburn starts 1-6 for first time in 60 years after loss to Vanderbilt
Breaking down the historic awfulness of Auburn's start to the 2012 season.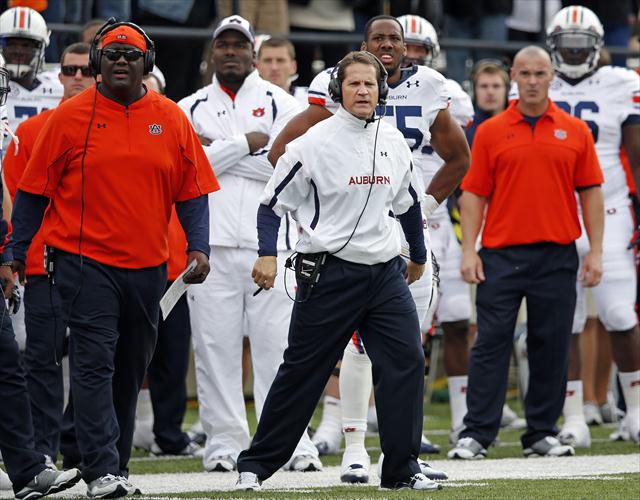 Gene Chizik hasn't had any answers during Auburn's 1-6 start. (AP)
Auburn lost to Vanderbilt 17-13 Saturday, dropping the Tigers to 1-6 overall and 0-5 in the SEC. That is, quite obviously, not good, and the status of Gene Chizik's job for 2013 is now unquestionably a matter for open debate.
But how bad is it, really, for one of the SEC's prouder programs? Let us count the ways:
1. As reported by the AP's Jon Zenor, Auburn hasn't been 1-6 since legendary head coach Shug Jordan's second season in 1952, exactly 60 seasons ago. Auburn had already set a record by losing three games before the end of September.
2. Auburn's descent from the pinnacle of the 2010 national championship has occurred with record speed, as the Birmingham News's Jon Solomon documents:
Auburn becomes 1st team ever in AP Poll era to start 1-6 within 2 years of winning a national title.

— Jon Solomon (@jonsol) October 20, 2012
3. The last time Auburn started 0-5 in the SEC? 1980, when they would finish 0-6 and 5-6 overall. The Tigers have never started 0-5 playing an eight-game SEC schedule.
4. Things could get even worse for the Tigers. Assuming Auburn defeats New Mexico State and Alabama A&M but loses to Texas A&M, Georgia, and Alabama, the Tigers would finish 3-9, 0-8 SEC. Auburn has never won as few as 3 games in a 12-game schedule, and obviously have never gone winless in an eight-game SEC slate.
5. If Auburn does finish 3-9, 0-8, it would be only Auburn's third 3-win season since 1952, joining 3-8 records under Doug Barfield and Terry Bowden in 1976 and 1998, respectively. (The Tigers also went 3-6-2 in 1975, Jordan's final season, before having a win later forfeited to them by Mississippi State.)
So there you have it: this is already one of the worst seasons in Auburn football history, and unless Auburn pulls a major upset in their final three SEC contests against heavy favorites, it will be definitively the worst of past six decades.
Is it any wonder that national championship or no national championship, many Auburn fans are already wondering who their next coach will be?
The movie will zero in on former Penn State coach Joe Paterno during the Jerry Sandusky sc...

Bidding for Salaam's trophy, which the auction house says was obtained legally, ends Satur...

Locksley has been the offensive coordinator at Illinois and Maryland during his coaching c...
Many NFL-eligible juniors ignore advice provided by the league and risk going undrafted each...

Snyder died in Manhattan, Kansas, on Wednesday

Locksley joined Alabama's staff in 2016