Auburn starts staff makeover by hiring Ellis Johnson as D-coordinator
Gus Malzahn moves quickly to build his own staff at Auburn.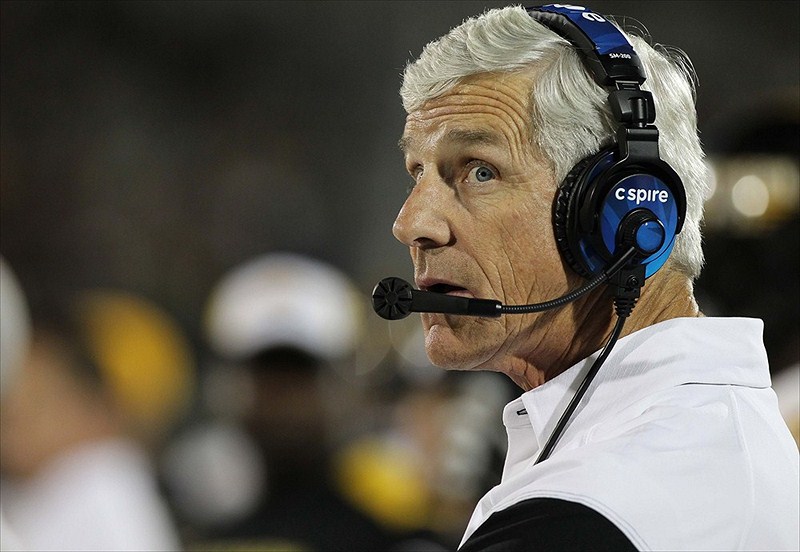 Ellis Johnson didn't have to wait long for a job after his firing at Southern Miss. (US Presswire)
One of the few complaints regarding Gus Malzahn's hire at Auburn is that as Gene Chizik's offensive coordinator just two seasons ago -- meaning he's already worked closely with the Auburn players, the assistants, the administration -- the Tigers would be in danger of seeing not much other than the head coach change, even in the wake of their 3-9 disaster.
But Malzahn's first few days in charge on the Plains might help dispel some of those worries. The offense-first head coach moved quickly to fill what's likely the most important position on his staff, officially hiring recently dismissed Southern Miss head coach Ellis Johnson as his defensive coordinator Thursday. 
"Ellis is one of the top defensive minds in all of college football. He is very experienced and has tremendous success coaching in the Southeastern Conference," Malzahn said in a statement. "He is a man of integrity who will be a great ambassador for Auburn. We're very pleased to have him join our staff and bring a wealth of knowledge and experience to our program."
Though Johnson failed (and failed in spectacular fashion) as the Golden Eagles' head coach, his track record as an SEC coordinator is long and highly distinguished, featuring stints as the South Carolina, Mississippi State, and Alabama defensive play-caller. Three of his four defenses with the Gamecocks finished in the top 15 nationally in total defense, with the 2011 unit ranking No. 3 at 267.7 yards per-game.
"I'm very fortunate for the opportunity to coach at Auburn and return to the Southeastern Conference, where there is so much tradition and history," Johnson said in the statement. "I have a tremendous amount of respect for Gus Malzahn, both as a man and a coach, and I really look forward to working for him. Auburn has a wonderful family environment and is a great community, which is a blessing for me and my family. This is truly a home run for me. I can't wait to get started and I'm ready to go to work."
Johnson will replace Brian Van Gorder, hired by Chizik in January 2012 to wide acclaim after his success with the Atlanta Falcons and Georgia Bulldogs. But the expected improvement from Van Gorder's defense never materialized, with the Tigers dragging their way to the exact same 80th-place finish in total defense they posted in 2011.
Van Gorder was released by Malzahn along with the rest of Chizik's assistants in a complete staff house-cleaning late Thursday. Among the staff let go were highly visible (and possible NCAA investigation targets) wide receivers coach Trooper Taylor and running backs coach Curtis Luper.
"[He didn't say] much, that he's just hiring his offensive and defensive coordinator, and he's going to go from there," special teams coach Jay Boulware told the Birmingham News. "He said if we were interested, he'd let his coordinators choose, so it is what it is."
What it is -- or seems to be -- is a coach many Auburn fans felt wasn't as smart a choice as more experienced options (like Bobby Petrino) putting their authoritative stamp on the program at the first opportunity. Whether that stamp will make any difference when the Tigers return to the field in fall 2013 is anyone's guess, but most Auburn fans will also take that in a hurry over the alternative.
BT Potter is about to be very popular in the Clemson locker room

McElwain will coach receivers and help coordinate the offense for the Wolverines

Nathaniel Watson Jr. was involved in a car accident that injured a passenger in early Febr...
The honorable Tom Fornelli presides over the ASU vs. UM case

Arkansas State is seeking $650,000 for a canceled home game last September due to Hurricane...

Friday Five is tackling the big questions this week