Auburn trustees move forward with Toomer's Corner 'redevelopment'
Auburn's Board of Trustees has approved a plan to reshape the famous Toomer's Corner damaged by Harvey Updyke's poisoning of its iconic oak trees.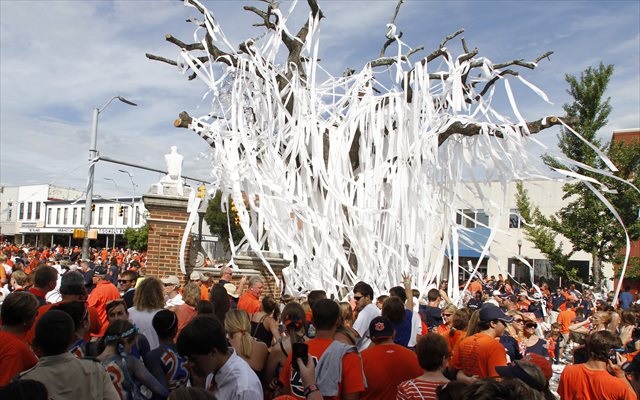 Barely more than a week from the final rolling of the iconic Toomer's Corner oak trees, Auburn's Board of Trustees has approved a plan to redevelop the site -- one that will include the planting of new trees and preserve its status as Auburn's go-to destination for victory celebrations.
The plan approved by the Board on Friday is set to be unveiled during Auburn's April 20 "A-Day" spring game ceremonies, which will incude the final rolling of the Toomer's oaks before they are removed three days later. Poisoned by now-infamous Alabama fan Harvey Updyke, the oaks were deemed too ill to remain at the site in February.
Per The War Eagle Reader, the school hinted that the unveiling of the new design would be done "dramatically." In February, the school conducted a workshop with two of the most popular designs among surveyed Auburn fans, with one of those plans or a slightly altered version likely the one introduced Friday for what's officially being called the "Auburn Oaks at Toomer's Corner Redevelopment."
The project will ultimately cost between $1 million and $2 million, assistant vice president for facilities Dan King said. An architect will be chosen at the board's June meeting, with the final version of the plan approved sometime after that. 
Though trees for Auburn's rolling celebrations will be a key part of the plan, it remains to be determined if the former trees will be replaced by more live oaks or overcup oaks, a different type of white oak species that could be easier to maintain in the local soil. Until the trees are planted, fans will roll a temporary system of wires that spans the corner.
Updyke recently pleaded guilty to a class-C felony charge of criminal damage of an agricultural facility, resulting in a six-month jail sentence and five years of probation.
Information from the Associated Press was used in this report. 
SEC races kick into high gear with some fun matchups that will shape the landscape of each...

The Bottom 25 ranks the 25 worst teams in college football every week

Antonio Callaway and Jordan Scarlett are two of the nine players under investigation
The SEC released its 2018 schedule in full Tuesday afternoon, and it's dripping with intri...

The 2021 Chick-fil-A Kickoff Game will feature Louisville and Ole Miss

The Fornelli 50 ranks teams based on nothing but their performance in 2017