Auburn's Chris Davis tweets he got 'standing ovation' in class
When your 109-yard field goal return wins the biggest Iron Bowl in a generation, these things tend to happen.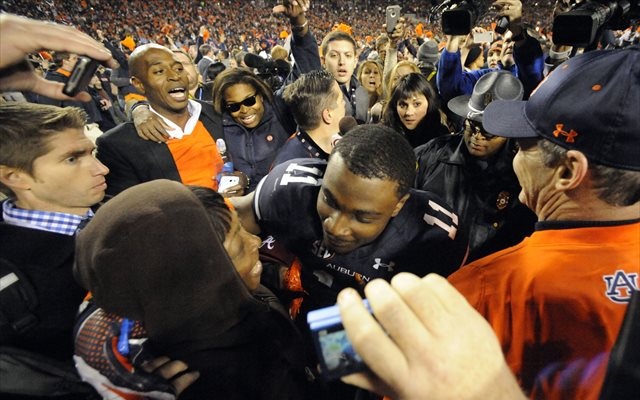 What happens when you pull off the first-ever walk-off field goal return for touchdown in FBS history? When you do it in arguably the most bitter college football rivalry in the country? When those teams are ranked No. 1 and No. 4 and are playing for an SEC West championship and a possible path to the national title, making it the biggest game in that rivalry in a generation? When you do it in front of the most frenzied home crowd in at least two decades?
According to Auburn instant-legend Chris Davis's Twitter feed, this is what happens ... 
Just got a standing ovation from my Geology class... Wow #WarEagle

— Chris Davis (@chris11au) December 2, 2013
... and rest assured that this is only the tiniest sliver of the tip of the iceberg that is the rest of Chris Davis's life. One more time, why don't we?
Locksley joined Alabama's staff in 2016

Saban reportedly wants to hire Freeze, but there may be things keeping that from happening

Florida State-Miami will be on Oct. 6, and the Seminoles will play Clemson on Oct. 27
Weis Jr. was an offensive assistant for the Atlanta Falcons in 2017

Lott is joined by three current athletic directors and will serve a three-year term

These are the top guys every school is still chasing