Auburn's Tre Mason was best player on BCS title game field
Auburn running back Tre Mason nearly carried the Tigers to a BCS title with 195 yards rushing and two total touchdowns against Florida State.
• 5 min read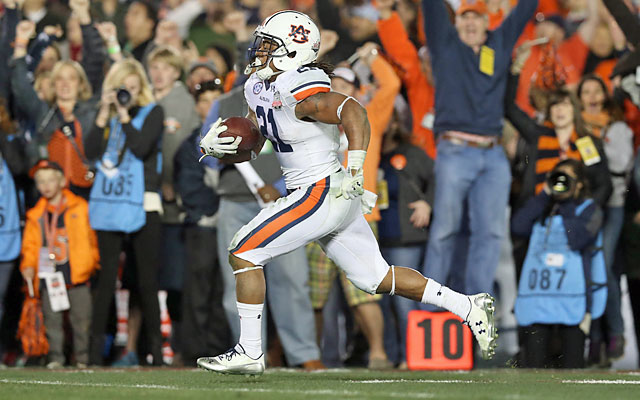 PASADENA, Calif. -- Tre Mason would like to apologize.
He's sorry for his 195 breathless yards, his video-game juke to set up a 37-yard go-ahead score, his single-season record for Auburn rushing yards with 1,816 to break Bo Jackson's mark. He's sorry for taking the pounding from 34 carries and wanting more in Monday's national title clash with FSU, scoring as a receiver and a rusher.
His bad. Auburn lost.
There's no sarcasm here, though there should be, but Mason isn't kidding.
"We wanted to have the biggest turnaround in college football," said Mason after the 34-31 loss. "I want to apologize for not fulfilling that. I tried to do everything to give us the best chance to win the national championship and I failed."
The BCS gave a parting gift for which no one is to blame. It gave us Tre Mason, who carried Auburn toward a Pasadena Prayer, replicating the magic of Jordan-Hare Stadium for the West Coasters who were just catching up.
The Rose Bowl's midfield was covered in garnet and gold confetti early Tuesday because of an Elway-esque drive from Jameis Winston a few hours early. Receiver Rashad Greene slipping through two tacklers for a 49-yard gain set up the winning score fof 6-foot-5 receiver Kelvin Benjamin, who cut inside for the 2-yard touchdown pass with 13 seconds left to seal an FSU title.
If you're still looking for other tangible reasons why Auburn lost, perhaps it was Auburn's stagnant offense at times, giving up the 100-yard kickoff touchdown to Kermit Whitfield or, to be overly picky, scoring too early when Mason shook defensive back Jalen Ramsey for a 37-yard score with 1:19 left. 
Mason was not a reason. He was clearly the best player on the field. Every Seminole that sought out Mason for a postgame hug of his grass-stained white jersey knew as much.
This was Mason's last college game – the junior hasn't decided yet on the NFL draft, but he's probably gone – and the Heisman finalist played like he wanted a voting recount.
It's hard to argue anyone in college football was better than Mason the last month and a half. He piled up 1,063 rushing yards and 15 total touchdowns in his last six games, including a 12-yard catch on Auburn's first score Monday.
While Winston started 6-of-15 passing, Mason already had 96 yards, refusing to let Auburn's destiny narrative expire. By the end Mason had shattered the record for most rushing yards by a running back in a BCS title game and trailed only Vince Young's overall record of 200 yards in the 2006 game.
"I just felt I had to turn it up a notch," Mason said. "If there's a DB around me, I feel I can make him miss."
The way Auburn offensive coordinator Rhett Lashlee saw it, FSU's defensive gameplan was simple: Limit quarterback Nick Marshall's big running games to the outside. Marshall's longest gain of the night was 13 yards.
That left Mason to do his thing. Despite Auburn's five consecutive second-half drives without a touchdown, Mason had one rush for a loss of yardage. One! Auburn doesn't hurt itself with bad plays.
The bigger Mason's workload -- a combined 80 carries the last two games -- the fiercer the forearms to cornerbacks in the open field.
"Tre did tonight what he's done all year," Lashlee said.
After FSU's offense sucked the life out of Auburn, which played well enough to win for 57 minutes, all the Tigers had left was a series of lateral passes in a desperation play to get 83 yards as time expired.
Mason was the last with the ball and went 30 yards before FSU gang-tackled him.
Instant classic games provide several snapshots that define a team's outcome, the moments that left Auburn with these laterals.
Like how the offense missed a chance to score with 1:22 left in the half. After two Mason rushes, Auburn let the clock run down because, as Lashlee says, it didn't want to risk kicking back to FSU when the Noles had all their timeouts.
For the Tigers, the final defensive stand was a nightmare.
The defense was playing a cover zone on Benjamin, so Winston threw a slant to Greene, who slithered between two defenders. "Had two guys whiff," defensive coordinator Ellis Johnson said. "That play flipped the field. Before then, we had the upper hand."
Cornerback Chris Davis, the hero of the famous "kick six" play against Alabama, was in on the tackle attempt, then got called for pass interference on Benjamin and also was covering the huge receiver on the touchdown pass toward the goal post.
These are breaks that fall Auburn's way, until they don't. And to think Auburn didn't appear to need a miracle comeback. It sacked Winston four times with consistent defensive pressure and looked in control in the first half.
"I think we outplayed them, especially on defensive side of the ball," Davis said.
Mason knows he can live with that harsh reality because he remembers what coach Gus Malzahn told the team after the game: 'Actually realize what we accomplished.'
From 3-9 to 12-2, Auburn could be a fixture in the upcoming four-team playoff starting next year.
Mason won't be a part of it. But he knows the next running back probably needs help.
He gave all he could.
"We need to find a way to be more balanced," Mason said. "We need to finish."
College football bowl games were all announced on Sunday, and you can check out the entire...

SportsLine simulated every bowl game 10,000 times for pick'em leagues and confidence pools

Everything you need to know to watch and pick the Las Vegas Bowl on Saturday
Everything you need to know to watch and pick the Camellia Bowl on Dec. 16

Everything you need to know to watch and pick the New Mexico Bowl on Dec. 16

Everything you need to know to watch and pick the Cure Bowl on Saturday