Austin Seferian-Jenkins breaks pinkie, will have surgery
Steve Sarkisian said following Washington's Tuesday practice that his tight end will need surgery for a broken right pinkie.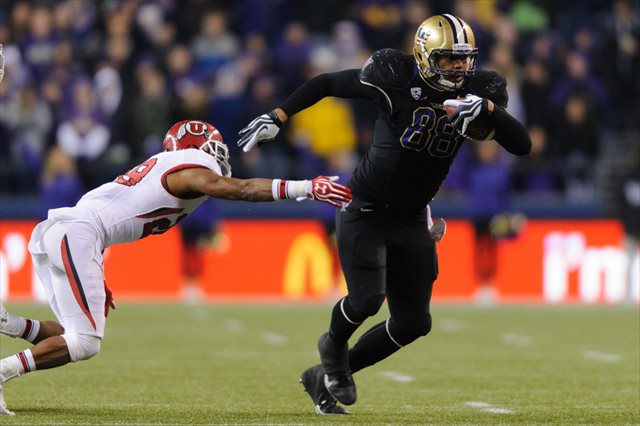 One of the Pac-12's most talented pro prospects -- and one of Washington 's most important players -- will be out for "quite awhile," Steve Sarkisian said Tuesday.
Preseason All-Pac-12 tight end Austin Seferian-Jenkins broke a pinkie in practice Monday, Sarkisian said, and will have to undergo surgery. Though the injury does not appear to be season-threatening, Sarkisian would not establish a timetable for the junior's return.
"Austin's going to be out for quite awhile," Sarkisian said, per the Seattle Times. "He came out with a good attitude. He's doing all the conditioning work and the fundamental stuff from a footwork standpoint, but he won't be catching balls here for a little while." 
When pressed for an estimate of how much time Seferian-Jenkins is expected to miss, Sarkisian said he would "know more at the end of the week."
The injury comes at the tail end of what's already been a rocky offseason for Seferian-Jenkins, who was arrested in March on a DUI charge and pleaded guilty in July. Sarkisian suspended Seferian-Jenkins indefinitely, pending the resolution of his legal issues, before reinstating him in July. Sarkisian said punishment of Seferian-Jenkins would be handled internally, though he has not publicly ruled out a suspension.
Even if the Huskies' receiving corps still boasts leading returning receiver Kasen Williams, any missed regular season time for Seferian-Jenkins would be a major blow. After a breakout sophomore season that saw the former five-star recruit haul in 69 receptions for 852 yards -- 26 fewer than Williams, but 603 more than any other Huskie -- Seferian-Jenkins was named a CBSSports.com second-team All-American and All-Pac-12. He has drawn preseason All-America attention in 2013. 
At an athletic 6'6" and 266 pounds, Seferian-Jenkins is also the second-ranked tight end in the 2014 NFL draft class (assuming he declares) according to NFL Draft Scout.
The Huskies won't have the privilege of fattening up on cupcakes while waiting for Seferian-Jenkins to recover, either; they open their season against Boise State Aug. 31. (They will have the benefit of a bye week the following week, at least, if they can survive the Broncos.) 
In short: if "quite awhile" translates to even one missed week on the field, Seferian-Jenkins' broken little finger could loom very, very large.
There are new names to learn every season, and here are 14 to keep an eye on from the SEC

Taking a close, detailed and opinionated look at the SEC a week before the start of the 2017...

Rosier will start for the Hurricanes in their opener against Bethune-Cookman
Alabama has won three straight conference titles, and the rest of the SEC is full of quest...

Struggles out of the SEC in 2016 were a mere blip on the conference supremacy radar

Georgia Tech has been with Russell Athletic since 1992