Ball State gives Pete Lembo $79,000 raise
Ball State has unsurprisingly rewarded Pete Lembo with an extension and a raise after a 10-win 2013 season.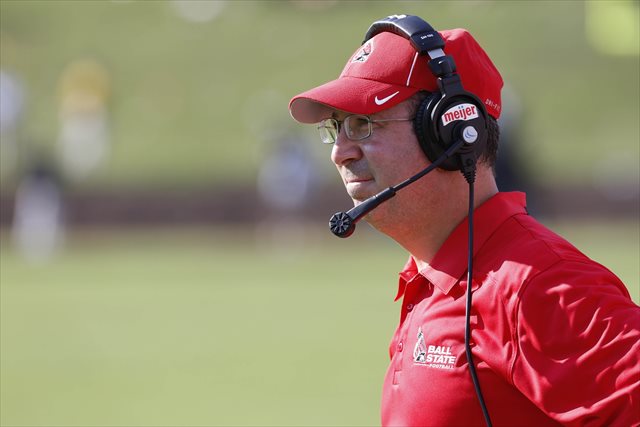 After another successful season at Ball State -- a 10-2 regular season, 7-1 MAC record, and berth in the GoDaddy Bowl -- many expected Pete Lembo to land a larger-profile job on the 2013-2014 coaching carousel.
But Lembo's still in Muncie, and so it's no surprise that the Cardinal administration has rewarded his work in making BSU one of the strongest programs in the MAC. Per the Associated Press, Ball State announced a five-year contract extension for Lembo Thursday that will raise his annual salary by $79,000 to $475,000.
CBSSports.com's Bruce Feldman reported the extension Thursday, citing sources that said the deal would make Lembo the highest-paid coach in the MAC. According to USA Today, the $475,000 figure would make Lembo the second-highest paid coach in the MAC, behind Ohio's Frank Solich.
Lembo has also received the title of Ball State associate athletic director. 
Lembo arrived from FCS Elon at a Cardinal program that had gone 6-18 in two seasons under Stan Parrish, then went 6-6 his first season. He has won 19 games the past two seasons, taking the Cardinals to two bowl games.
These Jayhawks got a tremendous surprise they weren't expecting

Jovon Durante announced on Twitter he's headed to FAU

From Week 1 through the title game, everything runs through Atlanta this season
A concert is a nice way to break up preseason camp

Mills was arguably Georgia Tech's most important player coming into the season

Hugh Freeze's phone records reportedly show another troubling pattern for Ole Miss