Bama-Oregon, anyone? Ten potential first-time matchups in Playoff era
From Michigan State-Oklahoma to FSU-Stanford and Alabama-Oregon, there are at least 10 great first-time matchups the College Football Playoff can provide
• 4 min read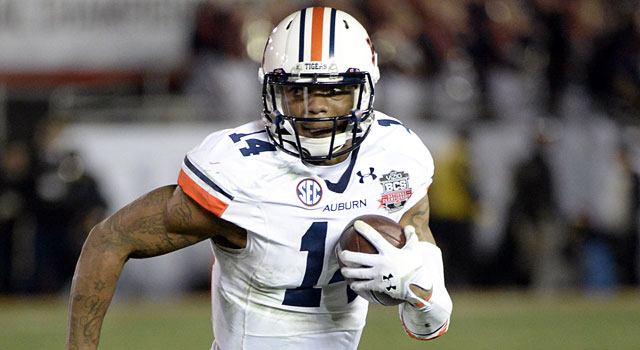 More college football: Jon Solomon | Dennis Dodd | Latest news
If you're feeling these symptoms, please call for help:
* Non-conference scheduling weakness.
* Wallet strain as a result of overpaying to watch your team's bad home games.
* Fatigue from hoping for unique college football matchups that will never happen.
Or now you can take the Playoff Pill, which, despite its side effects (four teams instead of eight, headaches from studying a selection format that MIT grads can't decipher), provides relief within six to eight months.
After all, the four-team College Football Playoff does address one thing – it increases the chances for terrific, never-before-seen matchups.
It's not just four teams instead of two. It's the potential for four random teams that have little – or everything – in common and just don't know it yet.
For those clamoring for more non-regional games that bowls won't touch (yes, you, SEC/Pac-12), this list is for you – 10 dream matchups the playoffs could bring between contending teams that haven't met on the field before.
This is what you really want from college football scheduling.
If you're wondering why Ohio State, Baylor or Clemson aren't on this list, it's because they've played pretty much everybody. That 1979 Baylor-Clemson matchup spoiled what would have bolstered this list.
But there are still tons of great first-time games on the menu. And, yes, this uses 'contending' teams lightly in some cases.
Alabama-Oregon: Who wouldn't want the Tide-Ducks four years after Alabama's rival a few hours east battled Chip Kelly in the Arizona night for a national title? That was also a first-time matchup. Not having Bama-Oregon in the modern history books seems silly and a bit incomplete. We shouldn't have to beg for this. Seems a reasonable request.
UCLA-LSU: The Bruins and Tigers have scheduled a home-and-home starting in 2021, but no reason to wait since we might see them together in six months. UCLA is a trendy semifinalist pick, while the Tigers, though replacing steady quarterback play, should be fully restocked defense.
Michigan State-Oklahoma: This is another one of those where you say, 'Really? They've never played?' Nope. Stoops vs. Dantonio in a semifinal site (Rose or Sugar Bowl this year) would be delicious. Michigan State's offense might be ready to catch up to its D. If Trevor Knight plays 70 percent as well as he did in the Sugar Bowl, Oklahoma should like its chances with an already balanced attack.
Stanford-FSU: Stanford has no history with several teams in the south, but Jameis Winston against that Cardinal defense would drive ratings. The Cardinal loses several impact players but better tight end play should balance out the offense. Don't worry, FSU will stuff another NFL draft stable this year.
Auburn-Stanford: Stanford invites a good no-huddle challenge (See: Ducks, Oregon), but here's a scary thought – Auburn has a chance for more potency despite losing Tre Mason and Greg Robinson. This is hardly a guarantee, as both players were phenomenal last season, but the Tigers have more playmaking depth now and two really talented tackles vying for the left-side spot.
Notre Dame-Oklahoma State: Both aren't considered playoff favorites, but they are established brands that have a chance every year. Notre Dame tries to play everybody, so this is about the best we could do with a unique Irish matchup. The Irish have recruited too well not to improve on last year's eight-win regular season.  The Cowboys finally have a defensive identity to match the other side of the ball.
FSU-Oregon: This has never happened, but it certainly could. Winston and Marcus Mariota trading first downs for 60 minutes would be wild. Those two are the primary reasons why the Seminoles and Ducks could make a realistic 1-vs-4 or 2-vs-3 game.
Michigan-LSU: The Wolverines won't make many top 10 preseason lists, but they have two things going for them – the roster is talented and the program seems due after, really, one good season in the last seven tries. Les Miles needs to match up with the team for which he played, coached as an assistant and flirted with during recent Wolverines coaching searches.
Kansas State-Georgia: Big 12's signature balance means teams like Kansas State can win 11 games. First the Wildcats must get through Auburn on Sept. 19. Last season was the fourth in Mark Richt's 13-year career where he won less than nine games. Twice he's bounced back with double-digit-win seasons the following campaign. Translation: Expect a better Bulldogs team in 2014.
South Carolina-Oklahoma: The Gamecocks, from perennial afterthought to perennial contender, have played most of the country's power programs save Oklahoma – and Steve Spurrier's never coached against former assistant and golf buddy Bob Stoops. This needs to happen, if only for Spurrier's calculated press conference riffs directed at Stoops.
The movie will zero in on former Penn State coach Joe Paterno during the Jerry Sandusky sc...

Bidding for Salaam's trophy, which the auction house says was obtained legally, ends Satur...

Locksley has been the offensive coordinator at Illinois and Maryland during his coaching c...
Many NFL-eligible juniors ignore advice provided by the league and risk going undrafted each...

Snyder died in Manhattan, Kansas, on Wednesday

Locksley joined Alabama's staff in 2016