Baylor hoops star Rico Gathers will head to NFL, not play college football
Contrary to a report on Monday, Baylor power forward Rico Gathers will indeed head to the NFL next season rather than play college football.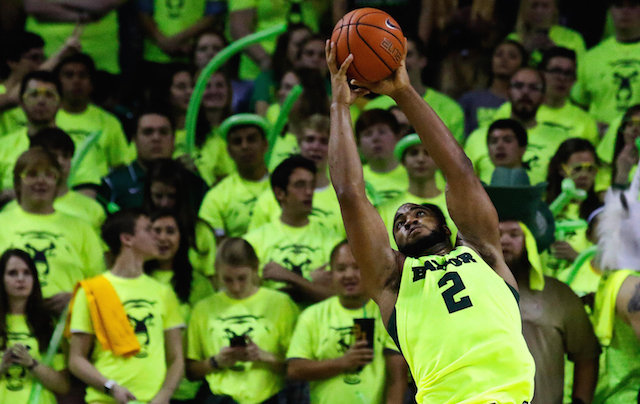 Baylor power forward Rico Gathers intends to pursue the NFL, not play college football for the Bears in 2016, a school spokesman told CBS Sports on Tuesday.
ESPN first reported Gathers was lining up private workouts for NFL scouts, though a report Monday from the Houston Chronicle noted that Gathers would instead stay at Baylor and play football for Art Briles in 2016 as a means of learning the tight end position.
"He says his intent is to play for the NFL, not at Baylor," the Bears' spokesman confirmed.
Another source close to the basketball program reiterated Gathers' choice. Gathers said last week it was in his best interests to pursue an NFL career.
The road might be a tough one. Gathers -- a senior at 6-foot-8, 275 pounds -- hasn't played organized football since age 14, according to a source. His basketball eligibility expires after this season.
Gathers will miss Baylor's NFL pro day on March 16. That's the day before the start of the NCAA Tournament.
"Whatever decision he chooses to make, we're 100 percent behind him," Baylor basketball coach Scott Drew told Dallas SportsDay. "If football proves to be the better option, we're 100 percent behind him."
Gathers' athleticism cannot be denied. An All-Big 12 pick as a junior, he is currently the league's leading rebounder and stands sixth in shooting percentage.
The 21-year-old quarterback was expected to start for the Cougars in 2018

The Fighting Irish will be without some playmakers in 2018

It may have been impossible for Sumlin to meet the expectations set for him in College Sta...
Some players are more easily replaced than others

The 2017 season is in the books, and several big-name stars are jumping early to the NFL

Love was second in the nation in rushing with 2,118 yards in 2017