Baylor RB Lache Seastrunk: 'I'm going to win the Heisman'
After resuscitating his career in 2012, Baylor RB Lache Seastrunk has his sights set even higher for 2013.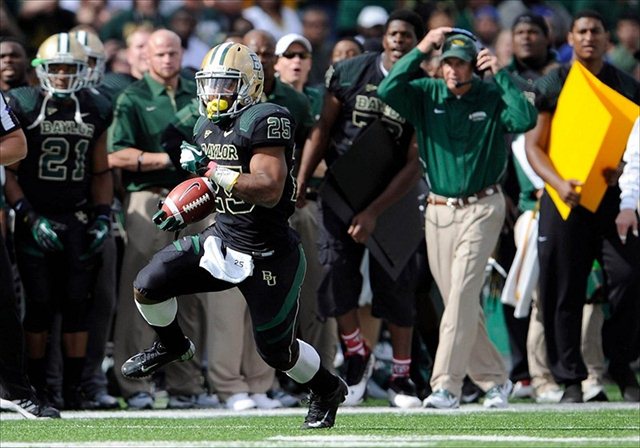 Lache Seastrunk is aiming high in 2013. (US Presswire)
It hasn't been the smoothest of rides for former five-star running back recruit Lache Seastrunk, but in 2012 he finally arrived at something close to stardom: 874 rushing yards, more than 100 receiving yards, an average of 7.6 yards-per-carry, the Big 12 Offensive Newcomer of the Year Award, and a one-legged touchdown against Oklahoma State that ranks as one of the plays of the year.
But with his breakout season finally behind him after two years of sitting on the Oregon and then Baylor sideline, Seastrunk is setting his sights higher -- much, much higher, per the Sporting News, which quoted Seastrunk Thursday as saying "I'm going to win the Heisman in 2013."
Seastrunk isn't the first player to take aim at the Heisman this young offseason, with Jadeveon Clowney having already said it's his goal to make the finalists' ceremony in New York. But Seastrunk's claim was even more confident (or cocky, if you prefer) and faces even longer odds; unlike Clowney or some of the other household names likely to challenge in 2013, Seastrunk hasn't yet made a nationwide impact (statistical or otherwise) and plays for a team that's not a traditional power and is unlikely to be in the national championship conversation.
Also, unlike the last three Heisman winners, Seastrunk is not a dual-threat quarterback. CBSSports.com's Chris "HeismanPundit" Huston's quick take on Seastrunk's chances:
For Lache Seastrunk to win the Heisman, he'll need minimum 2,000 yards rushing.

— Chris Huston (@HeismanPundit) December 20, 2012
Of course, thanks to Art Briles' pinball offense, the idea of Seastrunk rushing for 2,000 yards -- or 167 yards per game -- isn't completely crazy. (He averaged 139 yards over the season's final five games.) And it was just two years ago that Robert Griffin III proved that starting the season as an off-the-radar candidate, even at Baylor, wasn't an insurmountable candidate. The biggest obstacle in Seastrunk's way might be one of his own teammates, Glasco Martin, who gobbled up a healthy number of the Bears' carries even after Seastrunk's breakout game against Kansas State.
The bottom line: Seastrunk's got awfully long odds on even putting himself in the conversation, but he is a potential dark horse and hasn't really hurt anything by setting his sights that high. At the same time, he's also a player with a reputation, fair or not, for making potentially ill-advised comments and finding himself at the center of off-field issues. Even if making a Heisman prediction for himself is mostly -- maybe even totally -- harmless, a figure like Seastrunk is still likely better served by keeping a lower profile and focusing his public comments exclusively on his team's goals.
Just for the heck of it, the video of his Oklahoma State run:
Florida's roster got a boost on Tuesday with the return of several key members of the prog...

Tom Hutton joins the ranks of former Aussie rules footballers joining the college football...

The freshman is already on Heisman lists after throwing the walk-off score in the national...
These seven teams should make the most noise down the homestretch towards signing day

Air Force was forced to cancel 11 athletic events because of the 69-hour government shutdo...

Olson has a lot of the tools offensive coordinators want in a quarterback