Baylor star Antwan Goodley, ex-con father together again
As Baylor's Antwan Goodley enhances his NFL draft stock and the Bears' title hopes, he's reuniting with his father after nearly a decade apart.
• 5 min read
More college football: Bruce Feldman | Dennis Dodd | Jeremy Fowler | Latest news
Baylor will have its spring game Saturday. Supporters will drive to Waco, have some nachos, watch Art Briles coach and it will be fantastic.
When you've just spent nine years away from your son, and your son happens to be a star receiver for Baylor, this isn't just a spring game.
This is his Antwan F. Goodley's championship game as a dad. He'll savor every down. He'll get there early. Hopefully, if his son has time afterward, they can hit up Chick-Fil-A like they did back in Midland a few months ago.
"Some kids might feel like they don't need you anymore because you've been gone for so long," Goodley Sr. said. "I want him to know I'm not going anywhere anymore."
Don't worry, dad. Antwan Goodley Jr. forgave you about 8,000 yards ago.
As Goodley Jr. built himself from an under-recruited receiver out of Midland High to one of the country's most explosive playmakers, his dad knew of the ascension only from phone calls and newspaper clippings. He missed Goodley Jr.'s teenage years while locked in the Federal Correctional Complex in Beaumont, Texas for a drug charge.
Raised by his mother, Goodley Jr. now has a 1,300-yard, 13-touchdown collegiate season, an NFL future, a Baylor degree on the way and a 4-year-old son, Antwan III.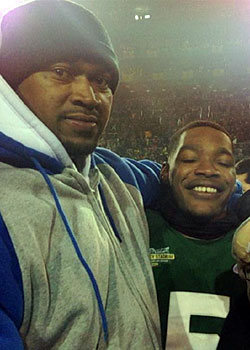 Goodley Sr. is finally part of that journey.
"I always wanted to give him another chance," said Goodley Jr., 22. "I don't fault him for anything."
Dad's not taking any chances, either. Goodley Sr., 39, who's been a free man since October, recognizes his blessing.
"For him to welcome me and let our relationship grow, I can't ask for anything more," he said.
The meeting
Goodley Jr. was about to play West Virginia on Oct. 5, but he had a different gameplan to navigate first: Reconnecting with dad, who was released from prison and headed to the Waco Hilton team hotel to meet.
Goodley Jr. had visited dad maybe three times during Goodley Sr.'s nearly-decade-long stint for possession of cocaine with intent to distribute. Investigators raided his home after sending a confidential informant to buy drugs from the long-time seller, Goodley Sr. said.
Prison is no place for a child. Plus, mom LaSandra Bowers -- playing the role of both parents for much of Antwan's life -- organized weekly phone conversations between the two.
Goodley Jr. always has been quiet and humble, according to family members. He never carried his dad's absence as a burden, he says, though knowing his high school friends came from two-parent homes wasn't always easy.
None of that mattered when Goodley Jr. hugged his dad's 6-foot-4, 250-pound frame in the lobby.
"What's up?" Goodley Sr. said.
"Nothing, man," Goodley Jr. said.
They exchanged "I love yous." No tears, just ear-to-ear smiles.
"All week he was saying, 'my daddy's coming.'" Bowers said. "Sometimes he doesn't always say what he's feeling because he's so humble but that was a big moment for both of them. It was special."
Goodley Jr. believes he has "a good heart." Shunning dad was never an option.
Impressing him was.
"He hadn't seen me play in forever so I wanted to do well the game," Goodley Jr. said.
The ability
Goodley Jr. caught four passes for 129 yards and a touchdown against the Mountaineers. This was no aberration -- the stocky 5-foot-10, 220-pound Goodley Jr. had eight games of 100-plus yards and at least one touchdown as part of Baylor's receiver-friendly attack.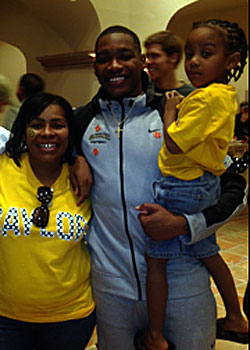 Goodley Jr. did that himself, but he knows some of that ability came from his dad, also a former Midland High Bulldog. Goodley Sr. said he got a scholarship offer from Texas A&M as a free safety but never cashed it in -- he was busy skipping class and finding trouble, he says. He sold drugs for years before the possession charge. As the justification goes, it was easy money and his friends were doing it.
Goodley Sr. and Bowers were middle- and high-school sweethearts but separated long before the big bust. Antwan lived with his mom and calls himself a "mama's boy."
Bowers made sure to portray Goodley Sr. positively to her son while he was gone, calling him a "good man" who made choices good men shouldn't. Her ex never maximized his enormous potential, and there was no way her son would follow the same blueprint.
Bowers kept him Goodley Jr. too busy to play video games or hang out aimlessly, the family says.
"She was tough on me," Goodley Jr. said. "Sometimes she was harder than the coaches. I always knew why."
Looking back, Goodley Sr. believes that positivity from mom helped ease the transition today.
"We have something to build on," he said.
The trust
Goodley Sr. praises LaSandra for raising his son, but slowly he's trying to do his part, too.
He makes $10 an hour working at the Dallas-based Vince Hagan Company, which manufactures concrete batching plants. Every week, he wires $100 to Goodley Jr.
LaSandra gave him until January to get a job or she was prepared to muscle him out of family life, she said. He made the deadline by a day. After years of supporting Goodley Jr., she needed the help. Goodley Jr.'s college car was an added expense. They settled on a white 1996 Honda Accord during his sophomore year.
LaSandra splits time between Midland, where she works helping people with disabilities at Rock House, and Waco to help raise Antwan III.
That trip to Chick-Fil-A reminded Goodley Sr. of his favorite routine with his son more than a decade ago: morning stops to Whataburger for Breakfast On a Bun (B.O.Bs).
"I told him to not make the same mistakes I made," Goodley Sr. said. "I never had the work ethic he has."
Goodley Jr. doesn't really need the warnings as much as he needs dad to be around.
So far, he's passing those tests.
"He didn't miss any home games last year," Goodley Jr. said.
The next step is getting on the basketball court. Goodley Jr.'s first love is hoops, but the former Midland point guard chose football because of his height. Dad was a player, too.
"I gotta let him know that it's not going to be easy beating me," Goodley Sr. said.
Dad enters Goodley's life at a critical time. Goodley Jr. can bolster his draft stock by building on chemistry with quarterback Bryce Petty. CBSSports.com's 2015 draft rankings place Goodley as the country's No. 3 receiver.
Goodley Sr. wants to give his son space with his career but is there if needed -- and he will be needed.
Goodley Jr. plans to make sure of it, he says, hoping to watch more of his dad with his own son. The family says the two look strikingly similar. Goodley Sr. says Antwan III likes to wear his hair "like my paw paw," in a ponytail.
The family was always on the same team. 
"I never turned on him," Goodley Jr. said.
Love was second in the nation in rushing with 2,118 yards in 2017

It looks like Jennings is slowly making his way back to the Vols after being dismissed last...

Offensive coordinator Brian Daboll's departure to the NFL has left a void at Alabama
Wilkins was considered a potential first-round pick in the NFL Draft

Brown will have two years of eligibility remaining

Chip Kelly has added some talent to his quarterback room from within the Pac-12