Baylor WR Levi Norwood to miss at least three weeks
Baylor wide receiver Levi Norwood will miss at least three weeks after undergoing wrist surgery.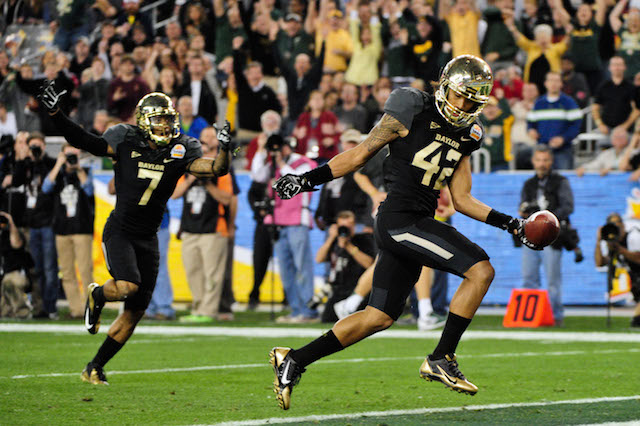 Baylor's training room is filling up on wide receivers quickly.
The Waco Tribune-Herald's John Werner is reporting that receiver Levi Norwood will undergo wrist surgery and miss at least three weeks. Norwood suffered the injury during Baylor's win against SMU Sunday.
Now, the loss of Norwood alone would not be that big of a deal, but he's not the player Baylor will be without against Northwestern State. Antwan Goodley is out with a quad injury while Corey Coleman and Clay Fuller will also miss Saturday's game. 
That quartet makes up Baylor's four leading returning receivers from 2013, and they combined for 185 catches for 3,111 yards and 26 touchdowns last week. Goodley (71 rec., 1,339 yards, 13 TD in 2013) and Norwood (47 rec., 733 yards, 8 TD) are the biggest losses, but if there's good news for the Bears it's that they likely won't need any of them against Northwestern State.
As Baylor has shown the last few years under Art Briles, it just sends guys out there and scores 70 points with alarming regularity. I'm guessing Northwestern State won't be capable of stopping it from happening.
The movie will zero in on former Penn State coach Joe Paterno during the Jerry Sandusky sc...

Bidding for Salaam's trophy, which the auction house says was obtained legally, ends Satur...

Locksley has been the offensive coordinator at Illinois and Maryland during his coaching c...
Many NFL-eligible juniors ignore advice provided by the league and risk going undrafted each...

Snyder died in Manhattan, Kansas, on Wednesday

Locksley joined Alabama's staff in 2016