Baylor's Bears lose their claws away from Waco again in Fiesta
It's not that Baylor was overrated. It's that they weren't any good away from home. (And that UCF was underrated, yeah.)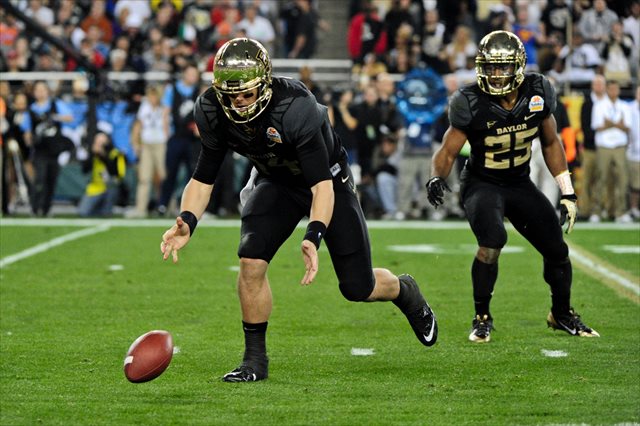 Which team shows up? Which Team X is the "real" Team X?
Those questions are asked about college football teams week in and week out, and asked even more often in the run-up to bowl games, when motivation and focus is an even greater question mark than it usually is for collections of 18-to-22-year-old males. But they seemed even more appropriate than usual where Wednesday's Fiesta Bowl was concerned.
UCF was the team that had dethroned Louisville in Louisville and battled South Carolina within a field goal, and also the team that needed a whole series of unlikely escapes to beat the likes of Memphis and Temple. Baylor seemed like the somewhat more known commodity, winning its 11 games by an average of 38 points (including Oklahoma by 29, Texas Tech by 29, and Texas by 20) and claiming a Big 12 title ... but also getting destroyed in Stillwater and struggling mightily in road games at Kansas State at TCU.
Still, a neutral site like Glendale wasn't a road game, and UCF was still the much-maligned AAC's champion, so it didn't seem out of place for Baylor to enter the Fiesta as a 16.5-point favorite. Right? 
Wrong, but not as wrong as you'd think. As it turned out, both the real UCF and the real Baylor showed up in the Knights' 52-42 upset, the largest upset in terms of the point spread in BCS history. It turns out UCF just is one of those teams that plays at whatever level of competition happens to present itself, whether it's one of the three 11-win teams they faced this season -- they went 2-1 -- or an AAC bottom-feeder. Anyone who watched Blake Bortles uncork a series of throws that justified his burgeoning NFL Draft hype, wideout Josh Reese bulldoze Bear defensive backs on mutliple downfield blocking assignments, or George O'Leary's defense harass Bryce Petty into more uncharacteristic errors than he committed the entire months of September and October knows that UCF deserves more credit than Baylor the blame.
That won't stop the chorus of "exposed," "overrated," or "pretenders" from certain corners. But Baylor was every bit as good as their record and every bit worthy of the mantle of Big 12 champions ... at home. But the real Bears just weren't that team anywhere other than Waco (or nearby Arlington, where they smoked Texas Tech). Much was made of the Bears' defensive improvement, and justifiably so when the Sooners were held to 13 points, the Longhorns 10.
But allowing 49 to Oklahoma State and particularly 38 to feeble TCU were a warning for Wednesday, and that warning played itself out in vicious fashion. The Bears couldn't force Bortles out of his rhythm at any point in the second half, couldn't force UCF off the field on third downs or get red zone stops, and most notably could not consistently tackle Storm Johnson or any of the impressive UCF wideouts. Until further notice, the concerns about Phil Steele's defense are as valid as they've been since they day he arrived in Waco. 
The bottom line is that Art Briles' team played five games either on the road or at a neutral venue outside the Dallas area, and it lost twice straight-up by double digits while going 1-4 against the spread. The past three seasons have been the best sustained run of success for the Bears in a generation, but Briles' road record in that span is still 5-8 straight-up, 4-9 against the spread.
Thanks to his unimpeachable home record, Briles has earned every plaudit that's come his way. But if he wants to mold the Bears into a year-in, year-out national contender as well as a Big 12 one, the room where improvement is most needed -- even before his defense -- was made even more obvious in Glendale.
From Chip Kelly to Billy Napier, did these schools and coaches make the right calls this silly...

SportsLine's computer model simulated every college bowl game 10,000 times, with surprising...

Everything you need to know to watch and pick the Boca Raton Bowl on Tuesday
College football recruiting begins earlier than normal with a National Signing Day in Dece...

Getting Leavitt back was obviously high on Cristobal's list of priorities

Cristobal's first game at Oregon ended the same way Chip Kelly's did