Baylor's new McLane Stadium will host pregame 'sail-gating'
Baylor's new stadium will allow for a limited amount of on-the-water tailgating.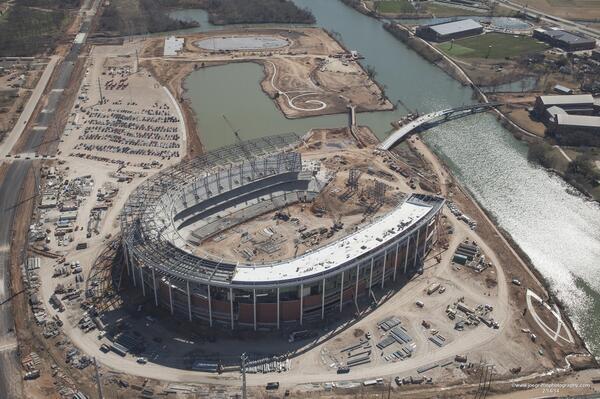 It looks like the Vol Navy might have some Big 12 company when it comes to on-the-water tailgating.
Speaking to ESPN Radio's Craig Smoak about the development of the Bears' new McLane Stadium Tuesday, Baylor athletic director Ian McCaw had this to say:
Ian McCaw: "There's going to be sail-gating in 2014." Says sixteen boat slips will be available. Atmosphere will be unique to Baylor.

— Craig Smoak (@CraigSmoak) February 25, 2014
The Bears won't be the first team to feature waterborne pregame merriment -- there's Tennessee, as mentioned, and Washington's "Husky Harbor" tradition  -- but the "atmosphere" on the Brazos does promise to have its own flavor.
McCaw added that the Bears plan to host as many as 15 high school games this fall in the name of recruiting and school admissions.
Last week, this space observed that McLane Stadium -- the Bears' new $250 million-plus facility -- is one of the most-buzzed about topics in the Baylor fanbase, even with the opening still several months away. And it's hard to see the imminent arrival of "sail-gating" aschanging any of that.
HT: Our Daily Bears
Rhoads led Iowa State to three bowl games in seven years as head coach

The Georgia middle linebacker is one of the most valuable players in college football

Explaining my 2017 Heisman Trophy ballot and Jackson's tremendous season
Mayfield is the sixth Oklahoma player to win the Heisman since its inception

The Heisman Trophy will be presented to the best college football player this season

Army topped Navy for the second straight year in an absolute thriller in Philadelphia