BBVA Compass drops sponsorship of Birmingham bowl
The Birmingham Bowl will play its final game under its current sponsor, BBVA Compass, in 2014.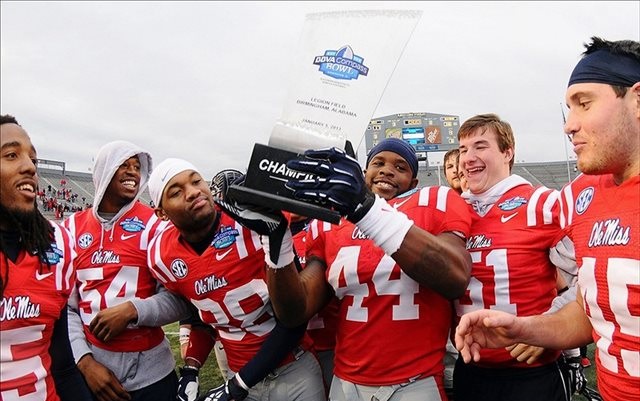 Take heart, Paul Chryst: After this season, it will be impossible for Pitt to make yet another appearance in Birmingham's BBVA Compass Bowl.
But that won't be because the Panthers can't manage another 6-6 record. It's because the bank's Birmingham executives announced Tuesday that following the 2013 season, BBVA Compass will not renew its sponsorship of the seven-year-old bowl game, which began in 2006 as the papajohns.com Bowl.
Alan Register, BBVA Compass's Birmingham president, told al.com that with the bank's four-year contract with bowl creator ESPN expiring after the January 2014 edition, his company was looking to move its sponsorship money toward something more flexible.
Register added that the company -- a division of Spanish banking giant BBVA -- was making the decision public now in order to give the bowl's organizers time to find a replacement sponsor.
Compared to some of its postseason peers, the Legion Field-based bowl would seem to offer a reasonable return-on-sponsorship investment. Despite its position on the very lowest rung of the SEC bowling ladder, the bowl has drawn 40,000 or more fans for three of the past four seasons, including a record 59,135 in 2013 for Ole Miss's rout of Pitt -- the eighth-highest total for any bowl and some 5,000 fans more than the Sugar Bowl.
Where the bowl might turn next for its sponsorship remains a matter of speculation. But after three consecutive visits (the last two ending in ugly defeats), not even U.S. Steel's* involvement will get Pitt excited about another trip anytime soon.
*But this would be a fitting sponsor for a bowl held in "the Pittsburgh of the South." 
These Jayhawks got a tremendous surprise they weren't expecting

Jovon Durante announced on Twitter he's headed to FAU

From Week 1 through the title game, everything runs through Atlanta this season
A concert is a nice way to break up preseason camp

Mills was arguably Georgia Tech's most important player coming into the season

Hugh Freeze's phone records reportedly show another troubling pattern for Ole Miss