BCS bowl pairings set, Florida St. meets Auburn in title game
There were no surprises in the official BCS bowl pairings announcement, with Florida State and Auburn Nos. 1 and 2.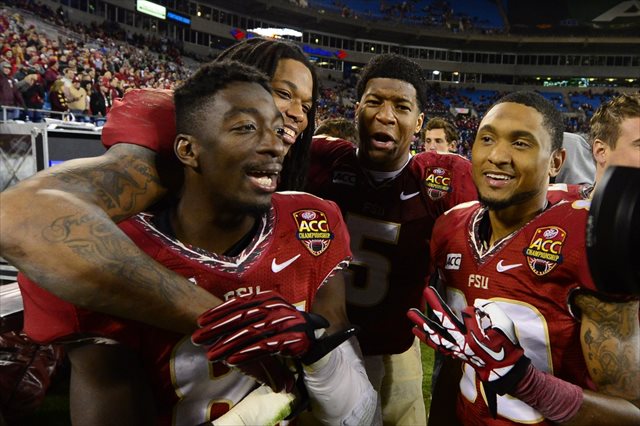 The announcement of the last-ever set of BCS bowl pairings brought no surprises Sunday night, with BCS No. 1 Florida State and No. 2 Auburn set to square off as expected in the final BCS Championship Game.
No. 3 Alabama will face No. 11 Oklahoma in the Sugar Bowl, while No. 7 Ohio State will play No. 12 Clemson in the Orange Bowl. The Fiesta Bowl will pair BCS newcomers Baylor (No. 6) and UCF (No. 15), while the Rose Bowl will feature its traditional matchup of Big Ten and Pac-12 champions in No. 4 Michigan State and No. 5 Stanford . 
Those four pairings matched the projections by CBSSports.com's Jerry Palm in the wake of Saturday's results, results most notable for the Buckeyes' upset loss to the Spartans in the Big Ten championship, a loss that sent Ohio State tumbling from No. 2 to No. 7 in the BCS standings.
The only real drama in the announcement came from the Sugar Bowl, which had the option of taking No. 10 Oregon over the Sooners. But the bowl's new ties to the Big 12, geographic proximity to Norman, and potentially greater fan interest after Oklahoma's upset of in-state rival Oklahoma State apparently won out.
The Tigers and Seminoles met 18 times between 1954 and 1990, with Auburn holding a 13-4-1 advantage but Florida State winning the highest-profile matchup, the 1989 Sugar Bowl meeting with both teams in the top seven.
Other BCS storylines include Michigan State's first Rose Bowl appearance since 1988, Baylor seeking its biggest bowl victory since the 1956 Sugar Bowl, and Ohio State and Clemson meeting in a bowl for the first time since the notorious 1978 Gator Bowl, when Woody Hayes' punch of a Clemson player led to the OSU legend's dismissal. 
The final BCS standings (ever) included Michigan State's highest-ever BCS ranking at No. 4:
1. Florida State (.996)
2. Auburn (.964)
3. Alabama (.906)
4. Michigan State (.860)
5. Stanford (.819)
6. Baylor (.772)
7. Ohio State (.771)
8. Missouri (.726)

9. South Carolina (.715)
10. Oregon (.581)
11. Oklahoma (.576)
12. Clemson (.555)
13. Oklahoma State (.523)
14. Arizona State (.442)
15. UCF (.434)
16. LSU (.432)
17. UCLA (.370)
18. Louisville (.320)
19. Wisconsin (.237)
20. Fresno State (.168)
21. Texas A&M (.166)
22. Georgia (.159)
23. Northern Illinois (.157)
24. Duke (.113)
25. USC (.067)
Stay with us all day Saturday for updates and highlights from Week 4 of the 2017 season

It didn't count on the scoreboard, but it counts in our hearts

SEC races kick into high gear with some fun matchups that will shape the landscape of each...
These are the best bets to make in Week 4 including Florida-Kentucky and Oklahoma State-TC...

Top-ranked Alabama hits the road to take on upstart Vanderbilt in Nashville on Saturday

Byron Murphy reportedly sustained a foot fracture in practice