BCS buster breakdown: Northern Illinois, Boise State need help
What needs to happen for either Northern Illinois or Boise State to make the BCS.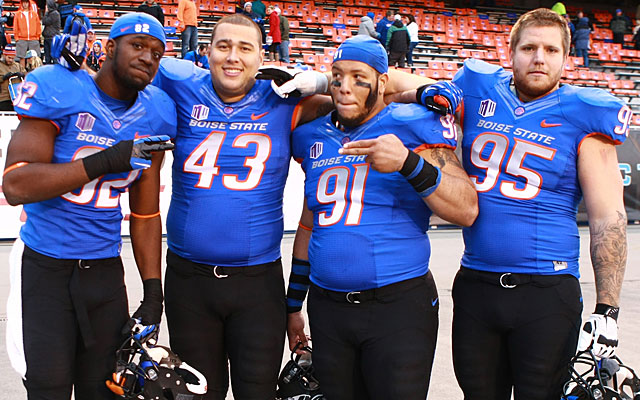 Boise State doesn't get any love from the computers and needs to move up in the polls to crash the BCS. (US Presswire)
Now that the MAC champion has been decided, we can take a closer look at what it will take for either Boise State or Northern Illinois to qualify for a BCS game.
Assuming a Broncos win at Nevada on Saturday (and we all know the dangers of assuming), a BCS berth would go to the higher ranked of the two teams, provided it reaches the top 16 and remains ahead of Big East champion Louisville. Boise State is currently No. 20 in the BCS rankings, and Northern Illinois is No. 21.
They got some help Friday night, when No. 16 UCLA lost the Pac-12 title game to Stanford. It remains to be seen how much voters will punish the Bruins after a strong showing in defeat.
Boise State and Northern Illinois also need some help Saturday. Kansas State has to beat No. 18 Texas to give them a chance to move up.
Oklahoma State is two spots behind NIU in the BCS and about five spots ahead of the Huskies in the computers. If the Cowboys beat Baylor, they might get enough juice from the voters to pass Northern Illinois and Boise State. They might not, but a loss would clear that up and help MAC champion NIU a little in the computers.
Boise is no friend of the computers. The Broncos have a zero computer score entering this week and, at best, the computers will be very little help to them. In fact, it looks very likely NIU will pass Boise State on the strength of the computers alone. If that is true, then the Broncos are, for all intents and purposes, eliminated from the BCS chase.
That is because it will be difficult for Boise State to make up ground on NIU in the polls, since the Broncos are already ahead there. About the only way for Boise State to gain ground would be for a team like Nebraska, Oklahoma or Florida State to lose and drop between the Broncos and Huskies in the polls. That is probably asking too much.
If everything goes well, NIU will have to gain approximately the point total equivalent of four spots in the polls on UCLA to pass the Bruins in the BCS. Obviously, that kind of movement should push the Huskies past Michigan and Texas as well. It could be less. That's a worst-case estimate, which depends on what the computers do. More games than those mentioned here can impact the computer rankings.
So, Huskies fans, when you're eating lunch on Sunday and looking at the Coaches Poll, you want to see NIU about 140 points ahead of UCLA. If that happens, you have a chance. If it's significantly closer than that, NIU might not get there.
But we won't see the Harris poll before the official release on Sunday, so we won't get an indicator from that.
Craig Kuligowski is reportedly leaving Miami to take the same job with Alabama

BT Potter is about to be very popular in the Clemson locker room

McElwain will coach receivers and help coordinate the offense for the Wolverines
Nathaniel Watson Jr. was involved in a car accident that injured a passenger in early Febr...

The honorable Tom Fornelli presides over the ASU vs. UM case

Arkansas State is seeking $650,000 for a canceled home game last September due to Hurricane...