BCS/playoff projections: Winner drops out, loser moves in
Michigan beat Notre Dame this week, but the Wolverines drop out of the BCS projections, while the Irish move in.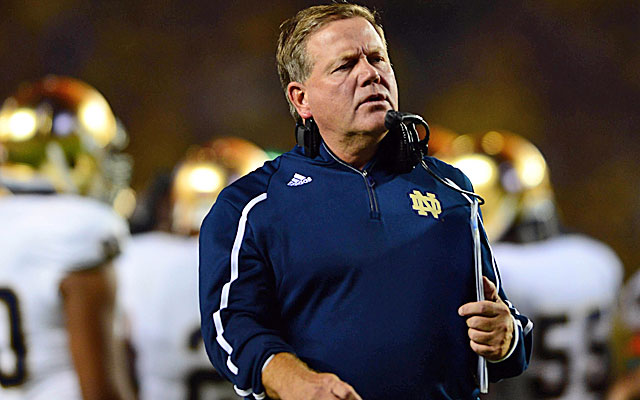 The changes to this week's bowl projections may seem counterintuitive, but I can explain.  Maybe.
Michigan Wolverines beat Notre Dame Fighting Irish in Ann Arbor this past weekend, but the Wolverines have dropped out of the Rose Bowl projection.  The reason for that is that Michigan now projects to be the division champion, not because they beat the Irish, but because Michigan State Spartans looks pretty anemic right now, and that's a team I had projected to beat the Wolverines.  Nebraska Cornhuskers replaces Michigan in the projection because I expect the Cornhuskers to be higher rated after the Wolverines lose back-to-back to Ohio State Buckeyes State" data-canon="Ohio Bobcats" data-type="SPORTS_OBJECT_TEAM" id="shortcode0">.
Notre Dame moves into the BCS for much the same reason.  I never had the Irish winning this week, but some of their future opponents are really struggling.  Besides the Spartans, USC looks awful and may not even have their current coach by the time the Trojans visit South Bend.  Also, Oklahoma Sooners 's offense is struggling to put up points on mediocre opponents.  There are still some roadblocks for the Irish, but the schedule doesn't look as tough now as it did two weeks ago.
Meanwhile, South Carolina Gamecocks , despite the loss to Georgia Bulldogs , remains in the Sugar Bowl projection as the replacement for Alabama Crimson Tide .  Obviously, I had Georgia projected to win this week, so the result doesn't change anything.  This is another case of a team (Georgia) losing a conference championship game and missing out on the BCS, which is typically what happens.
This week's if-we-had-a-playoff-this-year projection:
Sugar Bowl: 1. Alabama vs 4. Clemson Tigers
Rose Bowl: 2. Oregon Ducks vs 3. Ohio State
Cotton Bowl: Texas Longhorns A&M vs Oklahoma State Cowboys
Orange Bowl: Florida Gators State vs Michigan
Fiesta Bowl: Stanford Cardinal vs LSU Tigers
Chick-Fil-A: Bowl: Georgia vs Louisville Cardinals
There are only minor changes this week.  The Buckeyes and Ducks change uniform colors in their semifinal game, and Michigan replaces South Carolina in the Orange Bowl.
Kevin Sumlin addressed Texas A&M's decision to cancel a rally scheduled for Sept. 11

Expectations are high for Charlie Strong at South Florida, and Houston looks to take the next...

There are new names to learn every season, and here are five to keep an eye on from the AA...
Taking a close, detailed and opinionated look at the AAC a week before the start of the 2017...

These Jayhawks got a tremendous surprise they weren't expecting

Jovon Durante announced on Twitter he's headed to FAU