BCS Presidential Oversight Committee approves four-team playoff
The BCS Presidential Oversight Committee approved a four-team playoff chosen by a selection committee.
• 3 min read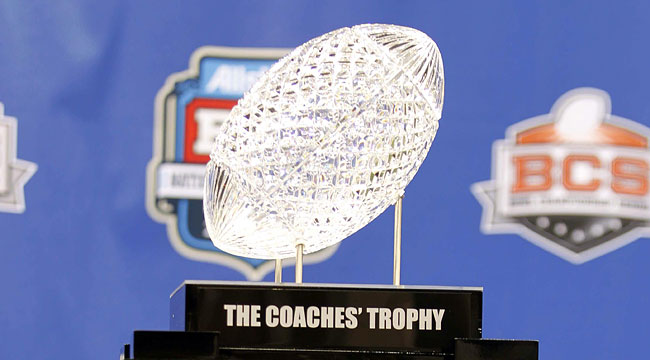 History was made on Tuesday in Washington, D.C. when the BCS Presidential Oversight Committee -- made up of presidents from each of the FBS conferences and Notre Dame -- approved a four-team, seeded playoff within the current bowl structure.

The committee has approved a model with a selection committee selecting the four teams. The committee will rank the four playoff teams based on win-loss record, strength of schedule, head-to-head record, and if a team is a conference champion. CBSSports.com's Brett McMurphy reported last week that the committee would place an "emphasis" on conference champions.

According to Virginia Tech President Charles Steger, the playoff will occur within the existing bowl structure.

"It's a best of both worlds result that capture the excitement of the playoff while keeping the best regular season in sports and the tradition of the bowls," Steger said in the press conference following the meeting.

The semifinal games will rotate among six different bowl games. BCS Executive Director Bill Hancock informed the media that the six bowl games were chosen to make the rotations easy for the length of the new deal: 12 years.

The specific rotation for the six semifinals over the next 12 years has not been determined at this time. The four BCS bowls (Orange, Rose, Fiesta, Sugar) plus possibly the Champions Bowl or Cotton Bowl are likely candidates, but the specific six bowls were not identified either.

While the semifinals will be held at existing bowls, the dates of those bowls will be moved back to accommodate the seminfials before the new national championship game.  One of the semifinals will be held on New Years Eve, the other on New Years Day.

Also left to be determined includes how the selection committee will be chosen, the name of the new event (feel free to leave your personal suggestions in the comments below), and how the revenue will be distributed among the conferences.

Sources told CBSSports.com last week that the commissioners were considering dividing the revenue based on the league's past performances. Specifically Top 25 finishes in the final BCS rankings since 1998, the first year of the BCS.

Using that model would likely create a divide between five power conferences (SEC, Big 12, Pac-12, Big Ten, and ACC) and the rest of the leagues.  According to Brett McMurphy, where the Big East is grouped could depend on Boise State's decision to join the conference.  

But even with lots of work left to do, college football's decision makers accomplished a seemingly impossible task on Tuesday: delivered good news for all college football fans.  

"Everyone was coming into the room realizing we had a chance to do something good for college football," SEC commissioner Mike Slive said in an interview on ESPN.  "We made compromises, we worked closely together and I think what we've done is preserved the regular season and enhanced it with this four-team playoff."

Even Big Ten commissioner Jim Delany, who has wavered on the idea of a four-team playoff over the last six months, had a somewhat-positive reaction to the decision by the committee.

"There will always be people who want more but sometimes less is more. We thought two worked for a while, 14 years, and I'm sure this will work for at least 12," Delany said.

Many did not know what to expect out of Tuesday's meeting in the nation's capitol, but it was national history. For at least 12 years starting in January 2015 -- college football will have a four-team seeded playoff to determine the national champion.

Keep up with the latest college football news from around the country. From the opening kick of the year all the way through the offseason, CBSSports.com has you covered with thisdaily newsletter.  View apreview.

Get CBSSports.com College Football updates on Facebook
Kiffin commented on Saban and Ed Orgeron on 104.5 in Baton Rouge on Thursday morning

Everything you need to know about the Spartans 2018 spring game

Everything you need to know about Miami's spring practice
How would a NCAA Tournament-style event play out in college football? Let's take a look

The billboard quotes ESPN's Dan Le Batard calling Kansas 'the most incompetent thing' in s...

Money has been tight at the school despite more recent success on the field