BCS ratings: Oregon passed again (barely)
Oregon was passed for the second week in a row as Notre Dame just edged the Ducks out for No. 3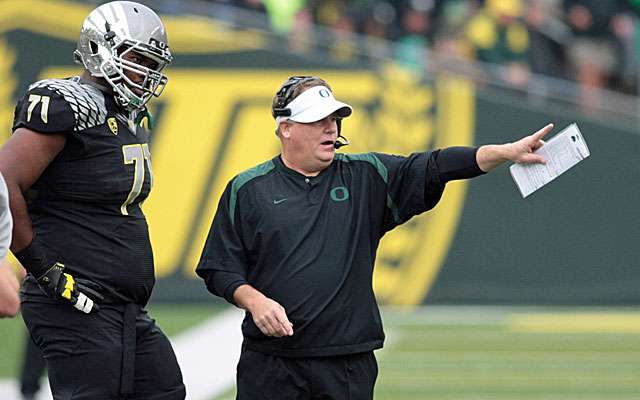 Chip Kelly and Oregon lose ground in the latest BCS standings. (US Presswire)
This week's BCS standings are out, and Oregon has been passed again.  This time, Notre Dame crept by the Ducks by a mere .0011 for third place.  Oregon did improve in the computers this week, due to attrition mostly, but lost some of its ground in the polls.
Last week, Oregon led then poll No. 3 Florida by 105 points in the Harris poll and 74 points in the coaches' poll.  Those are pretty healthy numbers, especially the coaches' margin.  This week though, after Florida lost, the Ducks lead over now No. 3 Kansas State is 67 in Harris and only 25 in the coaches' poll.
Here is what those numbers mean in terms of overall positioning.  If these poll margins hold, Kansas State would need to have a computer average of greater than 1 spot better than Oregon to be ahead in the overall standings.  Currently, the Wildcats computer average is 1.75, three points better than the Ducks 4.75.  So, Oregon has some ground to make up.
But who cares about Kansas State?  Let's talk about Notre Dame!!  At least, that's the attitude judging from my email/phone calls/twitter feed/smoke signals this weekend.
The Irish are tied with KSU in the computers with a 1.75 average, but need every bit of that 3-point computer difference to be ahead of Oregon overall.  ND is 172 and 84 points behind Oregon in the Harris and coaches' polls respectively.
All is not lost for Oregon in the computers though.  The Ducks' schedule is backloaded.  USC next week.  Stanford and Oregon State ahead.  Maybe USC again.  Or someone better.  If they keep winning, they won't be looking at computer rankings of 4, 5 and 8 (!) for long.
The next four teams in the standings are from the ASEC (Almighty SEC).  One loss teams LSU, Georgia and Florida are there, as you might expect, but two-loss South Carolina is eighth.
That is due in part to the fact that the top teams in the ACC, Florida State and Clemson, are respected by voters, but have putrid computer rankings.  They are barely in the top 25 because their league is mediocre and their non-conference schedules are worse.  FSU played two I-AA teams (the entire states of Murray and Savannah) and disappointing USF, while Clemson played Ball State, I-AA Furman, and the dumpster fire that is Auburn.  Both have their ASEC in-state rivals left on their non-conference slates though, so that should help some.
Boise State continues to creep up the standings as they try to automatically qualify for a BCS game.  The Broncos are 19th this week.
Robbie Robinson has not been enrolled at ASU for more than a year

Rutgers' offensive line challenged a local curling club to a match

These five teams have the best chance of being the Group of Five darling this coming year
Drevno had been running the Michigan offense for three seasons

Aaron was reportedly shot while trying to protect his girlfriend when a fight broke out at...

An assistant-by-assistant look at changes Saban made to the Tide's staff ahead of 2018