Be bold, Noles -- sit Jameis Winston for Oklahoma State game
Florida State should send a message and suspend Jameis Winston for one football game, not let baseball do punishment over the crab shoplifting incident.
• 2 min read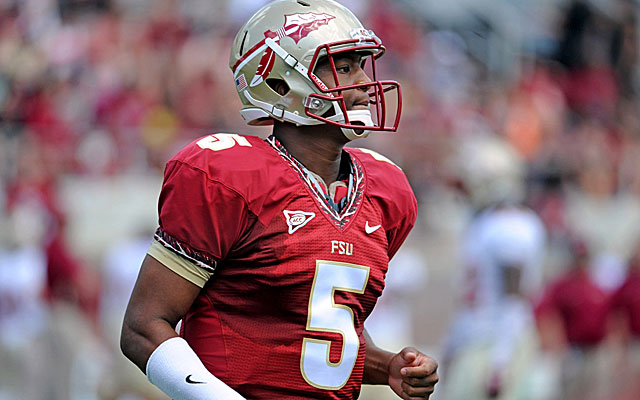 FSU could take a bold step with its seemingly coddled superstar, but it won't.
The Noles could send the kind of message that turns every head in the locker room, but it won't.
Sit Jameis Winston for one game.
One big game.
The Oklahoma Stage kickoff game in Jerry's World.
But that's such an important matchup, right? Doesn't that have title implications for the Noles?
Sure does.
Show Winston he's approaching third-and-long before the season starts.
Show Winston that, despite exonerated from rape allegations by the State Attorney's Office, his notoriety being raised by that investigation makes a grocery crab grab that much dumber.
Show Winston that an accumulation of problems, no matter how minor, can't go overlooked.
Sometimes, letting the baseball team handle your suspension isn't enough.
As it stands, allegedly stealing $32 worth of crab legs from a grocery store probably won't get a player a lengthy suspension.
Though Winston was right when he claimed "youthful ignorance" in his statement, only he forgot one part: That excuse would have worked two years ago, when he wasn't a Heisman winner and national champion.
The story's just sort of insulting. Nobody forgets to pay for groceries, and if they do, there'd be no citation. Unless you're Jameis Winston, and authorities come to your house.
That's the point. College football's best player can't go home and say, 'oh, I forgot to pay for this,' then move on to video games. A citation is less explosive than an actual arrest, but there's no shaking the 'alleged theft' attached to this.
A grocery staff isn't the only thing catching up to Winston, who, along with teammates, was reportedly questioned by police in 2012 after windows broke near Doak Campbell Stadium from an alleged BB gun fight. Also reported in 2012, a Burger King employee called police alleging Winston stole soda.
This is not an attempt to dissect the rape case, because Winston does not face charges. That's an important distinction. The case, however, is part of the Winston tapestry, for better or worse, and should be fuel to avoid such a clumsy step as this week.
The soda, the crabs, these stories are a bit silly as stand-alones. But copy/paste Winston's off-field list onto the reputation of another Seminoles player, then ask, would that player miss at least one game as a result?
No doubt.
Schools don't make decisions on player discipline in a vacuum. Athletic directors are involved, sometimes presidents or boosters. The pressure to win mounts. Schools have more incentive to keep a star player in the lineup than to take a few media jabs over the decision.
Big-money programs are often as hard on discipline as their on-field options allow. If the talented Jacob Coker was still Winston's backup instead of headed to Alabama, maybe the Noles could sit Winston and feel good about it.
FSU, of course, has inexperience behind Winston.
The suggestion here is one game -- just one resume building, non-cupcake game.
FSU probably can win without Winston anyway. Oklahoma State is a fine program but the Cowboys are young this year.
It's a big enough game where the decision would resonate but not too daunting where the Noles would be lost without him. A Winston-less win would enhance confidence in the locker room, showing it's not all about the quarterback.
Or maybe, in honor of delicious crab legs, FSU will suspend Winston for the next Maryland game.
Maryland's not on the schedule.
That's exactly how FSU wants it.
Jim McElwain won't rule out Luke Del Rio, Feleipe Franks or Malik Zaire as the starter

The three rule changes for 2017 are focused on player safety

There are new names to learn every season, and here are five to keep an eye on from the Big...
Can the Big Ten produce a champion capable of scoring points in the College Football Playoff...

Taking a close, detailed and opinionated look at the Big Ten a week before the start of the...

Jarrett Stidham leads a slew of transfer quarterbacks who will make an impact in 2017