Beamer: Hokies could face 'growing pains,' chance for greatness in 2015
Virginia Tech coach Frank Beamer said this year's talented but youthful team could face growing pains -- the 2015 Hokies have a chance to be great.
• 2 min read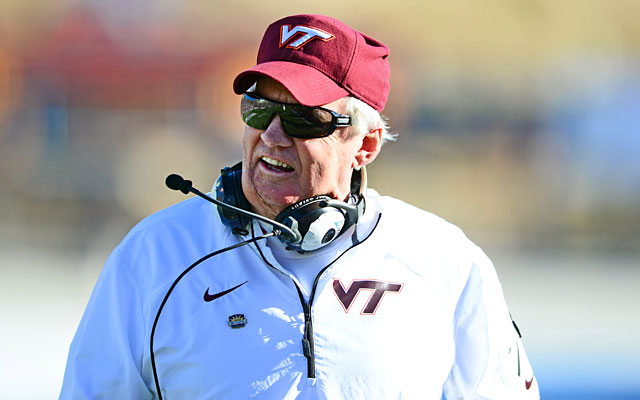 AMELIA ISLAND, Fla. -- Virginia Tech's Frank Beamer dropped his bags to talk after an ACC spring meeting session, and a few minutes in, unprompted, he brought up the 2015 Hokies.
This was surprising since, well, the 2014 season kicks off in less than four months.
"The following year I think we could really be good if everybody comes along -- then you've got experience along with the talent," Beamer said.
Which begs the question: Is vintage Beamer Ball a year away?
And, if so, are Hokie fans willing to wait?
Those are questions rarely asked at Tech, which contended for much of the last two decades.
Less than three years ago, Virginia Tech was polishing off an eighth consecutive 10-win season with a Sugar Bowl appearance.
The Hokies still made back-to-back bowls in 2012 and 2013 but clearly have more work to do to rediscover Beamer's earlier touch.
If a handful of coaches have the cachet to survive a temporary dip, Beamer's on the list.
It's not that Beamer isn't confident in this year's group. His team is just young, he says.
Beamer isn't. He turns 68 in October.
And that's sort of the point. His 33 years of head coaching tell him a depth chart riddled with underclassmen – six seniors are expected to start -- won't be enough until Saturday class is in session.  
"Just the personnel we've got, there are probably going to be some growing pains," Beamer said. "We've got some talented guys, but how quickly we get them playing consistently? That's the question."
Depending on your point of view, if Tech is a year away, that's really three years away because you're counting the previous two seasons.
The Hokies should be better at the skill positions, which plagued the Hokies in the Logan Thomas era, but finding a quarterback is crucial. Texas Tech transfer Michael Brewer gets on campus early this summer and Beamer said he's heard good things about his ability.
Mark Leal finished spring ball as a contender for the job, though overall the spring game offense didn't exactly channel Gus Malzahn or Chip Kelly.
A resurgence must start with Tech's offense, which ranked 102nd in yards per game a year ago. Freshman running back Marshawn Williams had an impressive spring and could be the Hokies' next great back. Beamer said Tech has retooled how they approach offensive lineman play: Get athletes first, then bulk them up.
Tech is high on the last few recruiting classes and feels the replenishing process of the last two seasons will pay off eventually.
Do the fans understand that?
"It is what it is," Beamer said "Our fans, like everybody else's fans, they want wins and they want it now. We're going to try like heck to try to do that."
Administration – led by new athletic director Whit Babcock – certainly understands that, Beamer said.
Before writing Beamer off, consider two oldies still producing at a high level: Steve Spurrier and Bill Snyder.
"Anybody who understands athletics knows you don't just snap your finger and it happens right now," Beamer said.
The Nittany Lions want the Crimson Tide after dismantling the Wolverines

The Nittany Lions and Fighting Irish are storied programs but newbies as CFP contenders

Plus, people need to start paying attention to Matt Campbell and Iowa State
Barkley scored three touchdowns and made some big plays in Penn State's massive win

Projecting the many changes in the new AP Top 25 poll college football rankings after Week...

Keeping tabs on the biggest scores and highlights from Week 8 of the 2017 NCAA football se...