Best in College Sports: No topping Ohio State's 2014-15 season
Ohio State has been named the CBS Sports Best in College Sports winner for the 2014-15 athletic season. The Buckeyes did it all, including winning a national title in football.
Full rankings: 2014-15 Best in College Sports
Don't worry about Ohio State.
If and when college sports Armageddon hits, Ohio's 145-year-old land grant giant will be fine. Only Stanford is in Ohio State's league in terms of athletic commitment. Both offer 36 sports. (The NCAA officially says Stanford is ahead 36-35 so the parties may want to get together on this soon.)
Nevertheless, Ohio State's athletic budget is fifth nationally, according to the USA Today database. That $135 million in revenue could be the GNP of a small island country.
There's the not-so-small matter of another championship in football.
Athletically, things have seldom been better in Columbus. But out on the horizon a storm is gathering -- for everyone. It potentially could suck some of the life out of college sports.
Football everywhere will be fine at the highest level. It's the financial engine that supports FBS athletic departments. But there are expenses that have been budgeted, cost uncertainty that is, well, uncertain. Everyone will have to account for cost of attendance. There are massive lawsuits out there to be contested, settled or … lost.
If not, even super powers like Ohio State will be nicked. And no one wants that.
"The financial model that we have is not sustainable for the populous at large," Buckeyes athletic director Gene Smith said. "Over the next 5-10 years, you're going to see schools change what they do locally, whether it's the elimination of sports or tiering."
In essence, the financial pressures on a broad-based athletic program are going to make it less likely to have a broad-based athletic program.
From 2007-12, 205 Division I varsity programs were cut.
For today, though, Ohio State is the alpha male and female. Smith's program is this year's winner of CBS Sports' Best In College Sports.
We assigned a point value based on the success of each school's football, basketball (men's and women's), baseball and a wild card spot.
Ohio State beat out No. 2 Louisville in the BiCS standings with an athletic year for the ages.
• Football needs no explanation. Urban Meyer helped break the SEC's chokehold on the sport -- by bringing a bit of the SEC up north. Not only is cold-weather football back, but Meyer (at age 50) suddenly has a look at Bear Bryant's record six national championships. (Meyer already has three.)
His 38-3 start at Ohio State is better -- by far -- than Bryant, Bud Wilkinson, Joe Paterno, Nick Saban and Pete Carroll in the first three years of any of their stops.
• Thad Matta became the basketball program's winningest coach in a season he led the Buckeyes to a seventh consecutive NCAA Tournament appearance. D'Angelo Russell was the No. 2 pick in the 2015 NBA draft.
• Women's basketball posted 24 wins, beat five ranked teams and went to the tournament for the first time in four years.
• Wrestler Logan Stieber became only the fourth four-time national champion in history. The Buckeyes also won the team title.
From the top of the mountain, the view in Columbus is fantastic. Ohio State football is scandal free, having won January's championship 25 days after going off probation. The Buckeyes will likely be the preseason No. 1. A dynasty is forming in Ohio Stadium.
Football continues to be the generator that helps fund those minor sports. Smith can proudly offer a wide-ranging athletic experience. But the NCAA requires only 14 sports for Division I membership. The increasing question becomes, why? If 14 sports make you big time, then what is Ohio State?
Smith believes financial pressures will eventually reduce that 14 minimum. That would be a further admission that a large portion of schools are in business for football because football is good for business.
"You'll probably see at some point a recommendation to change the legislation on the number of sports it takes to be Division I," Smith said.
"Tiering" is an industry term describing how sports can be cut back without being cut. A minor sport might go from nine scholarships to five. Competition may be limited to a 500-mile radius with no air travel.
"You won't really hear and see it because they won't announce it," Smith said.
Oregon AD Rob Mullens speculated about such a model to CBSSports.com last year. That is coming from the man who now oversees the No. 1 budget in college athletics ($196 million in revenue).
"I don't like it," Smith said. "We talk about we're going to pay our athletes. The lessons learned through sports participation and experience don't exist in higher education anymore."
Smith, 59, is old school in a new school world. The former Notre Dame player won a national championship with the Irish. He just completed his 10th year as Ohio State's director of athletics.
In that span, basketball has won 18 tournament games and gone to two Final Fours. Football has won at least a share of seven Big Ten titles. Smith maneuvered the program -- really the entire Ohio State brand -- through a crippling NCAA investigation.
But if we all agree that football drives the bus, financial realities still apply. If Title IX guidelines are met, who cares how many sports there are -- as long as football keeps chugging along?
It is an unbroken circle. To support those minor sports, football must be profitable. To remain Division I, programs must sports at least 14 sports. To maintain those sports, Smith and his peers must build multi-million dollar athletic and academic facilities.
Without those facilities, big-time schools like Ohio State don't maintain their "brand." There's that word again -- a modern business catch phrase.
"Think about that," Smith said with a pause. "I'm worried that we'll have some of those incubators [minor sports] eliminated in higher education."
This is not just at Ohio State. Smith's department may be at the peak of its powers. In addition to the $135 million in revenue, the athletic department ships $37 million annually back to the university. (Half of that helps pay for athletic scholarships.)
Smith was able to snatch up Meyer three years ago without competing with another school. (Meyer was employed by ESPN.) It's possible only an NCAA postseason ban in 2012 stands between him and two national championships under Meyer. A spring-game record 99,000 showed up in April.
In the space of a month, Smith's football program both chugged along as a super power and became a huggable, loveable Cinderella. Three games an underdog. Three upsets. Back on top.
A few student-athletes on free rides had a helluva time in the process.
"It's not going to happen all the time," Smith said of that magical history tour last December and January.
But it happened this year, overall -- on the field and in the BiCS standings.
"It's amazing," he continued. "We continue to forget about how a young person comes to us as an athlete. They don't have a persona. We develop those brands. We help them become Cardale Jones."
Yeah, Ohio State is going to be fine. It's the rest of the college universe we need to be concerned about.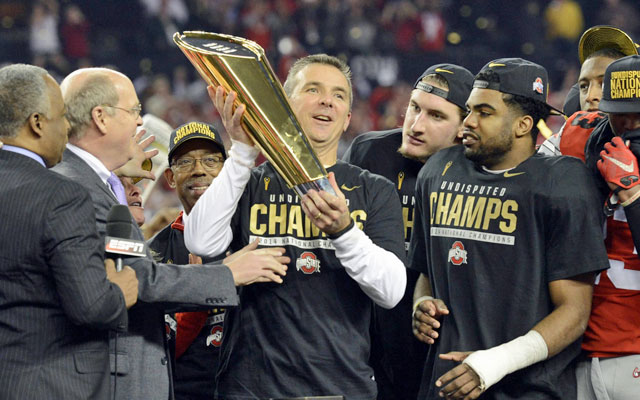 CBS Sports HQ Daily Newsletter
Get the best highlights and stories - yeah, just the good stuff handpicked by our team to start your day.
Please check the opt-in box to acknowledge that you would like to subscribe.
Thanks for signing up!
Keep an eye on your inbox for the latest sports news.
Sorry!
There was an error processing your subscription.
Micah Roberts has his finger on the pulse of Boise State football

Everything you need to know to tune into this week's Friday night showdown

SportsLine's advanced computer model simulated every Week 8 game 10,000 times with surprising...
Our advanced computer model simulated Friday's UNLV vs. Air Force game 10,000 times

These will be LSU's most dramatic alternates in years

Bryce Love's status is still unknown because of an ankle injury