Best in College Sports: Stanford's 'Nerd Nation' is No. 1
'Nerd Nation,' as Stanford athletes call their school excelled in the highest-profile sports, the criteria used to make the Cardinal No. 1 in this year's CBSSports.com Best in College Sports.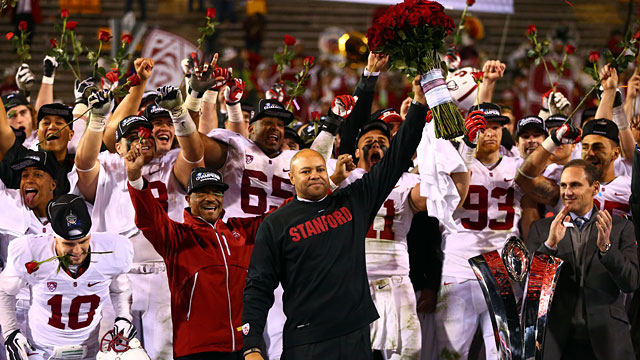 Best in College Sports: See the complete rankings | Norlander: Izzo guides Spartans
Stanford athletic director Bernard Muir has become a go-to witness lately to defend the NCAA's amateurism model. With the NCAA under political and legal attack, Muir has spoken before Congress and at the Ed O'Bannon trial with testimony that at times sounds like a recruiting pitch for The Farm.
"I think the balance we're trying to get with our student-athletes hopefully symbolizes to a broader audience that it can be done in both realms -- and done well," Muir said in an interview.
"Nerd Nation," as Stanford athletes call their school, didn't just win its unprecedented 20th straight Directors Cup in 2013-14 for all-around athletic excellence. ("We were breathing a sigh of relief because it was too close," Muir said.) Stanford also excelled in the highest-profile sports, the criteria used to make the Cardinal No. 1 in this year's CBSSports.com Best in College Sports.
Best in College Sports 2013-14
School
Football
Men's BB
Women's BB
Baseball
WC
Total
1. Stanford
198
128
83
64
68.25
541.25
2. Michigan State
255
146
50
0
73
524
3. Louisville
180
128
73
73
50
504
4. Florida State
300
20
50
25
90
485
5. Baylor
189
128
73
0
83
473
6. Oregon
207
100
10
50
83
450
7. Oklahoma State
171
50
64
64
85
434
8. South Carolina
240
0
64
50
50
404
9t. LSU
184.5
20
64
50
85
403.5
9t. UCLA
175.5
128
0
0
100
403.5
Wild cards: Softball -- Baylor, Oregon; Women's gymnastics -- Stanford, LSU; Wrestling -- Oklahoma State; Women's soccer -- Florida State, South Carolina, UCLA; Men's soccer -- Michigan State, Louisville
* The football team, only seven years removed from a one-win season, won the Pac-12 and reached a BCS bowl for the fourth straight year. Just four other programs played in at least four straight BCS bowls: Miami (2000-03), USC (2002-08), Ohio State (2005-10) and Oregon (2009-12).
* The men's basketball team, as a No. 10 seed, upset Kansas and future No. 1 draft pick Andrew Wiggins to reach the Sweet 16 of the NCAA Tournament. It was Stanford's first Sweet 16 appearance since 2008.
* The women's basketball team reached the Final Four, ending the six-year run of the Ogwumike sisters. Nneka and Chiney led Stanford to five Final Fours, six Pac-12 regular season titles and five Pac-12 Tournament championships over the six-year period.
* The baseball team won an NCAA regional on a walk-off, two-run home run by Tommy Edman to stun Indiana, the No. 4 national seed in the tournament. Stanford lost to eventual NCAA champion Vanderbilt in the deciding game of their super regional series.
How is Stanford winning in the high-profile sports?
"It's not complicated, but it's not easy," football coach David Shaw said. "If you think about it in a vacuum and say if you can take the smartest and most competitive and toughest individuals with some measure of talent, you know you're going to be successful. We don't sacrifice talent. We need talent. To me, in the past I think people used that as an excuse for Stanford: 'It's OK, you won't get the most talented kids. You'll get a bunch of smart kids.' We're getting both."
Stanford's admission process
Although many Stanford teams have been successful, the school's success in football has generated the most attention. Since the Cardinal started playing football in 1891, it has had seven 10-win seasons. Four of those seasons have come since 2010, starting under former coach Jim Harbaugh and carrying over to Shaw for the last three.
This is a program where even Bill Walsh lost seven games in each of his final two years when he returned to Stanford after his San Francisco 49ers glory years. Now Stanford has reached the Rose Bowl in consecutive seasons for the first time since the 1971 season.
That this success occurs at a prestigious university adds to the storyline, one the NCAA and Stanford like to share with outside critics of college sports. U.S. News and World Report ranked Stanford as the fifth-best university last year, behind only Princeton, Harvard, Yale and Columbia. Not only does Stanford represent the academic mission the NCAA and its universities want to portray related to big-time sports, Shaw and Muir also publicly discuss the integration of Stanford athletes into the university community (a legal defense used by the NCAA in the O'Bannon trial).
"I think there's that communal spirit here between student-athletes and the student population because they respect our athletes and know these weren't athletes who got into the back door at Stanford," Shaw said. "When you really look at it, it kind of makes sense that these people have natural (athletic) ability but are Stanford caliber. They're highly motivated people."
Stanford's most recent NCAA Graduation Success Rate shows all of its sports are graduating more than 80 percent of its players, and most are well above that figure. While many high-profile teams around the country have low graduation rates, Stanford's men's basketball team sits at 83 percent and its football team led the Pac-12 at 93 percent.
In 2013, Stanford reported that it received a record 38,828 applications and accepted 2,210. Stanford's admittance rate of 5.7 percent was slightly more selective than Harvard.
Most major football and men's basketball programs receive a certain number of special admission players from their university in each recruiting class. Stanford officials insist there are no exceptions for athletes. (Stanford is a private school and not required to disclose admissions data.)
"They take the same application, which is the common application plus the Stanford supplement application that involves five essays," Shaw said of his players. "Our guys need to take (Advanced Placement) courses. There's no other road. There's a lot of teams that will send a letter of intent to a bunch of people. We can't even send a letter of intent to prospective student-athletes until they've gotten admitted into school."
When signing day approaches, Shaw said Stanford needs a recruit's completed transcript up until the first semester of his senior year or an updated progress report of the senior year verified by the high school. Once Stanford identifies a player it wants in the recruiting process, it takes steps to navigate through the admissions process.
"Our coaches have done a great job of communicating early to the prospective students so they understand fully what's required academically," Muir said. "We try to start earlier and earlier with guidance counselors on what we need to see as a student continues through a curriculum. They're going through the same rigors as general students."
Recruiting 'coast to coast'
Unlike most schools, Stanford won't address recruiting needs with a junior college transfer or, in most cases, a Division I transfer. Shaw engages in what he calls "coast to coast" recruiting.
Stanford's 2014 football roster has players from 29 different states and even one from Mexico. Twenty-seven percent of the players come from east of the Mississippi River. By contrast, Stanford's opponent at the 2014 Rose Bowl, Michigan State, has players from 14 states and Canada.
"If we just did the West Coast, we'd probably find 10 to 12 kids a year," Shaw said.
It's not just football that recruits this way at Stanford. The baseball team has 37 players from 10 states plus Canada. The women's basketball team has 16 players from seven states. The men's basketball team has 17 players from nine states plus Canada and Hungary.
Shaw, a Stanford wide receiver in the 1990s, said the football program changed over time as coaches such as Walsh, Ty Willingham and Harbaugh changed the team's mentality.
"Honestly, we had a lot of kids that were here that just didn't know what it took to win," Shaw said. "They had the ability, had the mentality, had the work ethic. It was just not directed."
Stanford's rugged offensive style is now an outsider in today's hurry-up, spread world of college football. "They are so unique and so innovative on what they do on offense and nobody pays attention to it," Arizona State coach Todd Graham said. "All of a sudden that week (against Stanford) we have to play with a different personnel. I've spent enormous amount of time (accounting for Stanford's personnel)."
Some of Harbaugh's old assistants at Stanford are now head coaches, such as Derek Mason (Vanderbilt), Willie Taggart (South Florida), Scott Shafer (Syracuse) and Shaw. Shaw is so respected that he often gets asked about possibly jumping to the NFL, as Harbaugh did to the San Francisco 49ers.
"I always say a little prayer that (Shaw) will be content," Muir said. Shaw said he won't leave for the NFL "anytime soon" and wants people many years from now to reflect on this era of Stanford football as "truly special."
Stanford is by no means perfect. For example, star linebacker Shayne Skov was arrested on DUI charges in 2012 and suspended one game. Muir's testimony at the O'Bannon trial over the use of college athletes' names, images and likenesses revealed that an action photo of Stanford quarterback Kevin Hogan was being sold on the school website for $120.
Meanwhile, the Northwestern union case is being watched closely at Stanford. If the National Labor Relations Board upholds a regional director's ruling that Northwestern football players can unionize as employees, a precedent would be set for other private schools. Muir said if Stanford athletes are deemed employees, "we will opt for a different model."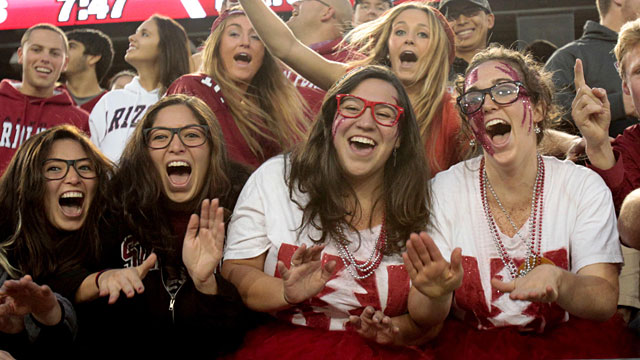 Stanford men's basketball coach Johnny Dawkins said the discussion to provide more benefits for athletes is a healthy one, "but I think it's all about how we get it done is the issue." If players opt for unions, "young people have the right to choose what they do in those situations. We're trying to support our young people as best we can."
Dawkins, a Duke basketball star in the 1980s, said he never received television rebroadcast money given all of his appearances in old video clips.
"I never really thought about it, to be honest," Dawkins said. "It provided a great platform and exposure for me to accomplish some things in my life. I was able to get my degree and I was able to continue on to play professionally, which was another of my dreams."
So Stanford embraces "Nerd Nation." Many of its athletes wear nerdy glasses before or after competition, adding their own twist to the slogan depending on the sport. During a turbulent period with an uncertain future for college sports, Stanford doesn't shy away from serving as the NCAA's role model to the public, even if it's not exactly comparing apples to oranges given how other athletic departments and universities operate.
"When you look back at it, maybe we can be that shining light to a certain degree for the NCAA," Shaw said. "You can have high expectations, you can find student-athletes who play great football and basketball and still graduate on time. Those are things people say it can't happen at other places, but we say yes we can."
McElwain will coach receivers and help coordinate the offense for the Wolverines

Nathaniel Watson Jr. was involved in a car accident that injured a passenger in early Febr...

The honorable Tom Fornelli presides over the ASU vs. UM case
Arkansas State is seeking $650,000 for a canceled home game last September due to Hurricane...

Friday Five is tackling the big questions this week

Two unnamed players are being investigated for an incident at an off-campus apartment