Best of college football's preseason media days
Want to know what you missed on conference football media days around the country? Read on.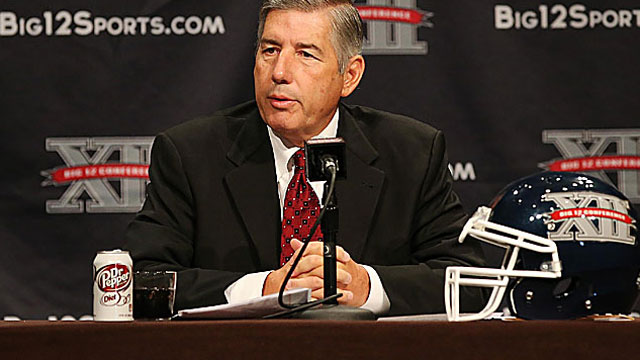 Ranking the media days (top five)
1. Big 12 -- Spacious Omni hotel ballroom, change in format allowed more/better access and -- oh yes -- there was the nuclear bomb dropped by Bob Bowlsby.
2. Pac-12 -- Morning session felt rushed and made-for-TV, but Sony Pictures Studios provided the backdrop for afternoon outdoors interview session. One suggestion: Don't penalize West Coast Pac-12 media with talked-out coaches who were tired after going through East Coast car wash.
3. SEC -- Officially beyond crazy now with more than 1,200 credentialed media. The local fire marshal (or hotel) felt compelled to post a sign limiting 115 people in Wynfrey Hotel lobby. High points: Mike Slive's insightful state of the union address; Johnny Manziel's articulate handling of a brutal day of interviews. Low points: Lack of access. It's really difficult now to even say hello to coaches with cameras outnumbering scribes. (That's for the photo clod who butted in front of posted-up writers to get 38,000 snaps of AJ McCarron on the podium.) It's easier to get closer to the president than it was to get close to Johnny Football and his phalanx of handlers and security. Don't want to say there's a lot going on, but at one point a TV guy behind me shaved during a press conference. Yes, he shaved.
4. ACC -- Always laid back, these media days were important because of two new teams (Pittsburgh, Syracuse). Media lucky to have outgoing Dabo Swinney and Jimbo Fisher as the faces of the battle in the Atlantic Division.
5. American Athletic Conference -- Unofficially, Tuesday's media day was a sad farewell to Big East football. So weird to see Memphis, UCF and other newcomers munching on seafood at annual clam bake. (Memphis player: This is the furthest north I've ever been. Me: I bet it is.) The Big East media days traditionally have been a leisurely end to the preseason whirlwind. The American reminded us that conference realignment has changed the game forever. Also, something was missing without former Big East associate commissioner John Paquette.
Best quotes
1. Baylor's Ahmad Dixon when asked if his team could win the Big 12: "Can God save a hooker?"
2. Jadeveon Clowney on how he would block himself. "You got to grab and hold on."
3. Bowlsby officially opening a new era in college athletics calling for "transformative change."
4. Clowney again on a possible 100-yard match race between himself and Johnny Manziel. "I would smoke him." (For his part, Manziel said he was "confident" he would beat JC.)
5. Pac-12 commissioner Larry Scott on the reason why the BCS commissioners have so much power at the moment. They could take their ball and go home, break away from the NCAA: "I think everyone knows that. You don't have to say it. It's always possible."
6. Urban Meyer on why Michael Jordan is so beloved and LeBron James is so scrutinized: "One thing." (The Decision.)
7. Big Ten commissioner Jim Delany on why he and his peers should be out front, reorganizing college athletics: "I think we [commissioners] could be trusted. I think we could figure out a way to do this. We've done more complicated things than this."
During the media days, my opinion changed most about ...
The Pac-12. No question it is second-best to the SEC this season.
Bowlsby: Folks asked me why he was so strident about Division 4. After spending his career as an athletic director, I think he really, really likes being a commissioner. With Slive and Delany perhaps nearing retirement is Bowlsby the game's new uber power broker?
Big Ten expansion: It isn't done. That's about all I can say. Hint: The conference will begin negotiating on a new TV deal next year. The current contract expires in 2016. Definitely stay tuned.
The uptempo offense: Waaaay too much is being made about an offense that has been around for at least a decade. Player safety? Please. Nick Saban played that card then used an uptempo offense at the end of the season. Go-fast offenses are not killing the game, they are dominating the game, infiltrating the NFL and here to stay. Deal with it.
The new targeting rule: I am imposing an official ban on any more stories that contain the words "targeting," "Clowney," "NCAA," "rules" and "replay." It's over, OK? The rule is here. It's going to work. Can we please get rid of the tired argument about football becoming two-hand touch? They used to allow the head slap. Now they don't. Players and coaches will adjust to the new rule that ejects players flagged for targeting. A replay official will be allowed to overturn the ejection, but the penalty will always stand. The debate about Clowney's hit on Vincent Smith was a talking point, but that's all it was. Players and coaches adjusted last year when players were required to sit out if their helmets popped off. They will adjust to the new targeting rule.
Lache Seastrunk: The Baylor tailback is smart, articulate and accomplished. He can absolutely win the Heisman.
Attendance: It is a real and growing concern among administrators. Students aren't coming to games, stadiums aren't wired, in-stadium ads during TV timeouts are becoming intrusive, mind-numbing and 1984ish. We're (further) losing the charm and tradition of college football.
The ACC -- It's just ... better. Having Notre Dame matriculate through the league adds a whole new level of legitimacy. Commissioner John Swofford slowed conference realignment for the moment with his grant-of-rights master stroke. There is talk of playing games in Europe. Expansion this time seems to be more positive than what it was 10 years ago. "It's already helped recruiting," Syracuse coach Scott Shafer told CBSSports.com's Tony Barnhart. "We can come deeper into the South. We are really excited."
Auburn vs. Arkansas -- It's a different kind of rivalry now. Bret Bielema has made it clear he likes "normal American football." That is not, you might be aware, the philosophy practiced by Auburn's Gus Malzahn.
When reminded that uptempo offenses essentially are little people trying to beat big people, Arkansas' new coach responded, "Well, you can tell from looking at me that I like big people."
The nation's best quarterbacks -- They're located, as a group, in either the SEC or ACC. Aaron Murray, AJ McCarron and Johnny Manziel in the SEC. Clemson's Tajh Boyd, Miami's Stephen Morris and North Carolina's Bryn Renner in the ACC.
Hotel thermostats: Where is it written that the temperature in every ballroom/conference room in the country must be set at 55 degrees? We're media, not sides of beef.
Starting 11 (People and things that made the most impact during media days)
Gary Patterson -- Those 10-minute answers are genuine and real, not a filibuster.
Joe Tessatore -- ESPN college anchor had the best question of the media days, asking Manziel if he consumed alcohol during the Manning Passing Camp. The 20-year-old Manziel didn't answer the question, which should sum up the entire issue.
Les Miles -- The man is nothing but honest. When asked why he doesn't ban players from Twitter, LSU's coach said, "It's kind of like saying, [when they first] had cars [that] I'm not allowing any of my players to drive cars." Also, it would be a recruiting advantage for those that do allow Twitter which, these days, is just about everyone.
Nick Saban -- Why doesn't he wear his championship rings? "The only one that matters is the next one," he said. "There doesn't seem to be any purpose to me. I have them. They're there. They are something that we're proud of, and proud of the teams and all the people who worked hard ... but it's not something that I feel I need to sort of put out there."
Will Muschamp -- For officially marking a feud with Urban Meyer and making long-distance friends with Brady Hoke. "We were turned in by Ohio," Muschamp said. "We didn't do anything wrong."
Pat Haden -- USC's AD wasn't at the Pac-12 media day but less than 12 hours before it, Haden released a video saying Lane Kiffin was not on the hot seat. "It doesn't make me feel better because I already knew his feelings," Kiffin said.
No ACC coach came out stronger than Maryland's Randy Edsall, who questioned -- no, body-slammed -- the NCAA's side (along with EA Sports and Collegiate Licensing Company) in the O'Bannon lawsuit. Edsall said he'd "most definitely" join the six plaintiffs in the case were he a player in today's game.
"Kids are committed to institutions, not to the NCAA," Edsall said. "And the NCAA is using their likeness to make money. And that money isn't going back to these kids. ... I'm just concerned about where the game is headed because I think this is the greatest team sport of them all, and the things I see that are happening are concerning as a coach."
T.F. Green -- The name of the former Rhode Island governor who adorns Providence's airport was shamed this week. While TSA security "agents" turned their backs, a passenger was allowed access to the 30 feet worth of valuables coming out of the X-ray machine. My wallet was among them.
Everybody wants to know about Louisville's Teddy Bridgewater. Thanks to American media day, they do a little more. The kid killed it.
The catfish at Jim 'N Nick's in Hoover, Ala. Had it twice during SEC media days. Do they deliver to Kansas?
The cantankerous George O'Leary isn't retiring anytime soon and that is a good thing.
Best media days hangs
Gibson's, Chicago. Channing Tatum was spotted last week at one of the nation's power steakhouses. The piano bar never fails to deliver. Think Star Wars cantina scene laden with American Express black cards.
The Lodge, Chicago. Everyone from tourists to visiting umpires make this Chicago tradition a regular stop.
Bob's Steakhouse, Dallas. Steamed broccoli as big as your head. Steaks as big as the steamed broccoli.
Manhattan Beach Brewco, Manhattan Beach, Calif. Fish tacos. Yes, please.
On Tap Sports Café at the Galleria, Hoover. If they dropped a bomb on the place the night before SEC media days, Johnny Football wouldn't have gotten a single question.
Best media day "gifts"
Golden Flake chips, SEC. I'm sorry, I just can't help myself.
DART, Dallas. The city's rapid transit system meant it was possible to barely step outside on a 97-degree day. Hotel, DART, Omni, repeat.
Julie Hermann, Big Ten. Look who showed up at her new conference's media days. The Rutgers AD is bright, smart and accomplished.
The Sony Pictures Studio Tour, Culver City, Calif. One of the few laments of the Pac-12 media "day" (which lasts all of six hours), is that we couldn't take it. The Pac-12 needs to value its content more and split the event up into two days.
Tony Barnhart and Jeremy Fowler contributed to this blog.
Wisconsin has a chance to impress the College Football Playoff Selection Committee

SportsLine's computer model simulated every Week 12 game 10,000 times with surprising resu...

Though a marriage between the Vols and Gruden has been rumored for a while, it seems unlik...
Barrett Sallee is cashing on 67 percent of his best bets and gives 3 strong picks for Week...

The No. 16 Bulldogs will travel to Arkansas Saturday afternoon on CBS

The Owls are 7-3 overall and 6-0 in the Conference USA East division