Bethune-Cookman coach Brian Jenkins fights in MMA bout
Saying it's his only fight, Bethune-Cookman coach Brian Jenkins lost his mixed martial arts debut on a disqualification.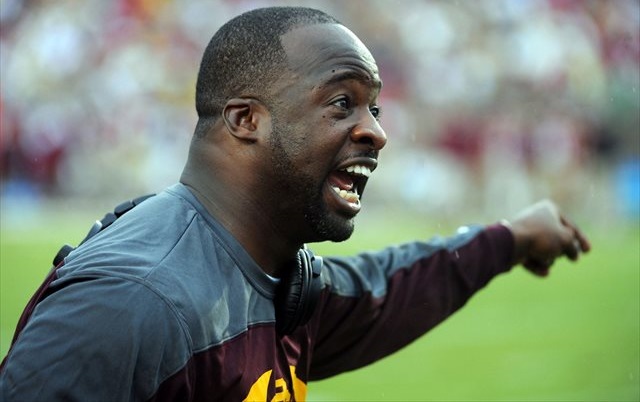 More college football: Jon Solomon | Dennis Dodd | Jeremy Fowler | Latest news
The story of one FCS coach's mixed martial arts debut isn't necessarily new -- this Daytona Beach News-Journal report is dated May 31 -- but it's interesting enough that it demands sharing anyway.
43-year-old Bethune-Cookman coach Brian Jenkins entered the octagon 12 days ago for his first (and what he says will be his only) MMA bout, taking on a 27-year-old opponent in a "Breakthrough MMA" event in Deland, Fla. Jenkins lost the bout through disqualification, but said earning the victory wasn't the point in the first place.
"I am proud of what I showed," Jenkins told the News-Journal. "Whatever the judges decided, I'm not going to question. I committed myself to eight to 10 weeks of training. I wanted to prove to my players that everything I ask them to do as far as focus and attention to detail … that is what I put into preparing for this fight, and I went out and executed.
"And I wanted to prove to my son and daughter that if you set your mind on something you can do it."
Jenkins dropped his opponent with a series of punches, but was disqualified by the judges for continuing to punch him while grounded -- punches that are legal in professional MMA, but not in amateur matches between fighters with less than three bouts of experience.
Here's the News-Journal's video: 
Not a bad performance, looks like, and Jenkins' Wildcats aren't too shabby on the playing field, either; they shared the MEAC title in 2013 and went 10-1 in FCS play (also losing to Florida State) before losing in the first round of the FCS playoffs.
In other words, it's not just their coach that's showing some (ahem) fighting spirit.
The movie will zero in on former Penn State coach Joe Paterno during the Jerry Sandusky sc...

Bidding for Salaam's trophy, which the auction house says was obtained legally, ends Satur...

Locksley has been the offensive coordinator at Illinois and Maryland during his coaching c...
Many NFL-eligible juniors ignore advice provided by the league and risk going undrafted each...

Snyder died in Manhattan, Kansas, on Wednesday

Locksley joined Alabama's staff in 2016