Bidding now open on playoff after ACC/Orange announcement
ACC taken care of new bowl structure as last major-college conference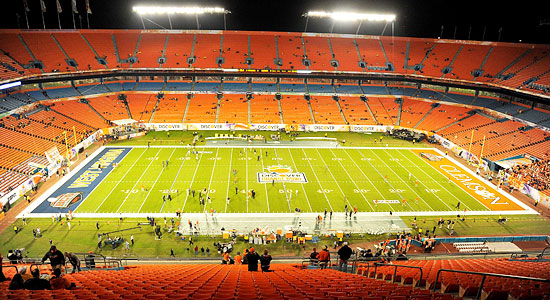 The ACC did more than re-up with the Orange Bowl on Tuesday. It gave us a further interesting inside look at college football's new postseason beginning in 2014.
In tying up with the Orange, the ACC revealed it controls the broadcast rights in the new agreement and will take that partnership to market. That's a potential game changer in the way business was done compared to the BCS era. Previous to Tuesday, only the Rose contracted separately with its own rightsholder. For the Rose in the BCS era, that has always been ABC/ESPN, which currently owns the rights to the other three BCS games.
The situation was created when the SEC and Big 12 created the Champions Bowl, essentially becoming a second Rose Bowl. For now, it is a floating entity that is marketing itself to the highest bidder. Without an anchor city and with two attractive partners, it can command top dollar. A place, then, had to be found for the ACC, considered the last remaining major conference in terms of TV, revenue and quality of play.
The ACC's move then signals a possible feeding frenzy among rightsholders. In other words, it isn't necessarily ESPN's world anymore. The Rose (re-upped with ESPN), Champions and Orange bowls all could end up on different networks. The so-called "host" bowls (Sugar, Fiesta, Atlanta) and championship game will be bundled as one entity.
Some network or another could be bidding on 12 championship games, 24 semifinal games and as many as 36 host bowl games.  
Simple view: It's great for the viewer in that every Jan. 1 will be populated with the Orange at 1 p.m. ET, the Rose at 5 p.m. ET and the Champions Bowl in prime time. It should be noted that ESPN has right of first negotiation on all of that property.
"It's not likely but it's possible that Turner buys the rights to the Orange Bowl, including [the bowl's participation in the] semifinals," one industry source said. "But for the semifinal piece, only ESPN has the right to match. ESPN seems like they're going to be pretty aggressive on all this stuff."
"They appear to want all or as much as this new scenario as possible," ACC commissioner John Swofford. "But you never know until you get to the marketplace."
Not much has changed if you consider that it's still an SEC-Big 12 world. The SEC has had at least one team in the top four of the BCS in 11 of the last 14 years. For the Big 12 it has been 10 out of 14. 
A quick look at the bowl pairings in 2014 based on last year's BCS standings shows that the SEC (LSU, Alabama, Arkansas) and Big 12 (Oklahoma State, Baylor, Kansas State) would account for half of the 12-team field.
As for Notre Dame? Swofford told ESPN "it's likely" that Notre Dame could find a spot in the Orange Bowl if it meets certain criteria. This whole thing is starting to look a lot like the BCS. 
The ACC's place at the table came about because it was among the top five conferences that had 79 out of 80 teams teams over the last 20 years ranked in the top four. (That's BCS commissioners' research.)
"We felt there are five [major conferences] all along," Swofford said. "We feel this accentuates that."
The lack of having a national championship presence notwithstanding. Since expansion in 2004, the ACC has basically been a non-factor in the national championship race. The addition of Syracuse and Pittsburgh doesn't necessarily change that. As always, Miami and Florida State must return to prominence.
"We haven't had dominant teams in recent years," Swofford said. "We haven't been able to take that next step. That will come."
Beginning in 2014, a human committee will rank the top 20 teams. Those ranked 5 through 12 (top four will be in the playoff), will have the "best opportunity" to be in a quality bowl according to a source. Let's decode: Despite the fact 20 teams will be ranked, that doesn't mean that they will all be in major bowls. The committee will advise on placement.
Leagues involved in the Rose, Champions and Orange, will get to pick the replacement teams if one their teams is involved in the playoff. At least four times in the BCS era, a second (or third) team from a major conference would have gotten into the new six-bowl rotation based on this latest information. Example: In 2007, Virginia Tech finished No. 3 and would go to the Orange Bowl. In the new structure, the ACC would be allowed to replace Tech with No. 14 Boston College. In 2009, the Champions Bowl would have been allowed to replace No. 2 Texas with No. 19 Oklahoma State.
Those perhaps aren't great replacements, but they're great for the conference -- and tough for the have-nots (Big East, Conference USA, MAC, Sun Belt) trying to get a team into a major bowl.
Now that the Rose is done, the SEC and Big 12 are thought to have the most leverage among the "contract" bowls with television because those conferences are creating a new game. Venues have yet to be determined.
The ACC's bold statement that it is going to market for bid on those broadcast rights suggests that at least half of the six major bowls who will feed into the playoff could have separate partners. The Rose (ESPN), Orange and Champions bowls (still to be determined) could all go their own way.
While I wrote Tuesday that the playoff could be worth $6 billion after the lifetime of the deal, that was assuming there was one rightsholder. Tuesday's announcement could be a game changer.
"I don't think the price [of separate bowls] will be substantially higher than what it would have been if they were all packaged and sold together," that industry source said.
The sport not only is more popular than ever, it has more interested bidders. The ACC (and others) can now legitimately create a bidding war between NBC/Comcast, Turner and Fox, as well as ESPN. While ACC has been disparaged for its product on the field in the post-expansion era, it is still major-college football. And an arrangement with the Orange Bowl makes it possible that we'd go back to the old days when different networks split up the major bowls.
"How important are these games to certain networks?" said sports media consultant Neal Pilson recently. "I don't think they're very important to CBS. I wouldn't put them in the top tier. They're very important to ESPN and Fox and quite possibly to NBC. I see those guys bidding for this [playoff]. And when you get into a bid situation, you make certain minor assumptions."
Essentially, the price to own college football on TV is going up. The quality of the sport doesn't necessarily matter. For example, if NBC does not get the Orange Bowl or the Sugar/Fiesta/Atlanta/championship entity, it could still bid on the moribund Big East. Boise State basically kept the league together over the weekend when it announced it would formally leave the Mountain West next summer.
Pilson told CBSSports.com he'd be "shocked" if the playoff didn't have a single rightsholder. That was before the ACC/Orange announcement.
Only Fox and ESPN have owned the rights to the BCS since it debuted in 1998. ESPN has the rights for the final four years and had been largely assumed to win the 12-year playoff bid beginning in 2014. However, Fox is in the process of ramping up its coverage with a prime-time Pac-12/Big 12 package this season. If nothing else, the hiring of Erin Andrews was further signal that Fox is serious about college football.
Pilson also suggested to CBSSports.com that a tipping point may have been reached with ESPN. He said the network may have maxed out at $5 per month per subscriber on cable systems. That could allow new competitors into the bidding.
"ESPN doesn't like it when I say it but they're a mature network," Pilson said. "There isn't much upside. They can't get any more money per subscriber. They don't need any more distribution. They're in 100 percent of the homes. But a channel like NBC Sports Network is in only 75 percent of American homes. If you can get programming that helps drive your distribution up by 20 million homes … this property will let you do that."
ESPN remains the gold standard. No other network can promise the Football Four (or whatever it is going to be called), the broad platform coverage and 24/7/365 promotion of the World Wide Leader. Using that argument, though, ESPN would have won the NCAA Tournament away from CBS and Turner. It didn't.
Florida State and Alabama will face off in a highly touted game in Atlanta in Week 1

Five NC State freshman were punished team rules and code of conduct violations

Browne was benched in favor of Darnold early into last season
There are new names to learn every season, and here are 14 to keep an eye on from the SEC

Taking a close, detailed and opinionated look at the SEC a week before the start of the 2017...

Rosier will start for the Hurricanes in their opener against Bethune-Cookman