Bielema vs. Meyer again? Hogs coach votes Buckeyes 12th
Bret Bielema voted Urban Meyer's Buckeyes 12th on his Coaches Poll ballot, lower than any other voter.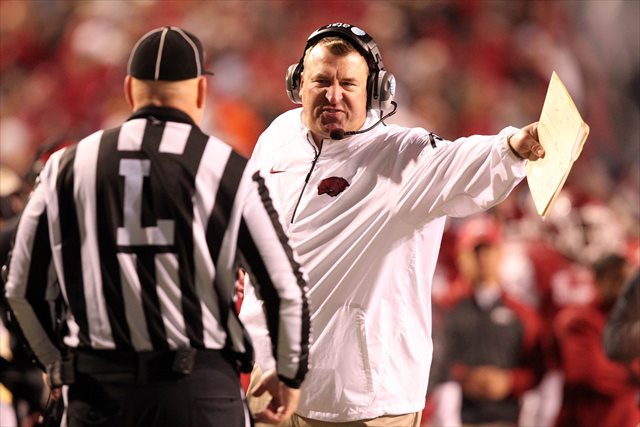 Every season, the ballots for the final Coaches Poll of the regular season are made public. And every season, a handful of those ballots illustrate why using the Coaches Poll as a major factor in determining a national champion has always been a terrible idea.
Exhibit A for 2013: the ballot of Arkansas coach Bret Bielema, which ranks 12-1 Big Ten runner-up Ohio State No. 12, the Buckeyes' lowest ranking on any of the 62 ballots cast. Bielema rated Ohio State lower than five different two-loss teams (including South Carolina, Oregon and Oklahoma), and placed AAC runner-up Louisville at No. 6 -- making him the only coach of the 62 to have the Cardinals higher than 10th.
While any coach who voted the Buckeyes that low would leave himself open to scrutiny, that goes double given the history between Bielema and Urban Meyer. The two came into conflict over Meyer's recruiting practices in the spring of 2012 while Bielema was at Wisconsin, and both coaches made painfully clear this past September that the hatchet isn't nearly buried.
Maybe Bielema has made a careful, thoughtful analysis of the Buckeyes' strength-of-schedule, scoring margin and overall resume and come away convinced that they truly are the 12th-best team in the country. But if that's the case, how has he also concluded that Louisville is six places better? The Buckeyes unequivocally faced a more difficult schedule than the Cardinals, won their games by a wider average margin against that schedule, also finished runner-up in a much tougher league, and suffered their only loss to a vastly superior team than the Cardinals did. Bielema apparently wasn't voting the Buckeyes down as a statement against the Big Ten, either; he ranked Michigan State No. 4, right in line with the poll at large.
In short: the argument that Bielema voted Ohio State No. 12 out of merit is much, much more difficult to make than the argument he voted them there out of spite. Fair to Bielema or not, are we really supposed to believe it's a total coincidence the team Bielema's ballot voted more negatively than any other ballot out of 62 just so happens to be the one coached by the man with whom he's publicly feuded?
There's a silver lining to this, which is that Bielema's vote -- whatever its motivations -- made no difference whatsoever for the Buckeyes, who could have been No. 12 on another two dozen ballots and would likely still be on their way to the Orange Bowl. It should also be noted that Bielema's was hardly the only coach who opened himself to accusations of bias; Oklahoma State coach Mike Gundy voted his own team two spots ahead of Oklahoma, who had the same overall and conference record and, you know, just beat the Cowboys in Stillwater. 
But brushing aside Bielema's vote ignores the question: what if the Buckeyes had won Saturday? What if they had been in an every-vote-counts polling battle with Auburn where one outlier could make a huge difference? What if what had ultimately decided which team played for a national championship was one coach's personal dislike for another coach?
In the end, there's only one thing to say the College Football Playoff's long-overdue ditching of the Coaches Poll: good riddance to bad rubbish. 
Saban isn't going to win Alabama's special election, but the Crimson Tide coach got some l...

The Sooners' quarterback and Badgers' rusher stood out among their peers this season

Clark led UAB to an 8-4 overall record, 6-2 in conference this season
SportsLine simulated every bowl game 10,000 times for pick'em leagues and confidence pools

The Tigers are going worldwide for their next punter

Led by Heisman Trophy winner Baker Mayfield, the Big 12 finished with seven first-team sel...