Big 12 commissioner: Bowls could go dark without enough 6-6 teams
With 40 bowl games and 80 spots, some teams without winning -- or .500 -- records are bound to play in the postseason ... unless some bowls go dark and don't get played at all.
College football decision-makers have considered allowing some bowls to not be played this year given that not enough teams are eligible, Big 12 commissioner Bob Bowlsby said Sunday.
Although bowls going dark seems unlikely to happen this season, there is deep frustration by some administrators within college football that teams with 5-7 records will be in the postseason. At least two 5-7 teams, and possibly up to five, would have to participate since there aren't enough 6-6 teams to fill the 80 slots created by a record 40 bowl games. About five cities have applied to stage future bowls.
"If we add more bowls next year, where are we going to find 84, 86, 88 eligible teams?" said Bowlsby, chairman of the Football Oversight Committee. "Having bowls go dark may be the way to slow the process down. There are a lot of people that don't even like 6-6, much less 5-7. There are people who absolutely want bowls to go dark."
When asked if going dark is a viable possibility this season, Bowlsby replied, "The problem with them going dark is you don't end up with both sides (of the participating teams) not being filled. So you're penalizing a team that did everything it should."
The Big Ten won't be able to fill all of its bowl agreements. It's possible that Nebraska, Minnesota and Illinois -- all of which are 5-7 -- could be available to the Big Ten's lower-tier bowls.
Since 2012, the NCAA has had a plan in place that put 5-7 teams in bowls if they rank among the top five in APR scores, a measurement the NCAA uses to calculate how close athletes are toward graduating. However, that plan never specifically spelled out how to pick 5-7 teams beyond the top 5 APR schools and how teams below the top five should be prioritized.
"There are those that think a 5-7 team ought to immediately backfill for their own conference," Bowlsby said. "There are those who say just let the bowls go dark. There are those think there ought to be an APR minimum, but you shouldn't slice and dice among close APRs. There are those who think there shouldn't be an APR component, but I think the (NCAA) board's past actions are pretty clear they want an academic component to the selection process."
The top five-win teams at the moment based on the most recent APR data are: Nebraska (5-7 record, 985 APR score); Missouri (5-7, 976); Kansas State (5-6, 976); Minnesota (5-7, 975); San Jose State (5-7, 975); Illinois (5-7, 973); and Rice (5-7, 973).
Bowlsby said one possibility being discussed is using 930 as the cutoff score for eligible 5-7 bowl teams. The 930 number is the cutoff used to determine postseason penalties based on APR. The Football Oversight Committee will discuss options Monday and make a recommendation to the NCAA Council, which plans to have the final say this week.
One new complicating factor is the 17-member Football Oversight Committee lost a representative Sunday when Mark Richt parted ways with Georgia. Richt is the only coach on the committee and the SEC's representative. "We'll repopulate that by tomorrow," Bowlsby said.
Georgia Tech (2012), UCLA (2011) and North Texas (2001) have previously received waivers to participate in bowls with a losing record. Those waivers were approved because Georgia Tech and UCLA had .500 records entering their conference championship game and lost. North Texas finished 5-6 but won the Sun Belt to earn a spot in the New Orleans Bowl.
On one hand, some athletic directors say they understand the desire for so many bowl games so there's access for six-win teams to build their programs. Unlike in pro football, where schedules are based on results from a year earlier, college teams control who they play out of conference in the regular season. That can make it difficult for programs to gain exposure and high-profile wins.
On the other hand, some ADs are troubled that they could be paying bowl bonuses to coaches after a 5-7 regular season. Two ADs, who wished to remain anonymous, said they will structure coaching contracts differently in the future to specifically state that six wins are needed for a bowl bonus. That would replace generic language that pays a coach for bowl eligibility and/or appearing in the postseason.
Several ADs said they want the Football Oversight Committee to have more control in the future over the certification of bowl games. Bowlsby said a subcommittee of the Football Oversight Committee will study the bowl landscape in the offseason.
"I can promise you this one thing: We won't be dealing with this next year," Bowlsby said. "We could cap standards to be in a bowl and not have a waiver process. They would (go dark)."
Follow and read more from Jon Solomon on Facebook and Twitter.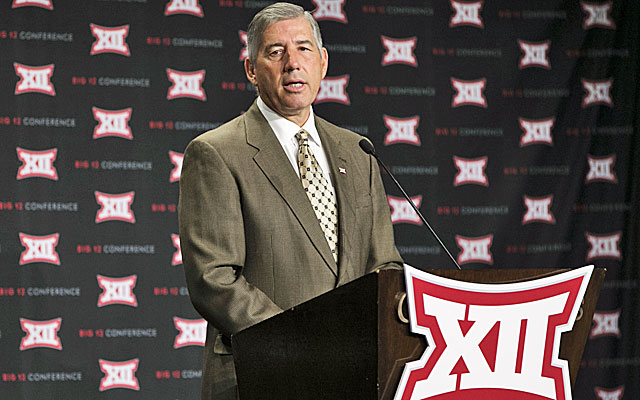 CBS Sports HQ Daily Newsletter
Get the best highlights and stories - yeah, just the good stuff handpicked by our team to start your day.
Please check the opt-in box to acknowledge that you would like to subscribe.
Thanks for signing up!
Keep an eye on your inbox for the latest sports news.
Sorry!
There was an error processing your subscription.
It's Big Brother versus Little Brother yet again

The Sooners and Horned Frogs try to stop the bleeding in Week 8

Ole Miss' Walk of Champions remains a gameday tradition
Pruitt's ties to Rainsville, Alabama, are everlasting, and his eldest son is a reminder where...

Micah Roberts has his finger on the pulse of UNLV football

Micah Roberts has his finger on the pulse of Boise State football